The University of Colorado Law School won first place for the third year in a row at the Transactional LawMeet competition in April and the National Telecommunications Moot Court Competition in February 2016.
Stephanie Drumm ('17), Josh Kohler ('17), and Parker Steel ('17) were named co-national champions of the 7th Annual Transactional LawMeet competition in New York City on April 1, 2016. The team also received "Best Draft" honors for their drafting of proposed agreements and marking up their opposing teams' drafts, making Colorado Law the only team to win awards for both written and spoken word. This marks Colorado Law's third consecutive national title win at this competition.
Tasked with negotiating a merger of two emerging technology companies, the team spent five to seven hours a week for three months working through specific facts of the deal. The students prepared drafts and performed mock negotiations with their coach, Jon Taylor, a partner at Kendall, Koenig & Oelsner PC in Denver.
"This competition was probably the most valuable thing I have done in my law school career," Steel said. "I gained insight and knowledge into the intricacies of being a deals attorney that I don't believe you can get from being in the classroom. It is a huge honor to bring the national title to CU for the third year in a row, and it would not have been possible without the help of Jon Taylor on the negotiations side and Professor Amy Bauer on the drafting portion."
"Colorado Law's team was one of the stars of the competition," said Richard Gorelick, secretary, general counsel, and corporate vice president of administration at Integra LifeSciences Corp., who served as a judge. "It was fun to see law students so prepared and engaged in such a practical exercise. Colorado Law showed up very well and distinguished itself—something of which the administration and faculty should be proud."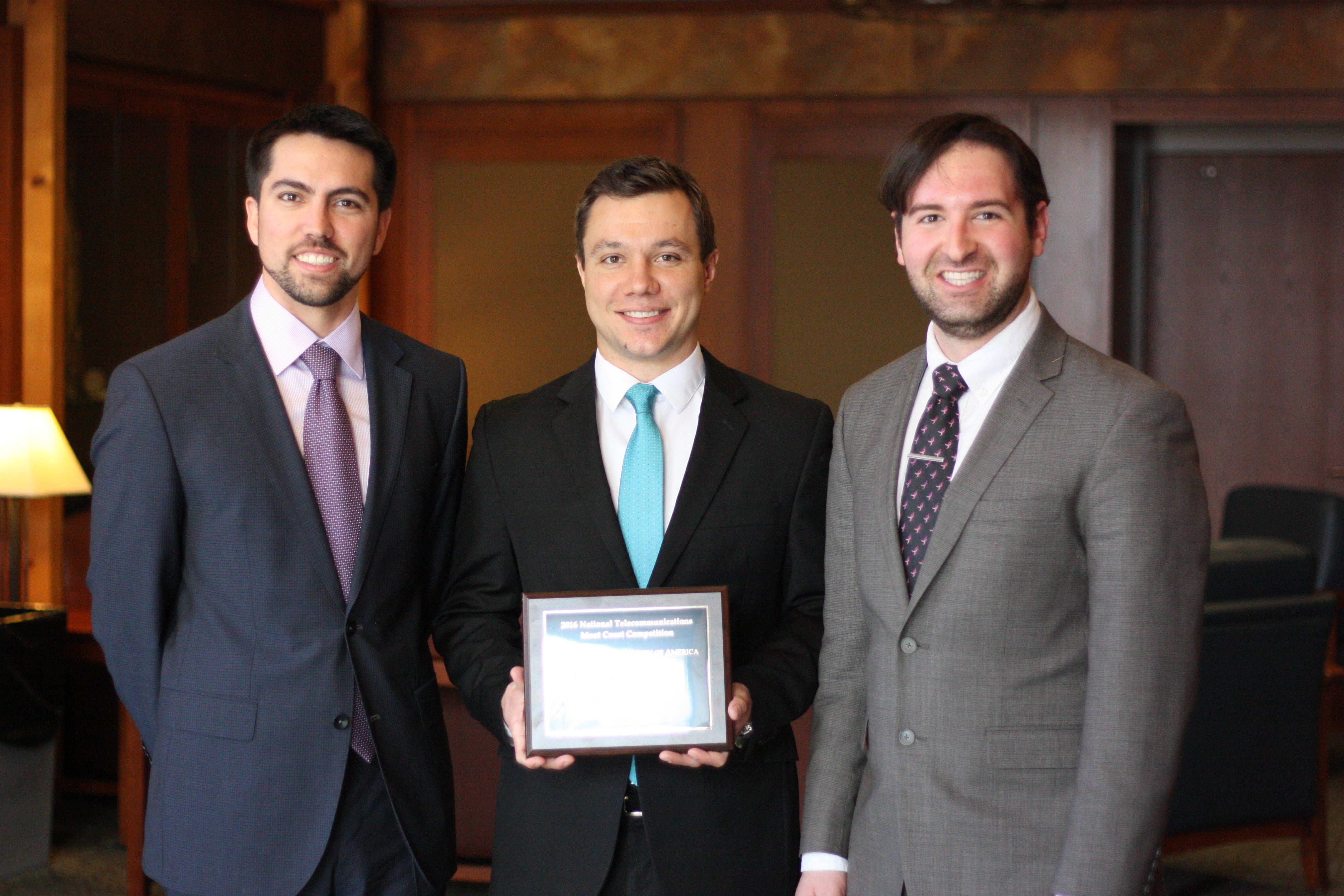 Earlier this year, Colin Oldberg ('17), Spencer Rubin ('16), and Cole Woodward ('16) placed first at the 22nd Annual National Telecommunications Moot Court Competition in Washington, D.C. Teams submitted a brief and delivered oral arguments before a panel of practicing attorneys who specialize in communications law.
A group of volunteer attorneys coached and advised the team: Becky DeCook, attorney, Moye White LLP; Tom Dixon, first assistant attorney general, Colorado Office of the Attorney General; Bill Hunt, partner, Wilkinson Barker Knauer LLP; Colorado Supreme Court Justice Richard Gabriel; Ken Fellman, adjunct faculty at Colorado Law and vice president, Kissinger & Fellman P.C.; and Bill Levis, senior fellow, Silicon Flatirons Center.
"Besides being an opportunity to practice our appellate writing skills, this year's competition was really beneficial for meeting local telecommunications attorneys and receiving their feedback on our oral arguments," Rubin said. "The host of attorneys who served as advisors to us definitely helped to hone our oral arguments. Through their connections, we even got to practice our oral argument at the Colorado Supreme Court and receive feedback from Justice Gabriel."
The annual competition is hosted by the Moot Court Association of The Catholic University of America, Columbus School of Law, the Institute of Communications Law Studies, and the Federal Communications Bar Association (FCBA).  This is Colorado Law's third consecutive first-place win and fourth overall national title in this competition, with first-place wins in 2011, 2014, and 2015.
"The fact that Colorado Law has taken first place in this competition for the third year in a row is a real testament to the school's burgeoning telecommunications law program, from in-class lectures, to clinical experiences, to opportunities that students have to engage in professional networks through the Silicon Flatirons Center," Rubin said.
"These wins are tremendous accomplishments for our student teams and for Colorado Law," said Dean Phil Weiser. "Competitions such as these are fantastic opportunities for students to develop their practical skills, learn more about specific areas of the law, and develop their abilities to work in teams. These skills are absolutely essential for a successful legal career."
Pictured (L-R): Parker Steel ('17), Stephanie Drumm ('17), and Josh Kohler ('17) (top); Cole Woodward ('16), Colin Oldberg ('17), and Spencer Rubin ('16) (bottom)