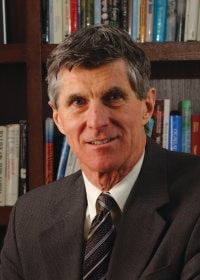 Nothing could be more fitting than naming the new center for natural resources, energy and the environment after one of the most iconic figures in CU Law School history, former Dean of the Law School, David Getches.   An enduring figure in the history of Indian Law and natural resources law not only in Colorado, but in the American West, David was a tireless advocate for protecting natural resources.  Through his work, he worked tirelessly for protection of land and water resources.  For Getches, the law of the American West was connected to the land and the people who live there, and he continually conveyed this idea to his students.  Colleague and faculty member, Charles Wilkinson said, "David should be remembered as one of the great figures in the history of the American West." 
American Indian Rights
David first came to Colorado in 1970 as executive director for the Native American Rights Fund (NARF), a national nonprofit Indian-interest law firm.  While at NARF, he represented Native Americans on a myriad of cases including water rights, land claims, environmental issues, education and civil rights.  He served as lead counsel in the Boldt decision, a landmark case on enforcement of tribal treaty rights.  For his service on behalf of Native Americans, David was posthumously awarded the NCAI (National Congress of American Indians) lifetime achievement award.  The award reads:
Your piercing intelligence, diligent work, and compassion for the Native cause fostered a legal revolution and brough hope and justice to Indian communities nationwide.  We thank you and lift you up in our hearts. 
Natural Resources
Throughout his time at CU Law, he continually stressed the importance of stewardship of land and water resources.  He served as founding board chair of what is now Western Resource Advocates, an organization dedicated to defending the West's land, water and air.  David authored a water law textbook still used today at the university and around the country, Water Resource Management.  Former Research Assistant, Bart Miller recalled David's teaching style and the passion he conveyed to his students on water law, recalling:
David's teaching went well beyond the classroom.  Rather than have us just memorize what the law is today, he helped us understand how we might improve the law for future generations.
Leader
Perhaps David's most enduring legacies were his leadership skills that he used so well as Dean of CU Law School from  2003 to 2011.  He led the Law School through a time of great growth and transition, leading the campaign to build the new Wolf Law Building.  His colleagues noted David for his vision, his extraordinary integrity, his passion, and his enthusiasm in every endeavor he undertook.   David's legacies are many -- scholar, advocate, educator, leader, but more than anything a humanitarian in his ability to empathize and stand up for others.