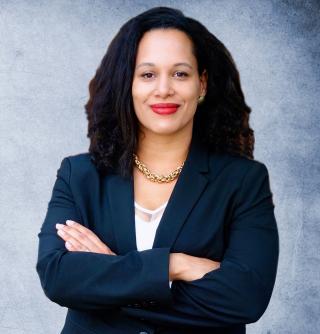 Associate Professor Anna Spain Bradley has been appointed assistant vice provost for faculty affairs and diversity at the University of Colorado Boulder, effective Jan. 1, 2017. She will work in the Office of Faculty Affairs and with the Office of Diversity, Equity and Community to provide executive education and consulting services to faculty groups aimed at enhancing professional development, diversity, and inclusive excellence. She will also remain on the University of Colorado Law School faculty where she will teach part-time.
"I am excited to get to know more people on campus and to better understand both the challenges and opportunities in regards to diversity and inclusiveness here at CU," said Spain Bradley. "I am a problem solver—that's my approach as a scholar, professor, and lawyer—and I like helping groups of people find solutions to problems by encouraging innovative approaches to resolve them. This position offers me the opportunity to do so at a broader level and to get to know lots of really interesting people committed to CU's progress in the process."
Spain Bradley will work with a variety of campus faculty groups who are interested in learning about how to improve professional development and promote diversity within their units as well as one-on-one with faculty members who are leaders of labs, centers and other initiatives.
This new role is a natural next step for Spain Bradley, whose scholarship and areas of teaching focus have invoked an identity-based approach to understanding conflict and cooperation.
Whether she's teaching human rights, legal ethics, international law or mediation, she encourages students to explore how the law influences the decisions and choices people make, which often invokes questions of identity.
"I work with people to explore how they identify themselves, how society identifies us, how identity helps people come together, and why it keeps us apart," she said. "This approach aims to encourage both an appreciation for diverse identities and an exploration of the implicit and explicit biases that we have."
This is the first time this position has been offered on the Boulder campus, and Spain Bradley is actively reaching out to other CU campuses to get in touch with their own approach to related work.
"I care deeply about having a cohesive, flourishing campus climate for everybody," she said. "There are a lot of committed people working to promote such endeavors at the student level, and I look forward to help promoting them among faculty, staff and administration."
Part of her goal is to help faculty feel more comfortable talking about diversity and inclusiveness in a variety of settings, whether they're in the classroom, mentoring students, among themselves, or during the hiring and tenure process.
"As faculty we have a responsibility to our students and to the community as a whole to better ourselves and better our ability to talk about these difficult issues," she said.
"My 20+ years as a mediator specializing in conflicts between individuals and companies that involve an aspect of the person's identity—such as EEOC discrimination cases on the basis of race or gender—make me very comfortable talking about these issues," she said. "My goal is to help provide frames for other faculty to feel comfortable as well."