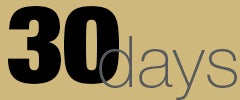 Starting the remaining closeout tasks listed below at least 30 days prior to the award end date will help keep the closeout of an award on schedule so that the sponsor deadlines can be met.
Complete all previous tasks that have not yet been addressed and work on the final closeout steps.
Will all charges be processed and posted (purchase orders, procurement card purchases, and travel reimbursements)?
Close encumbrances that are no longer needed. Email Changeorder@cu.edu
If any inventions, patents, or copyrights have resulted from this award, verify that the appropriate paperwork has been sent to Technology Transfer Office (TTO). TTO email is ttocontact@colorado.edu. If NO new technology resulted from this award, notify OCG by email at ocgcloseout@colorado.edu.
Are all ePERs certified? Contact Campus Controller's Office Effort Reporting Accountant. 

If ePERs will be not be released until after the project end date, ensure the salary amounts for all personnel paid in that semester are correct so their ePERs can be certified as soon as they are generated

Verify that project is current with all prior technical reports. Confirm project Principal Investigator (PI) is working on the final technical report to be submitted before the required deadline.