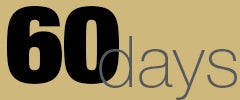 In addition to the closeout tasks that have already been started, beginning to address the items listed below can help keep the closeout of a sponsored award on schedule.
Continue working on any incomplete tasks still outstanding from the 90-day checklist.
Labor charges:

Confirm salary is charged correctly to the project
Arrange with Principal Investigator (PI) to transfer excess salary to another SpeedType
Revise personnel appointments paid from this award so they are paid from another funding source as of project end date

Are tuition charges on the award associated with the correct student?
Verify all equipment expenditures are appropriately charged and accounted for. Handle appropriate cost transfers.
Are all expenditures allowable, allocable, reasonable and consistent with the terms of the agreement? (Written justifications are required for unbudgeted expenses of computing supplies, postage, FedEx, administrative salary, membership fees, etc. Written sponsor approval is required for unbudgeted administrative salary on awards granted after 12/26/14.) Contact your Campus Controller's Office Area Accountant. 
If there is a fabrication, ensure all its component expenses are appropriately charged as a fixed asset and to the correct tag number. Notify Property Accounting Office of fabrication completion. Contact Property Accounting.
Is there government property on this award? Contact OCG Property to schedule an inventory in preparation for final report. Have we requested or received disposition?