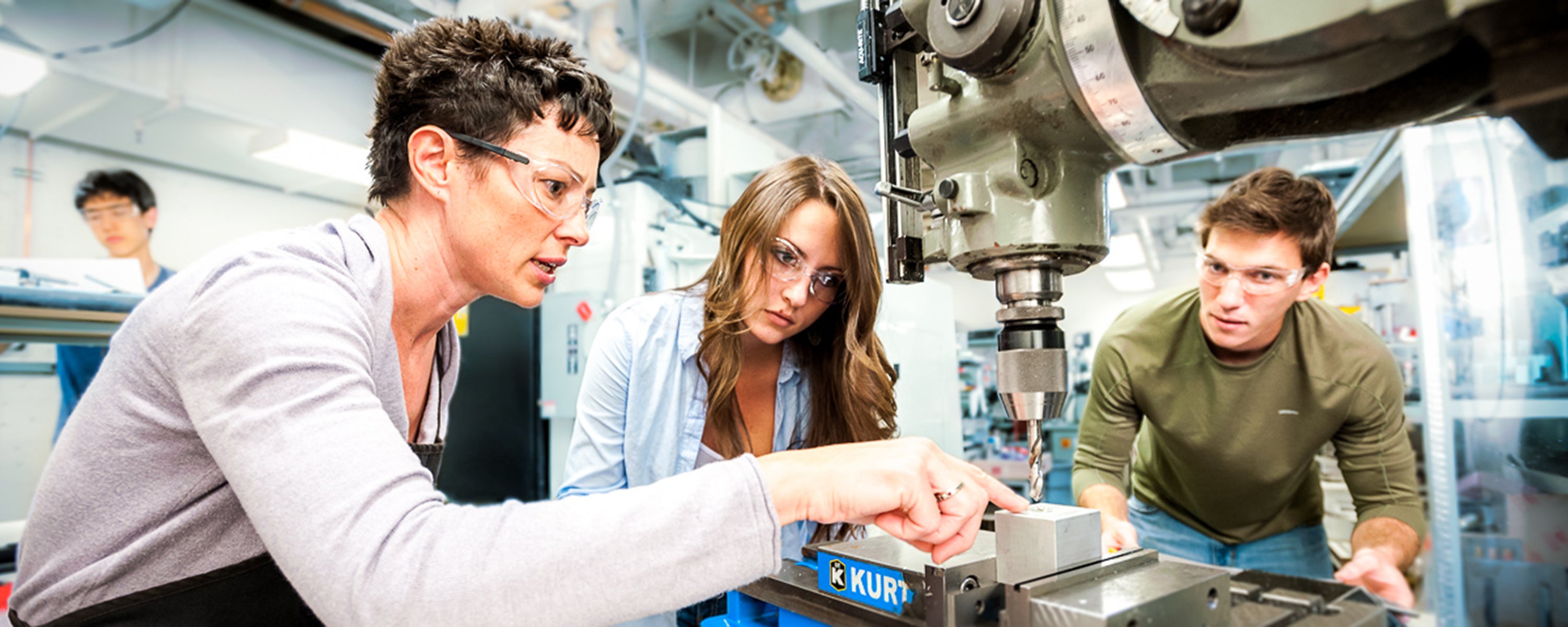 Teaching Professor Daria Kotys-Schwartz at her desk (shown in photo above). Kotys-Schwartz working with mechanical engineering students (shown in lead photo).
Newly appointed Teaching Professor Daria Kotys-Schwartz has risen to a level of teaching, research and service that makes the CU Boulder Department of Mechanical Engineering and the College of Engineering and Applied Science a better place to learn and work. 
On Oct. 4 at the Fall Convocation Awards Ceremony, Kotys-Schwartz will be recognized as she joins just four other teaching professors from across the college in earning the prestigious distinction.
"The title of teaching professor recognizes impact beyond the classroom, including impact at campus and national levels," said Kotys-Schwartz. "It's a career pathway that didn't originally exist, the highest appointment possible for instructional faculty."  
Though she had every intention of becoming a practicing engineer and loved the three years she spent working in manufacturing, Kotys-Schwartz said she fell into teaching because she knew something was missing. After her first week working with students, she was so energized, she wondered if she was drinking too much coffee.
"Throughout my career, I've been reminded that it's a privilege to be able to make decisions that benefit students," said Kotys-Schwartz.
Teaching Professor and mentor Derek Reamon said, "Daria quickly forges a close bond with her students as she shares her love of engineering and learning in general with them. The close personal care that Daria has for her students as well as her commitment to their entire engineering education makes her an incredibly popular teacher with students."
---
Several teaching philosophies make Kotys-Schwartz the beloved faculty member she is today:
1. Kotys-Schwartz believes in authentic teaching.
Kotys-Schwartz received her PhD in Mechanical Engineering from CU Boulder in 2007. During graduate school, she was awarded an NSF Graduate Teaching Fellowship that enabled her to teach engineering at Centaurus High School and Denver School of Science and Technology to K-12 students.
Since then, Kotys-Schwartz has been bringing a playfulness to all that she does.
"Teaching K-12 made me a better college instructor. I had to find creative ways to keep students' attention," said Kotys-Schwartz. "The largest accomplishment is when your students are learning and they don't even know it."
While Kotys-Schwartz has a playful way of teaching, she said there are many great instructors in the Department of Mechanical Engineering who all teach differently.
"Teaching is like leadership," said Kotys-Schwartz. "You need to teach in ways that are authentic to who you are."
2. Kotys-Schwartz believes in equipping students technically, professionally and emotionally.
"The most successful students are the ones who learn how to navigate the technical, professional and emotional side of a job," said Kotys-Schwartz.
For this reason, Kotys-Schwartz said no class is more satisfying to teach than Senior Design. Though she said it is by far the hardest and most time-consuming class she has taught, seeing the growth in her students as they transform from juniors into professionals over a period of nine months is rewarding.
"To see someone running through the Commons yelling that they got the job is like nothing else," Kotys-Schwartz said. "You go through this emotional, full-circle journey with them as everything they came here for starts to happen."
Much of Kotys-Schwartz's current research is connected with this class. With over 75% of mechanical engineering students entering industry after graduation, her goal is to improve the transition process from university to industry by focusing on interpersonal and self-directed learning aspects of a new job.
"In Senior Design, we give students a safe place to be treated like entry-level engineers so that they are well-prepared for industry," said Kotys-Schwartz.
3. Kotys-Schwartz believes a classroom should be a community, not a stage.
Kotys-Schwartz believes in walking the walk. She said what she expects of her students, she also needs to be able to do herself. When she teaches conflict resolution, she challenges herself to do the same.
"I also love when my students challenge me," said Kotys-Schwartz. "I want them to help me reach my best self, too."
Kotys-Schwartz is well-liked by students because she sees what they are capable of. She said she will never celebrate mediocrity, but she does provide the coaching necessary for students to reach their full potentials.
---
Kotys-Schwartz has received awards for teaching excellence, including the Marinus Smith Teaching Award, the John and Mercedes Peebles Innovation in Education Award, the ASEE ERM Distinguished Service Award, the Charles Hutchinson Memorial Teaching Award, and the Sullivan-Carlson Innovation in Teaching Award, among others.
Beyond teaching, Kotys-Schwartz has served as director of the Idea Forge and co-director of Design Center Colorado. She has also been Faculty Director of the CU MESA Program, a founding member of the CU Center of STEM Learning (CSL) and a representative on the Boulder Faculty Assembly (BFA). Her research focuses on how people learn engineering and design and is nationally recognized. Currently, she is studying the effect of capstone design on students' transition from academia to industry, funded by the National Science Foundation.
As Kotys-Schwartz reflects on her new appointment, she said she is fortunate to be in the Department of Mechanical Engineering, where instructional faculty are valued.
"If we can continue to leverage the symbiotic relationship between different ranks of faculty and staff, we will be better able to achieve the excellence we want at this university," Kotys-Schwartz said.