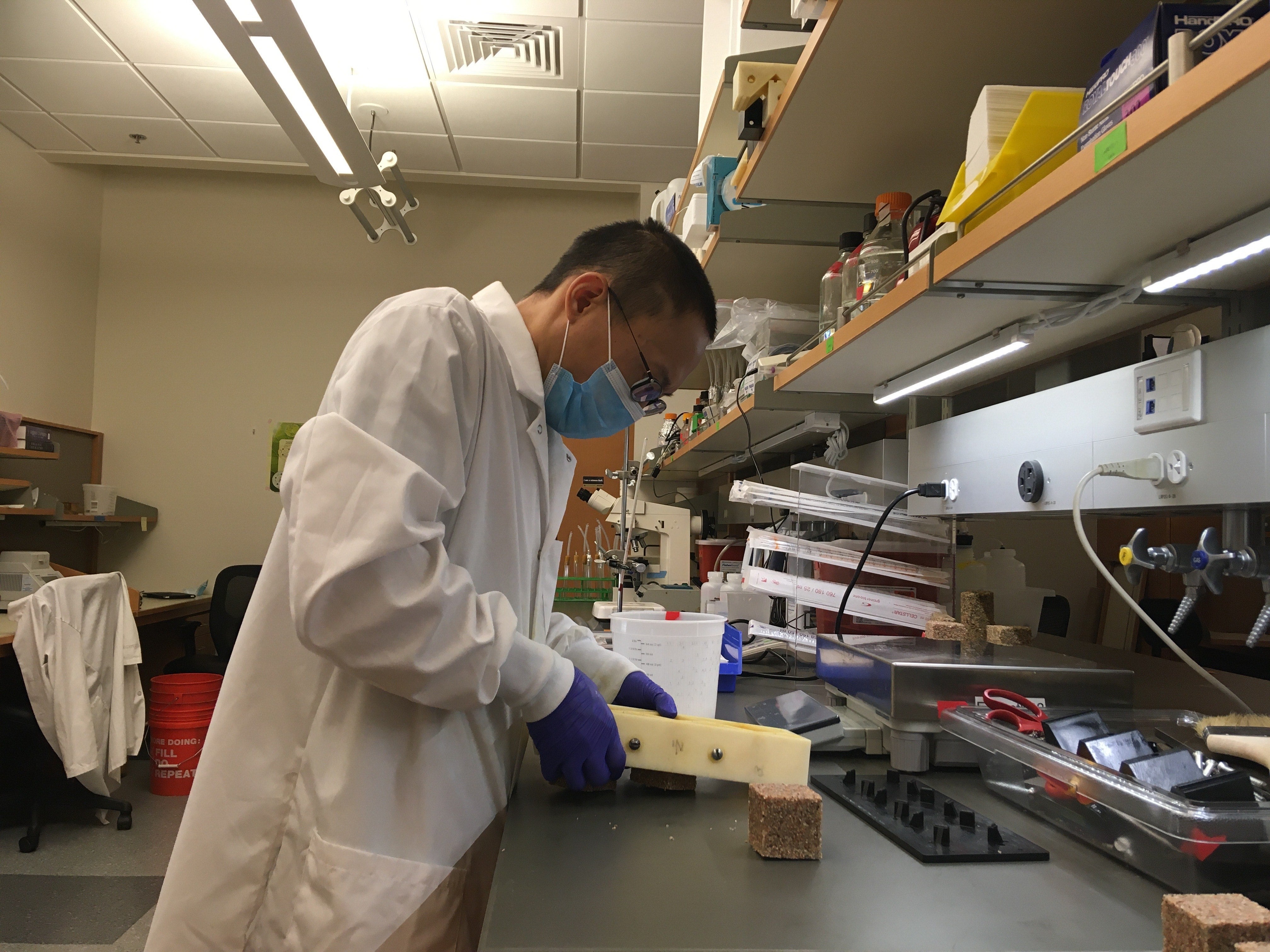 As faculty and students across the CU Boulder campus return to their physical lab spaces, the team in the Center for Infrastructure, Energy, and Space Testing laboratory is working hard to meet research commitments despite limitations on staffing. 
Mija Hubler, assistant professor in civil, environmental and architectural engineering and the lab's co-director, said her group was excited to restart their research, even though they're juggling multiple projects with only two-thirds of the PhD students and postdoctoral researchers. 
"The lab is prioritizing federal research projects which have strict timelines and preliminary data investigations for grants needed to support students who have already started their studies," Hubler said. "There is less exploratory research happening, and some experiments have been streamlined to reduce the need to transfer materials between buildings and labs across campus." 
Like all CU Boulder labs, the CIEST lab took measures to limit health risks, such as pre-approvals to work in lab spaces and working with reduced capacity to ensure social distancing measures. Researchers are working to stay safe as a group by wearing masks, sanitizing equipment regularly and filling out daily health checks before entering lab areas.
One of the biggest challenges at first was acquiring enough additional cleaning and safety supplies, Hubler said.  
"The next biggest challenge has been trying to work with the unique requirements of various lab spaces. Since many labs on campus are shared or host collaborative projects, communication across departments and projects personnel is critical," she said.
Though labs were not accessible for a couple of months, Hubler's team made progress in terms of numerical modelling and simulations. Students close to graduating were able to focus on their thesis-writing efforts. 
"Some members of the research group who have mainly been involved in laboratory testing had the opportunity to explore numerical modeling methods they would not have taken the time to pursue. Others have reflected on their work and plans further before starting the next steps of their study," Hubler said. "More generally, coming up with plans to return to research safely has highlighted how collaborative many research efforts are and the diversity of research projects."