Editor's note: This is part of a monthly series of campus updates on diversity, equity and inclusion. This series will continue throughout the year.
IDEA Council continues review of 36 major recommendations with eye toward implementation
Members of the IDEA Council continued this fall with their review of 36 major recommendations in the IDEA Plan to determine which of the recommendations should be priorities for campus implementation in the near to midterm.
The campus advisory council holds regular meetings each month in addition to subcommittee meetings to discuss individual recommendations, and members met on Oct. 21 to discuss campus priorities and upcoming recommendations.
Co-Chair Lisa Flores, a professor of communication and the associate dean of diversity, equity and inclusion in the College of Media, Communication and Information (CMCI), said council members will soon discuss a recommendation to enhance faculty mentoring.
Also under consideration is a recommendation for a grant program that will provide seed funds for campus diversity, equity and inclusion (DEI) initiatives, said Co-Chair Teresa Hernández, the diversity, equity and inclusion recruitment program manager in Human Resources.
During its Sept. 30 meeting, the council was joined by Sonia DeLuca Fernández, the campus's new senior vice chancellor for DEI. DeLuca Fernández, who stepped into her new role in early September, told members she would provide executive sponsorship to the council by amplifying its work and supporting how recommendations are implemented.
The council is a 26-member campus advisory body of faculty, staff and students who are prioritizing recommendations included in the Inclusion, Diversity and Excellence in Academics (IDEA) Plan, CU Boulder's roadmap for building a more inclusive campus community.
Since convening in September 2020, council members have recommended greater campus support for affinity groups, support systems for student, staff and faculty recruitment and retention, increased training and professional development for frontline and professional staff, and expanded gender-neutral restrooms across campus.
CU Boulder community invited to fall Diversity and Inclusion Summit on Nov. 2
Students, faculty and staff are invited to register now for virtual sessions of the 2021 fall Diversity and Inclusion Summit. The theme of this fall's summit on Nov. 2 is "The Power of Community: C.L.I.M.B. with Purpose."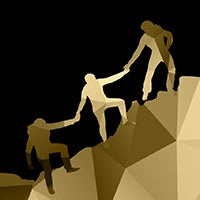 Sessions include:
The Power of Community: a Boulder Talk Show – Season 2

The Change We Seek Starts with You! Creating, Cultivating and Inspiring Others Toward a More Inclusive Model of Leadership

Read the Room: Navigating Spaces with an Emotionally Intelligent DEI Mindset.

Purpose with a Capital P: Living in Your Value

Remembering Your Power, Harnessing Your Voice
Since 1985, the Office of Diversity, Equity and Community Engagement (ODECE) has sponsored annual spring and fall diversity and inclusion summits, providing opportunities to the campus community to discuss issues related to diversity, equity and inclusion.
This year's virtual summit will include welcome remarks from campus leaders, keynote speakers, breakout sessions and conversations.
First Indigenous CU Boulder student benefits from Colorado's new American Indian tuition law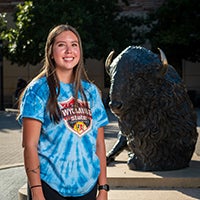 Jenna Whiteplume, a first-year student in the pre-business program, recently became the first CU Boulder student to benefit from a new Colorado law that grants in-state tuition to members of American Indian tribes with historical ties to the Centennial State.
Whiteplume, who grew up in Lander, Wyoming, is a member of the Northern Arapaho tribe. Earlier this year, Colorado passed Senate Bill 29, which allows students from Indigenous communities with historical ties to Colorado, regardless of their state residence, to qualify for in-state tuition at the state's public colleges and universities.
"It feels good to be able to be somewhere where our people used to be," Whiteplume said in a recent CU Boulder Today story.
When it came time to decide on colleges, Whiteplume knew CU Boulder was the right fit.
"My dad always took me to Buffs games when I was little," she said. "I've always really liked the Denver area, and Boulder is just so beautiful."
Each year, CU Boulder enrolls about 200 students who identify as American Indian or Alaska Native. Chancellor Phil DiStefano said he hoped the new law would help that number grow.
"This law is a long-deserved recognition for Indigenous peoples, and we are excited to welcome more to our campus community," DiStefano said.
About 48 contemporary tribal nations have ancestral ties to lands in Colorado, including the Cheyenne, Arapaho, Ute, Apache, Comanche, Kiowa, Lakota, Pueblo and Shoshone nations.
Last October, the CU system office issued a Lands Recognition Statement to recognize that all four CU campuses reside on lands that have been the traditional territories of Indigenous peoples with current and historical ties to the Centennial State for millennia.
November is National Native American Heritage Month, and earlier this month, the Biden administration issued a proclamation establishing Indigenous Peoples Day, which will be marked each year on Oct. 11.
Campus Culture Survey is now open, and students, faculty and staff can share their experiences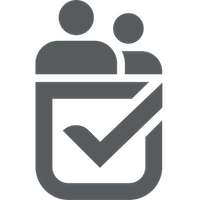 The Campus Culture Survey is underway, and all staff, faculty and students can share their experiences by completing the survey before it closes on Nov. 21.
The survey seeks to better understand the experiences of students, faculty and staff, including the extent to which all feel respected and valued at CU Boulder. The survey team will analyze how those experiences may differ based on aspects of personal identity.
Students, faculty and staff who participate in the survey will be able to provide anonymous feedback about community connections and support and experiences of hostile treatment, harassment, and discrimination; students will also be able to provide anonymous feedback about sexual misconduct, including sexual assault, stalking and intimate partner abuse.
Robert Stubbs, director of institutional research in the Office of Data Analytics (ODA), said the university is taking careful steps to protect the anonymity of survey participants and to protect the integrity of data collected through the survey.
"Participant anonymity is our first duty of care," Stubbs said. "We are committed to ensuring that individuals can provide candid feedback with confidence––anything else is counterproductive to this effort."
Steps to protect the private data of staff, faculty and students include severing identifying information from survey responses; storing anonymized responses in a secure and encrypted location; sharing only anonymized aggregated results; and limiting those anonymized aggregated results to survey items with 10 or more responses.
Since launching the week of Oct. 18, members of the campus community have asked how the university is able to protect their anonymity if they opt in to receive an incentive or qualify for a prize lottery for completing the survey.
In response, Julie Volckens, director of assessment in the Office of Institutional Equity and Compliance (OIEC), explained that the survey software functionality that allows the campus to email survey invitations and reminders is completely separate from the software functionality that collects and stores survey responses.
"The two functions are not connected," she said. "The email addresses of individuals who take the survey are stored in a separate spreadsheet from their survey responses, which allows us to maintain the anonymity of the survey data while also being able to incentivize survey participants."
More details about the survey and data privacy can be accessed by visiting the survey's FAQs webpage.
Colorado historian, poet laureate and UT professor among Los Seis de Boulder Symposium speakers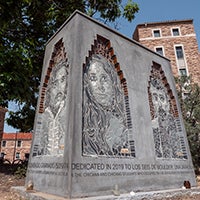 CU Boulder is hosting a campus symposium next month that will focus on the lives and tragic deaths of six college students, memorialized as "Los Seis de Boulder," who died in two car bombings during the Chicano rights movement of the 1970s.
The virtual symposium, titled "Los Seis de Boulder, Race and Memory," is taking place Nov. 5–6 and will feature speakers and artists who include Bobby LeFebre, whom Gov. Jared Polis named Colorado's youngest and first person of color Poet Laureate in 2019.
Other speakers will include Colorado State Historian Nicki Gonzales, who will give a plenary session titled, "We Will Endure: Our Journey to Understand Los Seis de Boulder," and Maria Cotera, a University of Texas associate professor of Mexican American and Latino Studies, who will give a keynote address reflecting on "history, memorialization and memory keeping."
To learn more about this two-day event, visit the symposium website and the Dairy Arts Center website to register for a free, in-person closing event titled "Lleva Nuestras Voces" (Carry Our Voices), featuring LeFebre and the Denver Latino pop and hip-hop group 2MX2.
Co-sponsors of this event include University Libraries, the American Music Research Center, the Center for Humanities and the Arts, the Latino History Project, UMAS y MECHA and the Ethnic Studies and History departments.
Denver Scholarship Foundation names CU Boulder 'Campus Partner of the Year'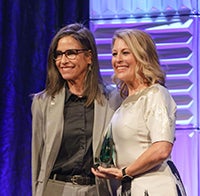 The Denver Scholarship Foundation recently selected CU Boulder as its College Partner of the Year for its commitment to creating a welcoming and supportive community for students who benefit from the foundation's scholarships and sponsorship.
Senior Vice Chancellor Sonia DeLuca Fernández accepted the recognition on behalf of the university on Oct. 13 during an awards event in Denver.
"Through partnerships like this one, we honor Colorado talent and place diversity, equity and inclusion at the heart of our academic mission," she said.
The University of Colorado system began partnering with the foundation in 2007. Since then, CU Boulder's Office of Diversity, Equity and Community Engagement and the CU LEAD Alliance have worked closely with the foundation and other partners to invest resources in students and their communities as they progress toward graduation.
In addition, the Office of Admissions collaborates with the foundation's Future Centers in 14 Denver Public Schools high schools. Scholars go on to receive extensive advising after arriving at CU Boulder to pursue their academic and career goals.
Sustaining our practice of inclusion
Campus efforts and investments to address pressing and painful inequities at CU Boulder are only a beginning.
Creating a culture of belonging will take each member of our community practicing sustained personal work to truly embrace and support diverse perspectives and identities in our community.
This fall, Chancellor Philip DiStefano and other campus leaders urge every member of our community to join in learning more about diversity, equity, inclusion and anti-racism and to work continuously together to address these challenges more actively and in ways that can help authentically transform our campus culture in the coming year.