For the past three years, Air Quality Inquiry (AQIQ) has been reaching K-12 students across rural Colorado, teaching them to conduct their own air quality research with affordable sensors developed by Professor Michael Hannigan. This year, AQIQ Education Director Daniel Knight decided to mix things up. He and his team extended the program across the globe to reach Public Lab Mongolia, a nonprofit whose mission is to make data available to the Mongolian public.

Above: Mechanical engineering graduate student Evan Coffey teaches partners in Mongolia about the AQIQ Pods during his trip to Mongolia in November 2019. Photo credit: Enkhtungalag (Tunga) Chuluunbaatar.
Top: View of Ulaanbaatar, Mongolia in November 2019. Photo credit: Evan Coffey.
When Public Lab Mongolia learned of AQIQ, they were determined to adopt a similar model so that high school students in Mongolia affected by poor air quality from burning coal to heat households could learn more about the science behind it. In spring 2020, they traveled to CU Boulder and signed a partnership agreement with CU Boulder Provost Russell Moore. They agreed to form a new chapter of AQIQ at the National University of Mongolia.
Knight said he is excited to see the impact of their newest partnership in Mongolia in addition to continued work with five rural high schools on Colorado's Western Slope and three rural high schools on the High Plains in Northeastern Colorado.
As part of the program, a mechanical engineering course at CU Boulder, Project-Based Learning in Rural Schools was developed to equip college students with the skills needed for working with high school students to develop an air quality project of their own. A similar model will be implemented at the National University of Mongolia. College students will learn to use Pods in their first semester, and their second semester will give them an opportunity to teach and mentor younger students who will be designing their own air quality experiments.
Before travel restrictions came about as a result of COVID-19, the full AQIQ team had planned an in-person training that would take place during the summer with Public Lab Mongolia and the National University of Mongolia in Ulaanbaatar. Since prior plans were no longer an option, alumni of the Project-Based Learning in Rural Schools course at CU Boulder stepped up and taught the AQIQ curriculum remotely despite the 15-hour time difference. Public Lab Mongolia was able to use the Pods they had taken home following their visit to CU Boulder earlier in the year. As part of their training, they gained experience by completing an AQIQ research project studying automobiles and public transportation in Ulaanbaatar.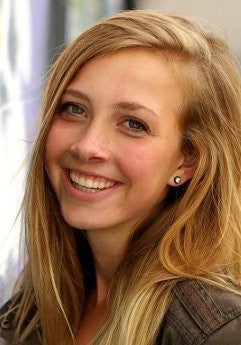 Civil engineering graduate student Britta Bergstrom.
One of the CU student mentors who helped with their training was Britta Bergstrom, an MS student studying civil engineering and pursuing a teacher's licensure through the School of Education's Post-Bac Licensure Program. Bergstrom taught partners at Public Lab Mongolia a module which explored how to design an AQIQ research project. Bergstrom's involvement with AQIQ is captured in her responses to the questions below. 
Why did you get involved with AQIQ?
I saw the AQIQ program would allow me to combine my passion for teaching, engineering, and travel, and I quickly emailed Dr. Knight to discuss enrollment. What made me want to stay involved was a combination of a variety of things including the welcoming and easy-going faculty, an opportunity to travel, a lighter workload and most importantly, the opportunity to get into a classroom and teach.
Describe the AQIQ course, Project-Based Learning in Rural Schools.
In the fall, we spend each week simulating what we will be teaching in the spring, and by the end of the fall semester, we go to our assigned schools once for a chance to meet and engage with our K-12 students through an ice breaker game. Then, in the spring, mentor-teacher pairs visit their schools a handful of times to teach four different themes: an introduction to air quality, an exploration of combustion, how to design a research project, and how to interpret and present data. The lessons end with a poster symposium, which allows the students to present their air quality research and the data they collected. These projects explore everything from the difference in volatile organic compound amounts in cologne versus perfume to how much carbon dioxide an old truck outputs versus a new hybrid car.
How has AQIQ inspired interdisciplinary collaboration? 

AQIQ's partners in Mongolia conduct an experiment using an AQIQ Pod to study automobiles and public transportation in Ulaanbaatar as part of their summer training. Photo credit: Enkhtungalag (Tunga) Chuluunbaatar.
I am pursuing an MS in civil engineering and a teacher's licensure through the School of Education's Post-Bac Licensure Program. This course was the perfect intersection between my areas of study. When I joined the class, I was pleasantly surprised to see that my classmates represented a variety of educational backgrounds. This course is appealing to students with a variety of passions, including teaching, environmental issues, research and study design and global engineering. This ultimately creates a very enriching culture within the class, because despite students taking the class for different reasons, there must be collaboration between students with different interests in order to teach the younger students.
Looking ahead, what excites you about AQIQ? 
This coming year we are broadening the diversity of educational backgrounds of students involved by reaching out to non-engineering programs such as the School of Education and the Environmental Sciences Program. Students in this class do not need to have background knowledge in air quality, but they do need to have a basic understanding of how research projects are conducted and be excited to work with middle or high school students. As this program moves forward, I'm personally most excited to see the course continue to connect departments across the University of Colorado Boulder, as well as a way to connect universities and schools across the world. We're seeing this already with our Public Lab Mongolia partnership, and I think there is high potential to work with other non-governmental organizations and schools globally in the future.
What did you learn from your experience training Public Lab Mongolia this summer?
Working with Public Lab Mongolia this summer gave me my first opportunity to practice remote training, which is closely tied to remote teaching and is already proving helpful in my teaching courses this fall. Specifically, I was able to practice presenting a powerpoint and giving explanations over Zoom, as well as how to effectively brainstorm remotely as a group. I was also able to increase my global mindset and experience by learning about Mongolia! During our first meeting, we learned about the air quality and environmental challenges in Mongolia and got to experience the language as all of the materials were translated into Mongolian. Then, partway through the summer, one of the lead mentors, Tunga, gave us an impromptu lesson on Mongolian culture where we learned about traditional Mongolian wrestling, festivals and food. I love learning about different cultures around the globe, so this was a very meaningful experience for me.