Spring 2020 Industry Tours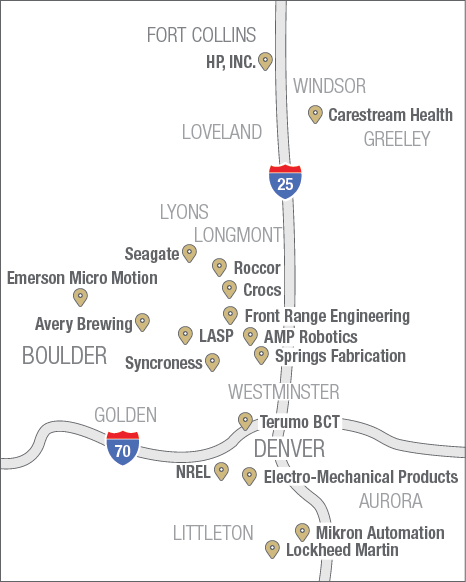 AMP Robotics
Avery Brewing
Carestream Health
Crocs
Electro-Mechanical Products
Emerson Micro Motion
Front Range Engineering
HP Inc.
Laboratory for Atmospheric and Space Physics (LASP)
Lockheed Martin Space
Mikron Automation
National Renewable Energy Laboratory (NREL)
Springs Fabrication
Syncroness
Roccor
Terumo BCT
Seagate
Through February and March, over 250 mechanical engineering students trekked across the Front Range to tour one of 17 different companies. The tour series was a collaboration between Design Your Career, a professional development program for mechanical engineering undergraduates, and Instructor Janet Tsai's manufacturing class.
Industry tours allow students to see a workplace environment so they can start thinking about the kind of workplace that would be a good fit for them. They are encouraged to pay attention to workplace culture and the types of roles that resonate with them. In the context of Tsai's manufacturing class, the tours allow students to see different manufacturing processes in action from start to finish. Students in manufacturing also participate in virtual tours in order to see a variety of different manufacturing environments over the course of the semester.
Essential to the industry tour experience are the tour guides, many of whom are alumni, existing industry partners or were introduced to the tour coordinators by mechanical engineering faculty or alumni. Others, like NREL and LASP have established tour programs.
David Wolenski, president of Electro-Mechanical Products, Inc. has led 11 tours for engineering students from a variety of institutions since September 2019. He said the experience is beneficial for both the students and those in industry.
"These tours provide an opportunity for us to establish a bridge between the academic side of engineering and industry-based jobs. From the EMP side, it's a great opportunity for us to see what students are thinking about, because they are the cutting edge, the future of where industry is going," Wolenski said.
At EMP, he said he was able to show students the manufacturing process from the beginning when raw materials come into the plant to the end when finished products are shipped.
"We took a specific part and traced that product from where it came in as chunk of copper and followed it through the whole process," he said.
Students said they enjoyed seeing industry in action and getting perspective into what a possible career could be like. One student wrote, "I thought it was cool to actually see concepts we are learning in class being applied through a product."
Kat McConnell, Senior Professional Development Advisor, said she was happy to see participation from both new alumni working in industry and from senior leadership at the companies.
"It was really inspiring to see our alumni working in so many different fields on just an incredible range of projects. We got to see everything from the newest Crocs designs to huge-scale medical film manufacturing to space tech being prepared for a mission to Jupiter," she said. "We really appreciate being part of such an outstanding engineering community that extends far beyond our campus."