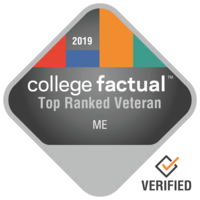 College Factual released its 2019 national and state rankings for Best Mechanical Engineering Programs for Veterans. University of Colorado Boulder performed especially well.
National Rankings Review
CU Boulder Mechanical Engineering is ranked 14 out of 272 colleges and universities for veteran friendliness. This puts CU Boulder in the top 5% of all schools in the nation when it comes to offering a quality education to veterans studying ME.
CU Boulder improved its ranking position one slot over the previous year's ranking of 15.
See the full ranking of ME programs for veterans.
State Rankings Review
University of Colorado Boulder's ME program is ranked 1 out of 5 colleges and universities in Colorado for veteran friendliness. This means CU Boulder is the best school in Colorado for veterans studying ME, a ranking that was achieved two years in a row. 
See the full ranking of Best for Vets ME programs in Colorado.
About Veteran Rankings
These rankings were developed to highlight schools that offer quality outcomes in a specific major while also offering support and resources to help veterans and active-duty military students thrive. 24 factors are reviewed to identify excellence in the following areas:
Veteran Affordability
Veteran Population
Veteran Policies
Veteran Resources
Veteran Satisfaction
Overall College Quality
Read more about College Factual's rankings for veterans.
Excellent Outcomes at University of Colorado Boulder for Students Earning ME Degrees
Out of approximately 27,900 undergraduate students, roughly 1,080 are GI Bill® recipients. This is an education benefit earned by members of Active Duty, Selected Reserve and National Guard Armed Forces and their families designed to help servicemembers and eligible veterans cover the costs associated with getting an education or training.
Based upon PayScale survey data, a student who graduates from CU's Mechanical Engineering Department realizes average early-career earnings of $62,038 and average mid-career earnings of $100,499.
This is above the national average for all ME graduates who make $57,795 in their early career. It is also higher the average graduate's mid-career salary of $96,167.
About College Factual
College Factual, located in Troy, New York, is the leading source of data analytics and insights on college outcomes. College Factual provides in-depth coverage for over 2,500 colleges and universities and over 350 college majors. These insights are available to students from over 50 countries interested in pursuing accredited college degree programs in the United States.