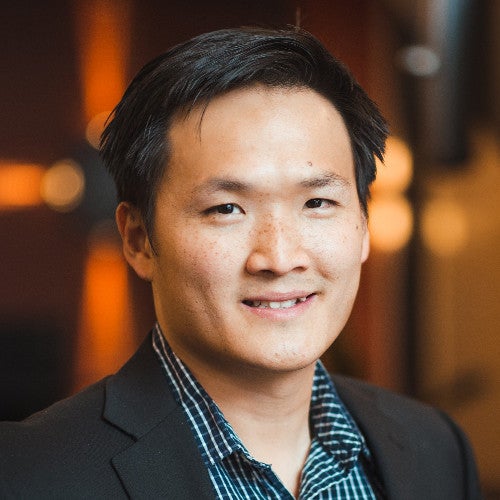 Chern Hoi Lim
Chern-Hooi Lim (PhDChemEngr'15) is the founder and CEO of New Iridium, a spinoff company created by research conducted in part in the Department of Chemical and Biological Engineering. He was recently selected for C&EN's Talented 12, a program that honors young chemists and chemical engineers who are bringing innovation and entrepreneurship to bear on pressing global issues.
"Working with Chern was always incredibly exciting because he continually came up with innovative ideas, developed new collaborations and figured out how to solve complex and important problems," said Professor Charles Musgrave, Lim's former advisor. "I'm not surprised at all that he has continued on the meteoric trajectory he set as a graduate student, and that he was selected as a C&EN Talented 12 recipient."
Lim sat down for an interview to discuss his work, research and ongoing benefits of his education at CU Boulder.
---
Would you tell me a little about your discovery that led to the formation of your company and getting published in Science as a student?
It was a cross-department, collaborative effort. At that time, when I was a PhD student in the Musgrave Group, we initiated a collaboration with Garret Miyake in the Department of Chemistry. [Miyake later took a position at Colorado State University, where Lim served as a postdoc.] In the Musgrave lab, we mainly ran computational simulations of chemical reactions to gain deep fundamental insights of chemistry, but we would not do traditional laboratory experiments. Garret on the other hand was doing experimental science.
Garret was very interested in light-driven processes, particularly in controlled polymer synthesis. He was going after big problems and wanted a photocatalyst that could accomplish his reactions. I ran hundreds of simulations that predicted what compounds could absorb light and catalyze the reaction Garret was interested in. Within six months, we had very good hits that led to the Science publication.
This highlighted the power of theory-driven discovery because we could crank through a lot of calculations, down-select on the computer to pick some targets and synthesize. Our startup, New Iridium, seeks to commercialize those photocatalysts. We are heading in the direction of using CO2 as a feedstock that could decarbonize the chemical industry. 
How does it feel to receive the C&EN Talented 12 recognition?
When you're running a startup, it's great to have recognition. I also feel extremely honored as my work was recognized through this award. Our company was previously a finalist for the Ray of Hope Prize from the Institute of Biomimicry as well. Three-hundred startups competed around the world and made it to the top 10.
Please tell me a little about your presentation for the conference.
It's about my journey—from Malaysia to the U.S., first in Philadelphia to get my undergrad degree at Drexel, and how I transitioned to CU Boulder to get my PhD and postdoc, and the journey to start a company.
How does New Iridium fit into that journey?
Greenhouse gas and global warming is a threat to humanity and a big topic today. There is actually lots of interest in the investment community for clean technology. However, using CO2 as a feedstock for commodity chemicals means that, in most cases, people have to pay a premium. We seek to enable a greener and cheaper process. The startup has to be practical with targets, and this is where the business comes in, where our technology meets business.
What problems are you addressing? What motivated you to pursue this line of research?
I chose CU Boulder because CO2 research in combination with computational chemistry really piqued my interest. Initially, my startup was not involved with CO2 because at that time there was not really momentum in this area. I had to find an area where the company could be profitable, so initially we were in the pharmaceutical space applying our technology, which is a platform technology, so we use the same catalyst that can produce pharmaceuticals or turn CO2 into something useful. It's a matter of application. 
I would like to give a shout-out to the Venture Partners entrepreneurship program at CU Boulder, the tech transfer folks involved with that program. They introduced the notion of doing customer discovery and interviews. It's data-driven, getting feedback from the marketplace. We talked with people and they told us this is what they want, and we give people what they want. We talked to folks in major chemical companies and a number of venture capital groups, and people are putting more and more money and momentum toward the CO2 market.
Where do you plan on taking New Iridium? What problems is it uniquely poised to address?
In the next five years we want to have a profitable large scale chemical process where we can use CO2 feedstock in the commodity chemical space, enabling both greener and cheaper solutions. However, to make the most impact out of CO2, ultimately we need to get to the fuel space, turning CO2 into usable fuel. For example, our targets can be methanol and ethanol. Ethanol is used today in our pump when you go get gas. We are looking for a direct conversion of CO2 to ethanol, one that is cheaper and has the most impact. By turning CO2 back into fuel, we are closing the carbon cycle. Fundamentally this is what photosynthesis is doing: balancing the carbon.
Carbon capture is part of the value chain and ecosystem. The problem is after they capture and concentrate CO2 from the atmosphere, what do you do with it? We are trying to address the chemical process to turn CO2 into something useful.
How did your time as a student in the Musgrave Group shape your career and research interests? How else did it influence the direction of your life?
What I learned from the Musgrave Group is the deep understanding of how chemistry happens. It's a very useful tool, but one that is underappreciated. I wanted to take that knowledge to the next level. I want to prove our ideas with experiments. I went from the Musgrave group as a PhD candidate to the Miyake group as a postdoc, where I learned new skillsets and did experimental science. What I learned from Musgrave was solving problems. With the Miyake group, I picked up new skills. From there I developed an interest in entrepreneurship.
Do you have any other fond memories of your time at CU Boulder and the Department of Chemical and Biological Engineering?
Even though I run New Iridium in Ft. Collins, I live close to Boulder, I still visit often. I really miss my time at the department and lots of fun things—I miss biking and hanging out with all the folks. My experience, where I am today—Boulder is a big part of it, shaping me, my perseverance to accomplish things, to be opportunistic.
Do you have any advice for current ChBE students?
Dream big! Don't be afraid, take risks. Not just taking risks, but knowing that in taking risks, you have the responsibility, and to work on big problems. Because the time is too short. Even five years as a PhD candidate will fly by. If you want to make a big impact, work on big problems.
Is there anything else you would like to share, or people you would like to thank?
Professor Charles Musgrave is the first person to thank. I want to thank him for accepting me as a student. At that time he didn't have a position open, but he created one so I could work in his group. It was awesome.
Also, thanks to all the people at the Venture Partners program, especially Sally Hatcher and Bryn Rees. They were a big part of kickstarting my entrepreneur career.
Lim hails from Batu Pahat, Malaysia. He now lives in Superior, Colorado.