Chamonix, France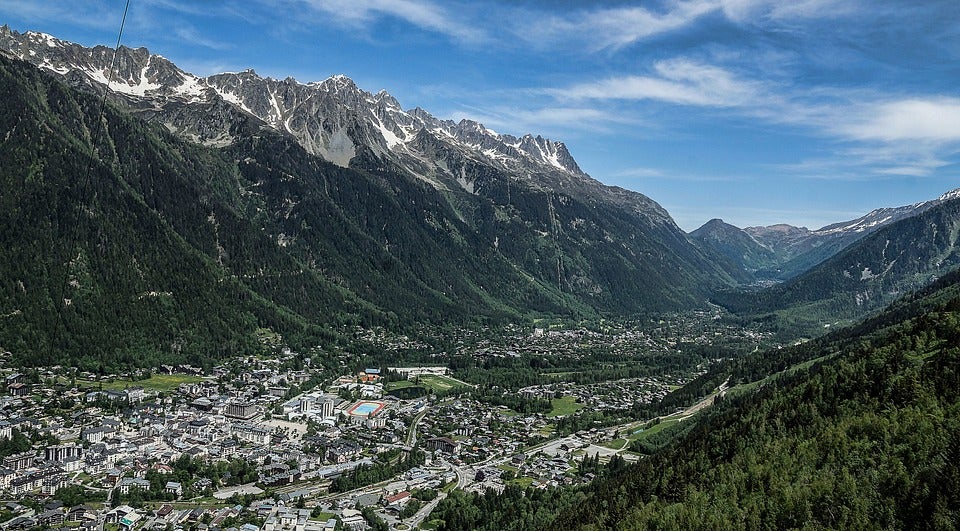 In May 2019, MENV launched Policy and Climate Change in the Mont Blanc Region (ENVM 5033), an experiential course in Chamonix, France. Taught in partnership with the Center for Research on Altitude Ecosystems, the course addresses alpine ecosystem science issues, as well as the policy and management challenges presented by a region straddled by three nations. MENV's experiential field courses provide place-based experiences that help to prepare students to understand, work in, and be prepared for a variety of cultural contexts. Chamonix sits at the base of Mont Blanc, Europe's highest mountain which tops out at 15,781 feet.
This is a 3-credit hour course, and will satisfy an MENV elective. Participation in this program will require an additional program fee.
Course Overview: 'Policy and Climate Change in the Mont Blanc Region' will look at how climate change is impacting a high alpine environment, as well as consider potential policy responses. The course will investigate climate monitoring activities, climate change impacts and local, national, and international policy approaches to responding to climate change in the Mont Blanc region. The class will be held in both Boulder and in Chamonix, France in May 2019. 
Course Details: This field course focuses on how climate change is impacting the Mont Blanc region, and further considers the opportunities and obstacles faced by regional political leaders in adapting to changes in the regional climate. The goal of the initial Colorado-based component of the course is to have each studet develop a reasonable understanding of the Mont Blanc region, culture, policies, and ecosystems before we arrive in Chamonix. The goal of the Chamonix component of the course is engage in field work in the Mont Blanc region, and learn from regional policy-makers and land managers. 
To do this we will divide the class into groups, and each will be responsible for developing reading materials and leading class discussion for two class sessions (between May 13 - 24).  The four groups will be asked to each focus on one of the following:
The history and culture of the Mont Blanc region
The political and economic forces shaping the Mont Blanc region
Environmental issues (other than climate change) and land management/land use in the Mont Blanc region
The impacts of climate change on the Mont Blanc region
We will work with each group to guide you to identify appropriate reading materials and to prepare your presentations. Prior to the beginning of the Maymester, the instructors will meet with each group at least twice. These meetings will occur during the spring semester. 
Copenhagen, Denmark
Course Description: International Energy and Sustainability examines policies, technologies, and social movements around the world as they pertain to energy markets, businesses, initiatives, and long term sustainability goals. This Augmester course primarily focuses on conventional and renewable energy but will also examine, more broadly, the ways in which communities, businesses, and governments are working to move toward a more sustainable future. The course will be taught in an Augmester 3-week intensive setting with approximately 10 days in Boulder and 10 days in Denmark.  
For decades, Denmark has been a global leader in creating and implementing policies and technology for moving the world toward a more carbon neutral and sustainable energy future. Both at the national and municipal levels, Denmark has established far-reaching and effective policies related to sustainable energy development and implementation in businesses and universities, many of which are respected internationally as leaders in the renewable and sustainable energy space. Furthermore, the country has managed to make these advancements while always taking into account the cultural and social impacts of a changing energy sector, not an easy task when dealing with such pervasive and vital industries. For all these reasons, Denmark is the perfect location to explore international energy and sustainability and the lessons for implementing such work around the world.
Topics (including but not limited to):
The history of international energy and sustainability
Current and future trends in the international energy and sustainability space as they pertain to:


Fossil fuels
Renewable energy
Transportation
Sustainable development

Case studies on energy and sustainability around the world
Policies and strategies to reduce emissions
Policies and strategies to incentivize deployment of renewable energy
Social policies in international energy for sustainable and equitable outcomes