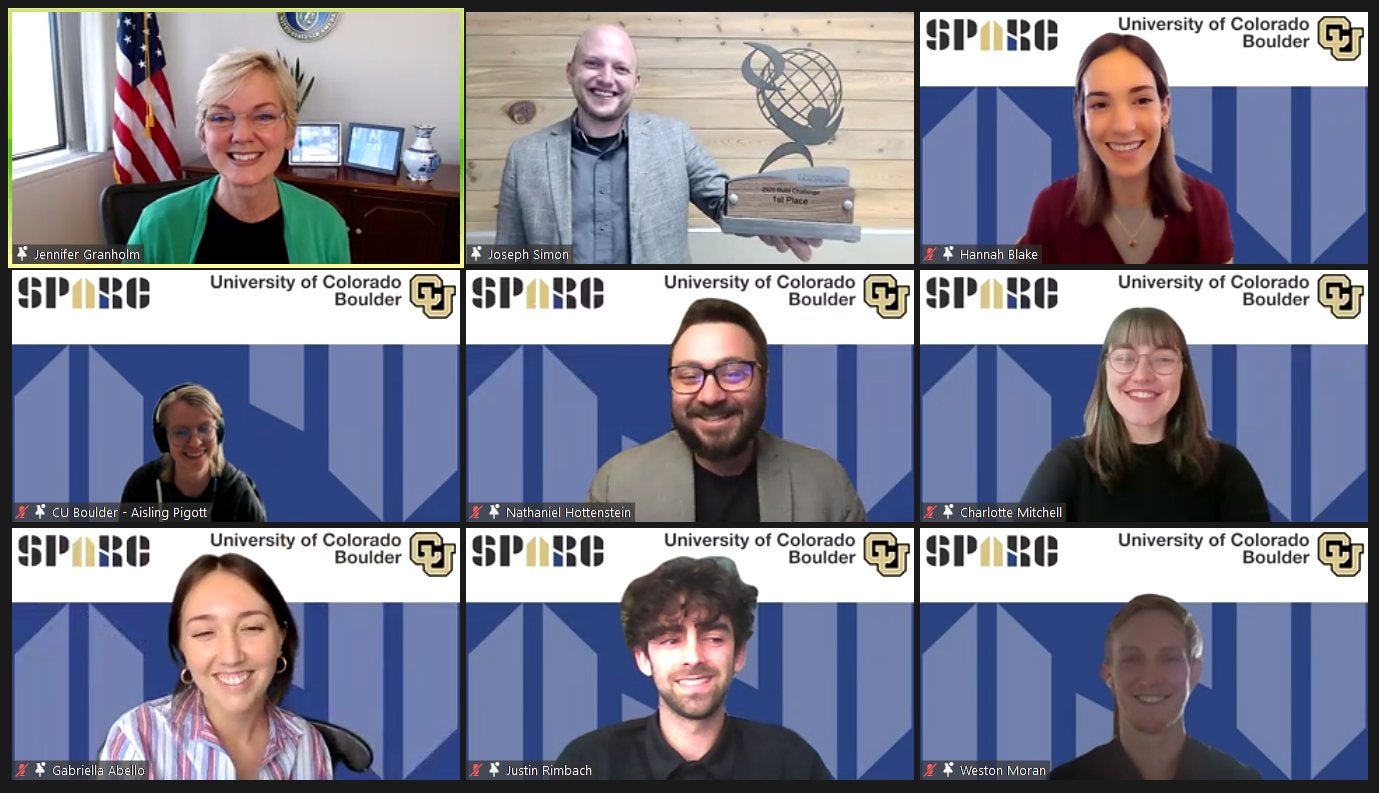 The CU Boulder team is presented with their trophy during the virtual awards ceremony. 
The University of Colorado Boulder won first place in the 2021 U.S. Department of Energy Solar Decathlon Build Challenge, the third time CU Boulder has placed first in the highly competitive event. 
The results were announced Sunday by Secretary of the U.S. Department of Energy, Jennifer Granholm, who commended the winning team for designing a home that addresses the challenge of affordable housing in mountain communities. 
"It combines strong architecture and thoughtful market potential and innovative technologies. It showcased energy efficient performance in its high-altitude cold climate," said Secretary Granholm. 
From April 15-18, the CU Boulder team competed in this biennial collegiate competition against nine other teams from the U.S., as well as from the Netherlands, Chile and Canada. Originally planned to take place in-person on the National Mall in Washington, D.C. last June, this year's event was held virtually using real estate tour-like technology.
We are thrilled for CU Boulder! All the students, faculty and advisers involved in the Solar Decathlon competition put in an extraordinary effort, and we are grateful to have been part of the team. Most exciting of all is being able to demonstrate that even in the coldest town in the US, sustainable, all-electric homes are ready for prime time. It is a joy to be part of the necessary and exciting energy transition our country is undergoing, and we look forward to seeing many more all-electric net zero homes in the future." - SPARC homeowners Kristen Taddonio and Joe Smyth
The CU Boulder "SPARC" house (Sustainability, Performance, Attainability, Resilience and Community), was designed and built to address the housing attainability crisis and construction challenges faced by mountain towns across the country. With its state-of-the-art-energy efficiency systems, the SPARC house is already selling energy back to the local power grid—all while temperatures still drop below freezing at night and the new homeowners use it to charge their electric car. In addition to significantly reduced utility costs and modest footprint, it also features an attached rental unit that  further addresses housing affordability and attainability in mountain towns. 
"We held on to this belief the entire way along that we're solving a real issue and we have a great solution to it. And it just is amazing to see that other people believe in that as much as we do," said Hannah Blake, one of the team's student co-founders and project leads. "We are loving this response. We can't wait to see what is next."
A team of Buffs hasn't competed in the Solar Decathlon Build Challenge since 2007, but this win adds to CU Boulder's first place finishes in the inaugural 2002 event and again in 2005. In addition to the overall first place win, the team won three of 10 contests within the build challenge, including innovation, market potential and architecture, tied for second in the Energy Performance contest, and placed second in the contests for engineering, operations, and financial feasibility and affordability. 
It's the result of three years of work—through everything from extreme heat and wildfires to construction complications due to COVID-19—and the final product is a stunning achievement. 
It's been a monumental effort, with more than 30 students and faculty collaborating across campus since 2017 to create a house completely from scratch for competition this week. From sophomores to PhDs, students involved have been based in architectural engineering, Engineering Plus, environmental design, mechanical engineering, civil engineering, environmental engineering, business, and anthropology. The project has spanned many team members' graduations, with recent alumni involved now spread across the country, applying their hands-on experience directly to their careers. 
"If you've ever been a part of the CU Boulder team, whether you're actively involved now or not, you matter to this team, and you helped us get to where we are," said Gabriella Abello, student team co-founder and project lead. 
The CU Boulder Solar Decathlon team was generously supported by a large group of sponsors and funders, donations and the U.S. Department of Energy.