Students created models based on atomic structures
Science and creativity went hand in hand at University Hill Elementary School thanks to researchers from the Toney Group and graduate students from the Theatre & Dance Program. The collaborative project taught third graders about STEM subjects through art, music and dance activities.
Emma Antonio, a postdoc in the Toney Group, was interested in how art and movement could be used to communicate scientific concepts to elementary school students.
"The goal was to focus on curiosity, play and creativity," Antonio said. "By inspiring children to explore science in the world around them, I was keen to challenge conventional ideas about what science is and who it is for. I was also excited to provide CU Boulder students with an opportunity to engage with young people, build an interdisciplinary community across campus and develop skills outside the lab."
She reached out to the Theatre and Dance Program and connected with graduate students Katerina Lott and Christina Mitchell. The group then contacted Mary Powell and Becca Spence of University Hill Elementary, who teach art and music, respectively. Antonio won a CU Outreach and Engagement community impact grant for the project.
Together, they developed what would become the Elementary Arts Lab.
A lesson on sizes of objects in outer space inspired artwork
"Christy Mitchell and I were the artists of the group, working with our friends from the science side," said Katerina Lott, a second year MFA student in the Dance program. "We wanted to create a truly blended curriculum that explores art and science together — using art to explore and embody science concepts, and using science to inform and provoke our art-making."
The group developed a series of lesson plans for third graders to explore science concepts including atoms, light and color, sound, states of matter, the scale of atoms to galaxies, weather and the water cycle.
"This was a unique experience for students as they have missed many learning opportunities due to the restrictions of COVID," said Mary Powell, art teacher at University Hill Elementary.  "They were eager for activities that were beyond the usual scope of third grade and were eager to meet the CU Boulder students and use technology as a bridge between their learning world and that of the scientists and dancers."
Powell saw the Elementary Arts Lab as a way to challenge students to consider their perspectives and thoughts about science, dance, movement and art.
"Working with the dance students and teachers was such an enriching experience as we generated ideas, shared our expertise and delivered the sessions together," Antonio said. "As well as the all-round excitement about the project, I was delighted by reports that the children were 'not just learning science, they were thinking like scientists' as well as comments from CU Boulder students who felt that thinking about topics in new ways had improved their own understanding."
The group taught nine lessons to 75 third grade students during the spring 2021 semester. Antonio, Lott and Mitchell were joined by science and engineering students and postdocs Elizabeth Allen-Cole, Tom Chaney, Luis Kitsu, Andrew Levin, Trisha Nickerson, Lacey Roberts and Nick Weadock. Together, they introduced the concepts to the students, and teachers Powell and Spence would continue to explore the concepts over the course of the week.
"It was really wonderful to see the children responding to and getting excited about what we were bringing in," Lott said. "I have a lot of experience teaching children, particularly in an elementary school setting, so I was excited to join the project. I am also very passionate about advocating for arts education in public schools. I am very inspired by our mission, a big part being to challenge stereotypes and preconceptions about what a scientist or an artist is, and who can be a scientist or an artist."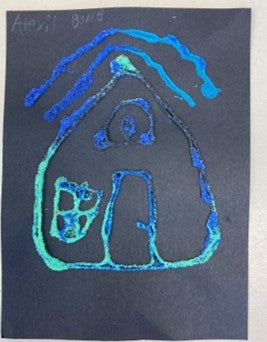 A student's sand painting, made during the lesson on atoms
"I am exceptionally proud of the CU Boulder postdocs and graduate students for their innovative outreach to the Boulder Valley School District [BVSD] elementary schools to foster interest in STEM through the use of dance and art," Toney said. "This is a wonderful demonstration of the impact that a group of talented and passionate CU Boulder postdocs and students working with teachers can collectively have in the broader Boulder community."
In the fall, the group worked with BVSD to develop resources on energy and waves for all 75 fourth grade classrooms. The lesson plans meet the national Next Generation Science Standards and have also been translated into Spanish for bilingual learners.
Sara Nelson, a curriculum developer with the Strategic Initiatives department of BVSD, praised the collaboration.
"The lessons created by the Elementary Arts Lab group are innovative and creative ways for kids to explore rigorous science concepts in the way kids do it best: with their whole bodies and minds," Nelson said. "I can't wait to see how our fourth grade teachers use these enriching resources this year."
The Elementary Arts Lab is currently looking for more opportunities to collaborate with teachers and young students, and is seeking to expand its team of artists and scientists. Learn more about the program here.