Students gathered for a photo after the symposium. Courtesy NCSU.
Students from the Department of Chemical and Biological Engineering presented their research as part of the competitive NC State University Future Leaders in Chemical Engineering symposium this past October. Three students from the department were recognized as awardees.
Michael Bibbey
Michael "Griff" Bibbey is a senior chemical and biological engineering student working as an undergraduate researcher in the Cha Group. Bibbey presented his research on engineering novel photoactive protein therapeutics for improved chemotherapy efficiency and the inhibition of tumor growth.
"I was heavily involved in demonstrating the ability of our protein to slow the growth and spread of breast cancer," Bibbey said. "This research is a big step in evaluating the efficacy of our modality, but more broadly it gives some important insight to the way bioconjugates may be able to induce cellular quiescence — a state of reversible growth arrest — in cancers."
Michael "Griff" Bibbey
As an attendee of the symposium, Bibbey enjoyed the opportunity to connect with his fellow undergraduate researchers and established faculty leaders in the fields of colloids, protein and pharmaceutical engineering and soft matter physics.
"I got to meet the brilliant young researchers who will be my colleagues for the rest of my career and made some great connections," he said.
Bibbey plans on continuing his research with the Cha Group on a tissue engineering project for his senior thesis. He is working alongside Sanheli Ganguly, a postdoctoral researcher, to develop a rapid, facile method for the DNA-mediated assembly of tissues. He recently co-authored a paper in Biotechnology & Bioengineering.
Bibbey will pursue a PhD in chemical engineering to enter a career in nanomedicine.
"Griff has shown tremendous potential as both a researcher and educator," said David Clough Professor Jennifer Cha. "Over the past year or so, he has not only been doing experiments in my group which has led to him being a coauthor on a recently published article, he has been awarded several prestigious fellowships to intern at places such as Proctor and Gamble. Griff has been helping extensively in the classroom as a course assistant and TA. I see a very bright future for him in graduate school and beyond."
Shambojit Roy, a graduate student in the Cha Group, also shared praise for Bibbey. 
"I have been mentoring Griff for the past year, and he is extremely enthusiastic and has a great attitude towards research," Roy said. "He's a quick learner and has always shown interest in learning new things. I think he will do exceedingly well in graduate studies and research in general."
Carrie Bishop
Carrie Bishop is a senior chemical and biological engineering student working in the Anseth Research Group, which focuses on using biomaterial scaffolds in cell and tissue engineering.
For her presentation, she described the lab's research into the cardiac disease Aortic Valve Stenosis (AVS) that causes abnormal blood flow through the heart.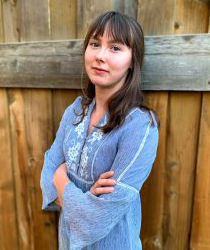 Carrie Bishop
"A main part of the disease progression of AVS is that cells on the aortic valve undergo a phenotypic change that results in the valve becoming more stiff and calcific, but it is not fully understood why these changes occur," Bishop said. "The Anseth Group has previously shown that we can use hydrogels — a type of biomaterial with a controllable stiffness — to better mimic healthy and diseased cellular environments."
Bishop said that this causes cells to undergo phenotypic change. The group investigated the epigenetic mechanics that appeared to control how the cells changed.
"I analyzed genomic sequencing data for RNA expression and the accessibility of distinct regions of chromatin to narrow down what genes might be causing the changes in cell expression based on changes in the mechanical environment," Bishop said. "As a result of the overlaps between the differential expression of genes from healthy versus disease-like cells, we found four genes and numerous transcription factors that are implicated in this cellular transition, and therefore may be implicated in AVS."
The group is currently investigating the in vitro effects of those genes, which may result in pharmaceutical and therapeutic treatments that would obviate the need for invasive surgery procedures.
"Through more than two years in my lab, Carrie has proven herself to be relentlessly curious, independent and unafraid to tackle new challenges," said Distinguished Professor Kristi Anseth.
"Carrie is extremely motivated about doing research," said Dilara Batan, Bishop's graduate student mentor. "She is very self-motivated in learning new techniques and actively seeks additional challenges. She's well on her way to becoming an independent researcher."
Bishop greatly enjoyed the symposium experience.
"The symposium was fantastic. I was able to learn about a variety of other areas in chemical engineering research outside of CU Boulder," Bishop said. "In addition to strengthening my presentation skills, it was great to be at an in-person poster session again, although it took a little getting used to."
Bishop thanked her mentors for their guidance, including Benjamin Carberry, Cierra Walker, Dilara Batan and Kristi Anseth.
Bishop is working on a senior thesis project with the Anseth Research Group, as well as applying to graduate schools and exploring employment opportunities in the bioengineering and computational biology sectors.
Cyrus Haas
Cyrus Haas is a senior chemical and biological engineering student working in the Whitehead Research Group. Haas presented research on a new method to identify SARS-CoV-2 escape mutations.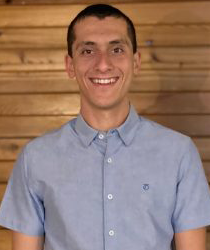 Cyrus Haas
"An escape mutation occurs when SARS-CoV-2 mutates, preventing the immune defenses that humans have developed from fighting back against the virus," Haas said. "This can have a significant impact on vaccine and monoclonal antibody treatment efficacy. The rise of new SARS-CoV-2 variants like Delta show that variants with escape mutants are already seen in circulation."
Haas said these variants can lead to higher infection rates and more severe cases of COVID-19.
"The research provides a complete experimental pipeline for identifying potential escape mutations before they are seen in circulation," Haas said. "My specific work focused on developing software that could be used to compile experimental DNA sequencing data and run a statistical analysis to identify the potential escape mutations."
"Cyrus is an incredibly bright and talented undergraduate," said Associate Professor Timothy Whitehead. "He has already been a co-author on two published papers, which is an outstanding achievement for an undergraduate researcher. He has been able to make contributions in my lab both computationally as well as experimentally."
Haas credited Irene Francino-Urdaniz for leading the research project and developing the experimental pipeline. He also thanked postdoctoral associate P.J. Steiner for help with writing the software and Whitehead for his guidance and mentorship.
"This was the first in-person setting where I was able to share the research I worked on with other peers, graduate students and faculty," Haas said.
"There were many other students from the symposium that were presenting important research and it was a great place to meet other chemical engineers from around the country. I'm excited for the opportunity to stay connected with these peers and potentially work with them in the future."
Haas is applying to graduate school to pursue a PhD in chemical and biological engineering, with a focus on protein engineering and synthetic biology.