Dear Chemical and Biological Engineering community,
The brutal death of George Floyd in Minneapolis this past week has left me and much of the nation deeply troubled and saddened. Although we as a department and university are committed to our ideals of equality and edifying others through education and service, we are confronted with the fact that Black people and people of color in this country experience bias and discrimination. This is contrary to everything we stand for—that we strive to improve lives by making contributions to society as members of the university community. However, the deaths of George Floyd, Ahmaud Arbery, Breonna Taylor and too many others before them prove that racism and discrimination persist in this country and that we are still far from being a society where all are treated respectfully and equitably.
We know that diversity creates a stronger society, that engaging others with diverse backgrounds, ideas and skills with the intent to understand and learn from each other is what makes a university great. Ultimately, this community must foster inclusion not only because it leads to a better university and world, but also because it is the right thing to do. Treating others with respect, fairness and as individuals all striving to achieve their potential is the measure of our character. To do our part we must listen to each other with empathy, humbly eager to understand and build relationships with those different than ourselves.
While for many of us, George Floyd's death and the events it has catalyzed have been overwhelming; this has been felt especially painfully in Black communities. While our own backgrounds may limit our ability to completely understand this pain, we must be committed to being empathetic to the impact of these experiences, recognizing and eliminating our own biases and valuing each member of our community. We must recommit ourselves to our values of inclusiveness, diversity and fairness and strive to be and do better. I encourage each of you to read interim Dean Keith Molenaar's June 2 message and to engage with the recommended resources shared by Amy Moreno, director of inclusive culture, in her June 3 letter to the college community. This will help us build a foundation upon which we may engage in critical dialogue and take action together. 
Sincerely,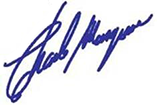 Charles Musgrave
Chair