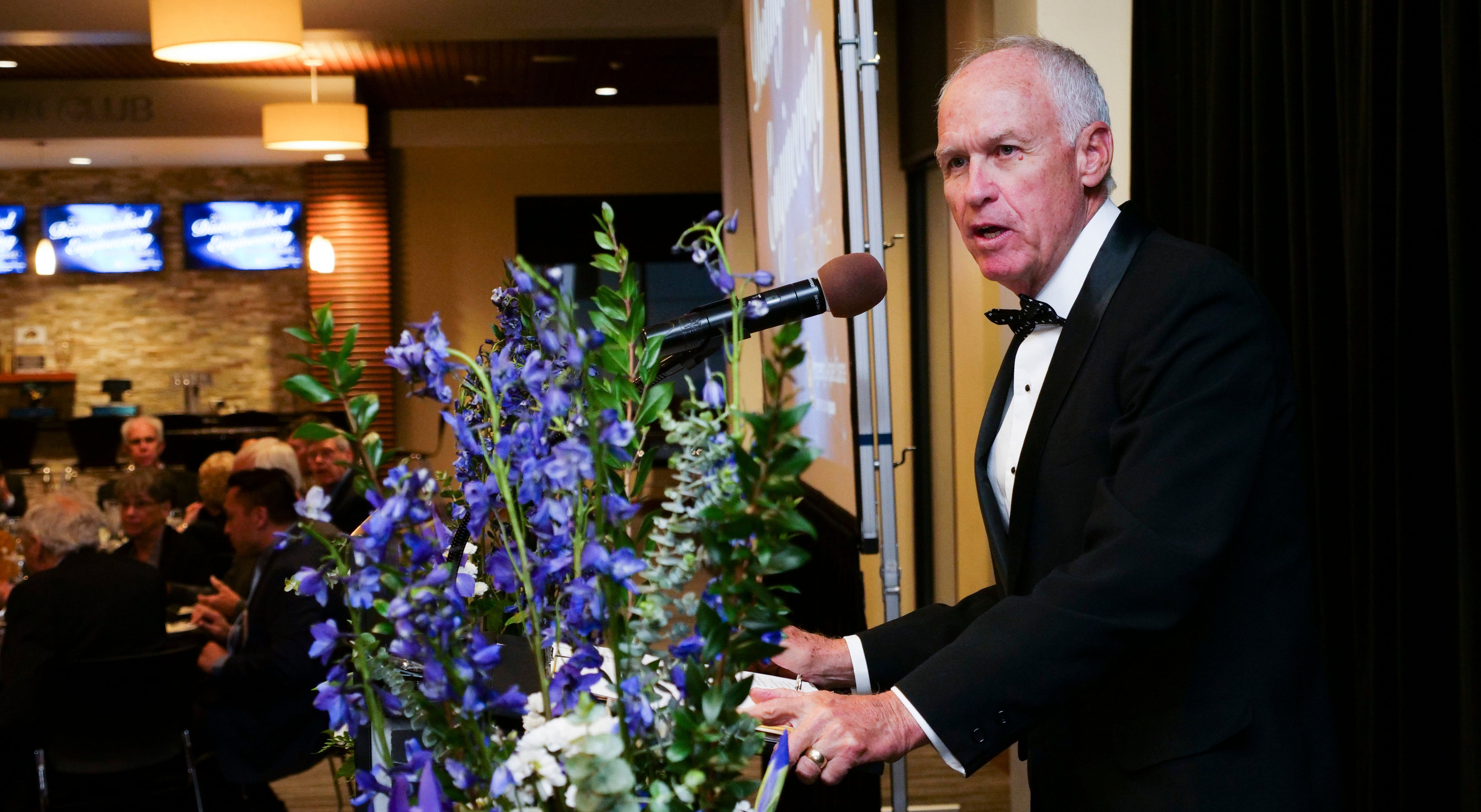 As the college's chief financial officer — among many other roles — Doug Smith (MCivEngr'75) has made a lasting impact that will be felt well beyond his retirement this summer.
True to the University of Colorado Boulder motto, Let Your Light Shine, Smith has led construction projects that quite literally brought in the light to nearly every building of the College of Engineering and Applied Science. He also has built programs and hired people essential to the institutional DNA of the college.
After a long and successful career in the private sector, Smith was contemplating retirement when he received a call in 2013 from Rob Davis, then dean of the college. The two had worked together for years on the college's Distinguished Engineering Alumni Awards, an award Smith himself would receive in 2016.
The call's theme would become a familiar refrain throughout Smith's tenure: "We have a need and you have the expertise. Can we make this work?"
Smith accepted Davis's job offer and joined the college as an assistant dean focusing on industry and donor relations and alumni engagement.
"Doug has nearly boundless energy," said Davis, currently Tisone Endowed Chair in chemical and biological engineering. "So it was not hard to convince him to come out of his brief retirement and join the CU Engineering team. Since then, he has served effectively and efficiently in a wide range of roles, from overseeing large building projects to leading cross-campus entrepreneurial programs to providing budget oversight and program improvements for our college — and he still takes a month off each summer to play golf!"
Smith's area of influence quickly expanded to include building out a communications team and revamping the college's distance learning program.
Building on the fly
It was Smith's first big building project, however, that set the stage for his greatest contributions to the college.
In 2016, he assumed responsibility for renovating the Engineering Center south wing. He began by reaching out to leaders in several departments to reimagine the space.
"We were talking about: How can we open up the building? How can we create lab spaces that people want to be in?" Smith said.
That line of questioning became the foundation for many future decisions about the expanding and evolving footprint of the college. Corridors were widened, large windows were installed, and student study areas popped up near large lobbies with cafes. The college began to look and feel different.
"It's become open," said Smith. "It was a closed deal. Everything was just kind of in a box. It's just been opened to the light, to the world, to inclusiveness in so many ways."
Never one to rest on his successes, Smith next took on the challenge of building a new aerospace engineering sciences building on CU Boulder's East Campus. The university agreed to fund the construction if the college could raise money to fund the programming.
The generous contributions of Ann Smead and her husband, Michael Byram, made that possible. To celebrate their support, CU Boulder named the aerospace engineering sciences department in honor of Ann and H.J. "Joe" Smead, a CU Boulder engineering alumnus, industry executive and Ann's husband until his passing in 2003.
"Doug is an outstanding project manager," said Ann Smead. "He is a true professional and never let any situation upset him. Michael and I enjoyed our time with him as we watched him manage the construction."
Smith said completing this project is one of his proudest moments, made prouder still because it ended up being the most cost-effective building on campus per-square-foot. This allowed the college to accelerate a planned addition that was added during construction, sort of like adding a wing to an aircraft while it's flying. Both were completed together, and the building opened in August 2019.
And Smith had learned a lesson. After the aerospace department vacated the Engineering Center, he pushed to have a series of renovations completed while the space was unoccupied and doggedly pursued a funding strategy with campus. The renovated north wing of the Engineering Center will open this fall, featuring a new student services hub and modernized spaces for several departments, including an avalanche lab and a quantum engineering lab.
Can we make this work?
Early in Smith's tenure, Davis asked him if he knew anything about business incubators and accelerators.
Smith's previous career involved business startups and turnarounds, but those terms were new to him. So he reached out to Brad Feld and David Cohen of Techstars, a Boulder-based startup accelerator, for guidance. When two alumni, Fletcher Richman (ElCompEngr'14) and Ashley Tillman (EnvSt'11) approached him in April 2014 with the proposal for an accelerator, he was ready.
The hitch? They asked if it could launch in May.
"I told them I was willing to try," said Smith. "Let's see if we can make it work."
Smith secured funding from the dean, and the trio announced the accelerator at the New Venture Challenge. They recruited six teams and launched the Catalyze CU startup accelerator in the summer of 2014. Two of those teams, Mallinda and Shinesty, have grown into thriving businesses, as have many other program alumni.
That experience launched Smith's engagement in entrepreneurial activities. He established an entrepreneur-in-residence role at the college, which has evolved into the ESCEND™ program. Led by Karen Crofton, Stephen M. Dunn Director of Engineering Entrepreneurship and ESCEND™, and Jessica Leeker, Dunn Professor of Engineering Management and Entrepreneurship, the program supports engineering students in their entrepreneurial journey.
"I haven't met one student, faculty or staff member who hasn't been positively impacted by Doug," Crofton said.
Smith's influence hasn't been confined to CU Engineering. On the heels of his success launching Catalyze, he was approached by law students, who asked him to be an advisor for the Deming Center Venture Fund. He's been engaged with the group since 2014, meeting with them two times a week about investment strategies, due diligence and portfolio management. During his tenure, the fund has realized an internal rate of return around 17 percent.
He said working with the students has been one of the highlights of his time at CU.
"It's just so fun," Smith said. "There are engineering, law and business students who are a part of it. It's their fund. I advise and coach them. Teach them a little bit. I'm there every week advising and coaching them, but it's their deal."
A trusted advisor
Smith has been the person deans turn to when they need results. When Bobby Braun became dean of the college, he told Smith he wanted him to be the guy who gets things done and appointed him chief financial officer — "that way, people will know you have the money."
"What's so funny about that is that I've had lots of CFOs in my career," Smith said. "And when I tell them I am the CFO, they just laughed because they always thought I pushed the CFOs so hard to spend everything we could. It's just a real irony of my career."
When the pandemic hit, Keith Molenaar, then acting dean, came to Smith with an idea to renovate the BOLD Center while students were away. It was May 2020, and Molenaar wanted it completed by August.
"He asked me if we could get this done," said Smith. "I said 'I don't know, we'll see.' And we did."
The project was a success in part due to the contributions and effort of another alumnus, Marco Campos (CivEngr'98), who with his company Campos EPC, provided $1 million in funding with the aim of expanding services for first generation and underrepresented students.
"That was the most unbelievable thing," Smith said. "The architects listened to the BOLD team. It was such a cool space for students, and to be able to do that during the pandemic made it a special project." 
A lasting legacy
One day, all three deans came calling. But it wasn't to ask for another miracle from Smith. They wanted to create a scholarship in his and his wife's name to honor his contributions to the college.
"I've had a lot of bosses," Smith said. "That's just not usually what they say to me. They think I'm a pain in the neck and want me to stop pushing the boundaries."
The Douglas G. and Cynthia S. Smith Engineering Scholarship Fund will provide undergraduate scholarship awards for engineering students.
"The college is indebted for Doug's contribution as an Engineering Advisory Council member and in his second career as an associate dean," Molenaar said. "He brought a new perspective to our decision-making through his deep experience with large engineering firms and projects. Doug has been a trusted resource for the last three deans in the areas of building construction, finance and leadership programs. Although he is leaving us, his thumbprint will be on the college for many years to come."
Donate to the scholarship fund
The next career: Retirement
With a profound sense of accomplishment and proud of his many contributions to the college and CU, Smith will return to the plans he was making in 2012 before that fateful call from Rob Davis.
He'll continue to have his hands in building projects with his church and plans to spend more time at his second home in Scotland playing golf. He's also partnering with a former CU student and his company, Simple Homes, to build a house in Granby, Colorado.
Smith also plans to remain engaged with the college as an alumnus. Most of the people who know and have worked with him are certain about one thing: CU hasn't seen the last of Doug Smith.