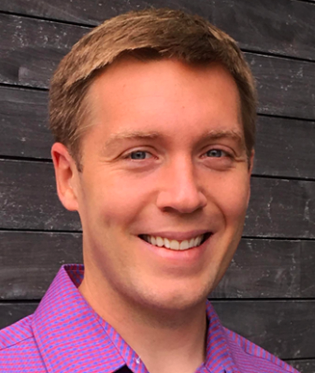 Assistant Professor C. Wyatt Shields IV
Assistant Professor C. Wyatt Shields IV is the recipient of a National Science Foundation (NSF) Faculty Early Career Development Program (CAREER) award for his proposal "Shape-Encoded Electrokinetic Particles for Multiplexed Biosensing." This project seeks to develop a new method of early identification of disease biomarkers, while also facilitating outreach and education to students at Northglenn High School. 
Early disease detection with active, particle-based biosensors
"Our current reliance upon a narrow set of biomarkers can greatly limit the accuracy of initial diagnoses, especially for complex diseases like cancer," Shields said. "Additionally, with pathologies that progress rapidly — mere hours for some diseases — slow readouts can impair outcomes and increase the cost of medical intervention." 
Shields hopes to address this issue by developing an active, particle-based biosensor wherein particle speed is associated with the amount of biomarkers captured. Particles will be made to have different shapes, each of which will encode for different biomarkers, allowing for the detection of multiple types simultaneously.  
"The outcome of this work will be a method to capture and quantify heterogeneous biomarkers such as proteins, nucleic acids and exosomes in a single test," Shields said. 
Science and engineering outreach at Northglenn High School
Shields believes the field of biosensing naturally lends itself to STEM education and outreach efforts. The graduate students in the Shields Lab will put on a "reverse science fair" to share their work with students at Northglenn High School. 
"One of the big challenges in science and engineering is being able to communicate your work to diverse audiences," Shields said. "Our college does a great job training graduate students to communicate their work to audiences with technical backgrounds. What can be paradoxically more challenging is explaining your work to a high schooler who has never taken an engineering course. Part of this CAREER award is designed to provide our students with an opportunity to hone those skills." 

Left: High school students from Northglenn visit the Shields Lab. Photo courtesy Cooper Thome of the Shields Lab. 
Right: A magnetic particle separator designed by four students from Northglenn. The device is adjustable to fit a variety of tube types to isolate magnetic particles that are created in the Shields Lab for drug delivery applications. Photo courtesy Nicole Day of the Shields Lab.
Shields and his group want to share their findings beyond the usual channels of research papers and conferences — they want to help educate and inform the public on this important topic. The graduate students will present their research to a panel of Northglenn students who will serve as judges of both the material and the graduate students' ability to present complex information.  
"We talk about feedback mechanisms in our research," Shields said. "This will give autonomy to students who may not be used to being in that position. They will be able to tell us if they didn't understand something, or if they found the demonstration to be enlightening and interesting." 
The concept of the reverse science fair will build off the Shields Lab's previous mentorship program with Northglenn. Three engineering graduate students and four undergraduates have served as mentors to students taking senior design capstone classes. 
"The partnership between the Northglenn High School students and the Shields group has been invaluable to our students," said Bill Thielke, a teacher at Northglenn. "Our senior design capstone classes have been working with the Shields group to design and build prototypes for problems that have been provided by the researchers." 
The Shields Lab researchers introduced advanced concepts and problems to the high school students, "including a demonstration of the delivery of drugs, developing an enclosure for culturing dinoflagellates and the development of a magnetic particle separator," Thielke said. These authentic engineering challenges have given the students valuable real-world design and application experience. 
"The most critical component of this is the mentorship program that the Shields group provides," Thielke said. "The expertise of these mentors has allowed our students to receive critical feedback as they work through the engineering design process." 
Cooper Thome, a third year PhD candidate in the Shields Lab, is one of the student mentors. 
"This project has given students experience in solving real-world problems through a number of approaches," Thorne said. "The students have been able to use a variety of skills learned in their high school program, like 3D CAD and printing, along with other new skills to come up with a really nice prototype for a large culture tank in which we will be able to easily culture cells that require certain periods of light and dark." 
While Thome appreciates the research opportunities provided by collaborating with the students, inspiring and educating high schoolers is one of the main draws of the collaboration. 
"I was lucky enough to have a number of figures like that when I was younger — some of whom are the reason I am in graduate school today — so it's rewarding to try to do the same for others, even in small ways," Thome said. 
Nicole Day is a third-year bioengineering PhD candidate and mentor. 
"It's so much fun to see younger students excited about science and engineering, and I always feel more enthusiastic about my own work after seeing it through the lens of others," Day said. "The opportunity for students to work on these design projects gives them exposure to having their work valued by people in the field they may be interested in, instead of just having another assignment to turn in to their teacher." 
Day hopes that her participation will help encourage students from underrepresented backgrounds to consider careers in STEM fields. 
"Science and engineering research can be hard and discouraging, and it's not easy to pursue if you don't have external support when you are struggling internally," Day said. "I love seeing the pride students take in their hard work on these projects, and while I've done outreach events for elementary kids in the past, my new goal is to continue engaging with high school students in particular and helping them see their potential in STEM." 
First year graduate student Taylor Ausec, department junior Sarah Adzema, seniors Julia Bendorf and John Fowle, and biomedical engineering sophomore Chris Orear also participate in the Shields Group mentorship program. 
Shields is excited about integrating his NSF CAREER research with high school outreach.