Six students in the Department of Chemical and Biological Engineering have won prestigious National Science Foundation Graduate Research Fellowship Program (NSF GRFP) awards.
"The Graduate Research Fellowship Program is an incredible honor and opportunity for these students," said Associate Professor Joel Kaar, associate chair for the graduate program. "The resources the fellowship provides will help propel their already promising research careers. The number of awardees in our department speaks to the quality of our graduate program and the students we recruit."
The GRFP is a five-year fellowship that honors graduate students working in science and engineering fields supported by the NSF. Students selected for the fellowship receive $34,000 in annual stipend funds.
---
Zachary Baumer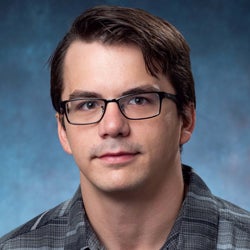 Whitehead Group
Biological engineering, protein engineering
Baumer focuses his research on engineering proteins with new functionalities, as well as biotechnology for speciality chemical production for applications in therapeutics, biosensors, meat alternatives and more.
"It is an honor to represent my family as a first generation college graduate and now graduate student, as well as the ChBE department at CU Boulder, as an NSF GRFP Fellow. Our department did a terrific job helping us prepare for this fellowship application, and it shows in my many talented peers that were recognized with awards and honorable mentions. This fellowship means a lot to me and I aim to uphold the values of the National Science Foundation and the intentions of the fellowship. I am excited for the doors that this award may open in regards to collaborations and resources to ensure my success in research and graduate school over the next few years.
"There are many people to thank: the NSF, the ChBE department as a whole, my family, friends and mentors, especially those who wrote letters on my behalf: Dr. Carrie Eckert and Dr. Ryan Morrison. I also want to specifically thank my awesome advisor, Tim Whitehead, who has been instrumental to my progress as a scholar and researcher over the last eight years, and for all that he has done for me."
---
Christopher Calo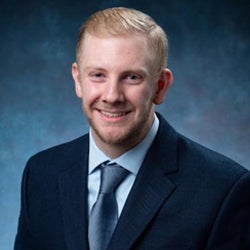 Hind Lab
Chemical engineering, immunology
Calo seeks to use physiologically relevant microfluidic devices to study the innate immune system, specifically to investigate the effects of environmental cues such as extracellular matrix elasticity and composition on the neutrophil response during infection and sterile injury.
"It is a huge honor to represent CU Boulder's Chemical and Biological Engineering Department as an NSF GRFP Fellow. The numerous awards and honorable mentions received by my peers and me are a testament to the strength of our department and how it sets students up to succeed. As such, I would like to thank the department as well as my mentors: Dr. Laurel Hind, Dr. April Kloxin, Dr. Christopher Bowman, Dr. Katherine Wiley, Dr. Paige LeValley and Dr. Heidi Culver for their continued guidance and support. I am incredibly excited, as this award will not only help further my research by providing resources and opening doors for new collaborations but also aid in my professional development over the course of my graduate studies."
---
Allison Crow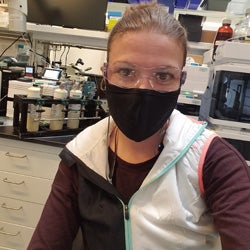 Smith / Electrobuffs
Electrochemical engineering; electrochemical CO2 reduction
Crow works on scaling and integrating technologies to capture and convert carbon dioxide to high value chemicals to combat anthropogenic climate change. Crow believes electrochemical CO2 can leverage renewable energy to drive the efficient production of carbon-based chemicals.
"I am surprised and honored to win the NSF GRFP. Thank you to my mentors, research team and family for supporting me through this process and my academic career. I look forward to putting this fellowship to work developing new carbon conversion technologies for our clean energy future."
---
Jeremy Herman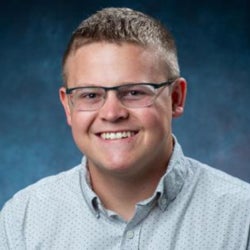 White / Responsive and Programmable Materials Group
Elastocaloric liquid crystalline elastomers
Herman's research involves understanding polymer networks containing appreciable liquid crystalline content and how they might be used for dynamic optics or as a means of creating solid-state refrigeration devices by harnessing their elastocaloric effect.
"It is a great honor to receive this award. First and foremost I would like to thank my adviser Dr. Timothy J. White for his constant guidance and support in my graduate studies and research. I would also like to thank my undergraduate adviser Dr. Brad Jones at Sandia National Laboratories for his help and guidance in my undergraduate research studies. This award will help me tremendously in my research and academic pursuits in creating new and exciting elastocaloric materials."
---
Alison Leonard

Whitehead Group
Protein engineering
The Whitehead group specializes in designing and engineering proteins for affinity, specificity and function; identifying protein sequences' functional constraints for evolvability; plant synthetic biology and developing enzymes and microbes for renewable biomass conversion.
"As a biochemistry undergraduate major, I often joke that I came into engineering through the back door. My range of experiences makes me the scientist I am today, and I'm proud that the NSF recognizes and values that about me. Thank you also to the Interdisciplinary Quantitative Biology program here at CU for helping to cultivate the skills I need to succeed in computational research."
---
Victoria Reichelderfer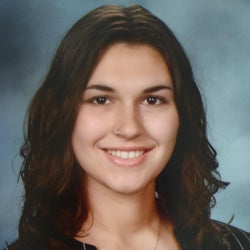 Kaar and Schwartz Groups
Functional materials for the stabilization and rescue of proteins
Reichelderfer researches how lipid bilayers can be used to stabilize and rescue proteins, such as alpha-synuclein—which causes Parkinson's Disease—and insulin, which has significant pharmaceutical relevance. With tuned compositions, lipid bilayers can be optimized to interact favorably with a wide array of proteins, offering many therapeutic and pharmaceutical applications. Through the use of a variety of spectroscopic techniques, Reichelderfer seeks to observe the changes in the structure of these proteins upon interaction with lipid bilayers to elucidate the underlying mechanism of how the bilayers rescue proteins so effectively.
"I would like to thank Joel Kaar and Dan Schwartz for helping me with the application but also for being outstanding, supportive advisors in general. I also want to thank Dr. Serge Nahkmanson, who was my undergraduate research advisor at the University of Connecticut, and Dr. Erin Corbett, who organizes the volunteer programs in prisons which I participate in. Also, everyone in the Kaar and Schwartz research groups! I am very excited to have received the NSF fellowship and to continue doing exciting research at CU!"
---
The chemical and biological engineering students were among 38 scholars to receive this honor at CU Boulder this year. Twenty-two of those recipients are students within the College of Engineering and Applied Science.
Several other students from the department earned honorable mentions:
Shane Bassett
Zachary Blanchette
Hailey Loehde-Woolard
Hannah Middlestead
Hunter Simonson
Cooper Thome