Joe Smead
Dr. Harold J. "Joe" Smead (1925 - 2003) grew up in humble circumstances, the oldest son of a single mother who took in laundry to make ends meet. As a young teen, he was determined to attend nearby Gonzaga Preparatory School in Spokane, Washington as an essential stepping stone to a college education.
Knowing the family lacked the means to cover tuition, Smead met with Gonzaga Prep administrators, who recognized his intellect and potential. When asked what he could contribute to his education, Smead pledged all the earnings from his newspaper route: 50 cents a week. The headmaster agreed and he was on his way. Family members say he never forgot that kindness and support, nor the opportunities afforded him by his education.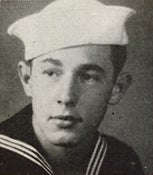 An exceptional student, Smead earned a WWII Navy sponsored V-12 scholarship to attend CU Boulder, graduating in 1946 after only 26 months with an electrical engineering degree. He then served on the USS Columbia, and after completing his time in the Navy, thought his future lay in academia. He went on to attend school in his home state, earning a master's degree from the University of Washington and subsequently, a doctoral degree from Purdue University.
He then found a career not as a university professor, but as an engineer in private industry. From 1954 to 1973, Joe was employed in electronic systems engineering by Litton Industries and Teledyne Corp. He became president and CEO of Kaiser Aerospace & Electronics Corp. in 1974 before purchasing the company. He continued to lead the business until 1999.
Smead was a founding member of CU Boulder's Aerospace Engineering Sciences External Advisory Board and established the department's A. Richard Seebass Endowed Chair, currently held by Distinguished Professor Dan Scheeres. For his many extraordinary professional accomplishments and strong volunteer commitment to CU Engineering, he was awarded the College of Engineering and Applied Science Distinguished Engineering Alumnus Award. 
Dr. Smead had a lifelong passion for education and learning. He quietly, and typically anonymously, supported scholarships and teaching programs as he recognized his responsibility to give back to that which had helped him achieve and accomplish so much.
Joe died in 2003, but since then his legacy has only grown. His widow Ann has continued to be involved with CU Aerospace, and in 2017, in recognition of their tremendous support, the department was named in their honor.
Ann Smead
Ann Smead graduated from the University of Iowa and began her career with IBM as a systems engineer and product educator. She was the first woman partner in an Oregon-based commercial real estate and development company, during which time she also taught real estate financial analysis at schools and universities throughout the U.S. and Eastern Europe. Smead subsequently joined Kaiser Aerospace & Electronics, consulting and managing that company's diverse real estate portfolio.
Smead is also well known for her work in her home community of the Vail Valley, where she has lived since 1999. She served on the Vail Mountain School Board of Directors and was its chairman until 2016.  She also served as board chair of the Vail Valley Foundation and is a current board member on an organization dedicated to providing leadership in arts, athletics, and education in the Vail Valley.  She was named the Vail Valley Foundation's Citizen of the Year in 2014, and the Walking Mountain Science Center's Reach of the Peak award recipient in 2016 for her support of environmental education for all children in the Vail Valley.  
Smead continues to work in the field of asset management and loves to travel, especially with her family and four granddaughters, all of whom are Colorado natives.