Editor's note: This is part of a monthly series of campus updates on diversity, equity and inclusion that will continue throughout the year.
This month, read about Acting Vice Provost Dyonne Bergeron, Colorado's annual Equity Day of Dialogue, a CAAAS support program for first-year African American students, CU Boulder's land acknowledgment and more news you can use.
Dyonne Bergeron leaves CU Boulder and a legacy of progress
Leaving behind a legacy of progress on the CU Boulder campus, Dyonne Bergeron, acting vice provost and associate vice chancellor for diversity, equity and inclusion, is stepping away from her role, effective Aug. 31.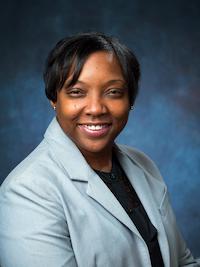 In an Aug. 16 announcement, Provost Russell Moore said Bergeron had recently informed him of her decision, citing family health considerations.
"This was an extremely difficult decision," Bergeron said. "I am honored to have served in a variety of leadership roles in service to students, faculty and staff. I am grateful for the professional relationships, partnerships and collaborations that have helped to cultivate meaningful change. I am grateful for the opportunity to have empowered a culture of care while uplifting the university's mission."
Moore said the progress made under Bergeron's leadership has been palpable across the units in which she has served and led.
"In every place she has worked—in Student Affairs, ODECE, and other directorates in Academic Affairs—Dyonne has left things better organized, more focused and more human-centered than before she arrived," Moore said. "She has been a vital, indispensable leader—a thinker, problem-solver and force for good in all places at all times. I could not be more grateful to her for her great work."
Read more about Bergeron's legacy.
Higher ed leaders, lawmakers, students convene for equity symposium
Colorado higher education leaders convened on the Auraria Higher Education Campus in Denver earlier this month to celebrate the successes and discuss the challenges encountered by historically underrepresented students, faculty and staff and strategies for supporting them better on campuses around the state.
Sponsored by the Colorado Department of Higher Education, the 2022 Equity Day of Dialogue drew state lawmakers, advocacy groups, students and all three leaders of the colleges on the Auraria Campus in downtown Denver: CU Denver, Metropolitan State University of Denver and Community College of Denver.
The annual symposium's theme this year was "Committing to Action: Building Brighter Futures in the Pursuit of Equity."
During a keynote address, CU Boulder ethnic studies Professor Reiland Rabaka, founding director of the campus's Center for African and African American Studies (CAAAS), gave an overview of the nation's discourse on social justice movements—from the historic civil rights era to Black Lives Matter—and talked about the critical role of intersectional racial justice and equity in higher education.
CDHE Executive Director Angie Paccione and Roberto Montoya, the department's first chief educational equity officer, welcomed attendees with stories about their own academic journeys and facilitated panel discussions with featured speakers, including Colorado legislators Sen. Dominick Moreno and Reps. Jenifer Bacon and Colin Larson, who shared their perspectives on educational equity and the changes they would like to make in the future.
During her welcome speech, Paccione recalled the stories of two men—one who became a professional baseball player and the other who wound up in prison—whose lives turned out dramatically different due to the messages they heard about their potential for success while growing up. She called on higher education attendees to "activate the potential power of the spoken word" when supporting students who are seeking college opportunities.
Symposium breakout sessions centered around new and ongoing initiatives aimed at closing the equity gap for students of color and other historically underrepresented Coloradans seeking opportunities to attend the state's community colleges and four-year institutions.
During a session moderated by Paccione, CU Denver Chancellor Michelle Marks, Metro State President Janine Davidson and Community College of Denver President Marielena DeSanctis shared stories about their tenures as higher education leaders at a time when there is growing skepticism in some communities over the worth of college degrees.
"We need to do a better job of promoting the value of higher education," said Marks, who leads one of the most diverse college campuses in Colorado.
Gov. Jared Polis welcomed attendees via a video message, and Colorado Poet Laureate Bobby LeFebre closed the event with recitations of his work, which centers on the histories and experiences of Indigenous and Hispanic/Latinx communities in the United States and Latin America.
CAAAS introduces Student Services Program, upcoming engagement opportunities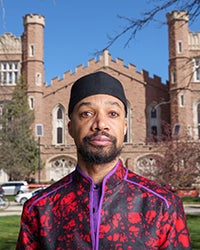 The Center for African and African American Studies launched the CAAAS Student Services Program on Aug. 15 to empower students through culturally relevant and immersive practices.
The program will enable African, African American and African Diasporan students and allies to "build community, create a sense of belonging and share culture," said ethnic studies professor Reiland Rabaka, founding director of the CAAAS.
"For me, both professionally and personally, this is a dream come true," Rabaka said.
To date, signature programs have included Black Student Success Week, Aug. 15–20, and the Black in Boulder Symposium on Aug. 20.
Remaining opportunities for students to engage with others on campus include Harambee, Sept. 7; Kwanzaa, Dec. 1; and Just CAAAS, which will occur biweekly starting on Aug. 26. Open houses will take place on Sept. 7 and Sept. 20.
Initiatives sponsored by the CAAAS include the Black Leadership Advisory Council, CAAAS Ambassadors and student wellness and intersectional programs.
Learn more about the CAAAS or email the center at CAAAS@colorado.edu.
Land acknowledgment honors Indigenous peoples, history of land
CU Boulder has adopted a land acknowledgment recognizing that Colorado's flagship campus sits on land that is part of the traditional territories of the Arapaho, Cheyenne, Ute and other Indigenous nations with historic and ongoing ties to the state.
Additionally, the land acknowledgment honors the contributions of all Indigenous peoples with historic ties to Colorado and recognizes the devastating and lasting impacts of the forced removal of tribal nations from their ancestral homelands and their assimilation and confinement on reservations to create what is now the state of Colorado.
The campus land acknowledgment also affirms CU Boulder's commitment to amplifying the voices of Indigenous students, staff and faculty, integrating Indigenous knowledge into education, research and student success, and working with Native American communities to recruit, retain and graduate Indigenous students.
Read the campus announcement about CU Boulder's land acknowledgment.
Save the date: IDEA Council public forum Oct. 27
The Inclusion, Diversity and Excellence in Academics (IDEA) Council will hold a fall public forum on Oct. 27, and members of the campus community may attend the event, which will take place at the Large Ice Rink Overlook Room in the Recreation Center.
More information about how to attend the event virtually is forthcoming in September.
The IDEA Council is a representative body of students, staff and faculty members charged with prioritizing recommendations from the IDEA Plan, the campus's blueprint for creating and sustaining a more inclusive and just campus community.
With support from the Office of the Senior Vice Chancellor for Diversity, Equity and Inclusion, the council serves as an advisory body that works to counsel and make recommendations to university executive leaders and units outlined in the IDEA Plan.
The council held its last public meeting on campus on May 23, an event that drew the participation of campus leaders, faculty, staff and students. Attendees received updates on the council's work since convening in fall 2020 and its priorities for the 2022–23 academic year.
Sustaining our practice of inclusion
Campus efforts and investments to address pressing and painful inequities at CU Boulder are only a beginning. Creating a culture of belonging will take each member of our community practicing sustained personal work to truly embrace and support diverse perspectives and intersectional identities in our community.
During the 2022–23 academic year, Chancellor Philip DiStefano and other campus leaders urge every member of our community to join in learning more about diversity, equity, inclusion and anti-racism and to work continuously together to address these challenges more actively and in ways that can help authentically transform our campus culture in the coming year.
Campus resources
In case you missed it