Who is required to submit the DEPA?
To be in compliance with federal regulations, the following CU Boulder personnel are required to submit an annual DEPA:
Tenure Track Faculty (ALL levels);
Adjunct, Visiting and Research Faculty (ALL levels) – this includes Retired Faculty if still actively engaged in projects at CU Boulder;
PRAs, Research Associates and Research Assistants (ALL levels);
Instructors (ALL levels);
Professional Exempt Staff;
Librarians, Museum Associates and Fellows;
Non-employee Graduate Students if currently involved in the design, conduct, and reporting of any research OR if involved in a CU Boulder employee-affiliated company/entity; and
Undergraduate Students, Volunteers and Consultants if responsible for the design, conduct, and reporting of research OR if involved in a CU Boulder employee-affiliated company/entity.
TAs, Lecturers and Adjoint Faculty typically do NOT need to report.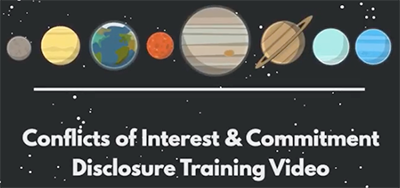 Note: As of Jan. 1, 2020, all university personnel submitting a disclosure are required to view a brief training video prior to beginning their DEPA. The video will automatically populate on the DEPA webpage; once viewed, disclosers are required to certify their completion, understanding of and agreement to abide by.
There are important changes occurring in this year's Conflicts of Interest & Commitment (COIC) reporting process that may impact faculty, staff and students, as well as those who interact with them. The COIC program is critical component in protecting faculty, staff, students, departments and the university as a whole.
The University of Colorado Boulder encourages innovation, scholarship and research that lead to commercial and consulting activities and global engagement. Such activities, however, have the potential to lead to conflicts of interest and/or commitment. On the CU Boulder campus, annual online reporting of conflicts occurs by submitting a Disclosure of External Professional Activities (DEPA).
 There are important disclosure requirements for those with any (potential) conflict related to consulting activities, external entities and/or foreign affiliations.
The annual DEPA reporting period is January 15 to March 31, as well as whenever a new hire is brought onboard. Updates should be added within 30 days of a change in status throughout the year, as necessary. Sponsored project award and continuation monies cannot move forward unless a DEPA for the current year has been submitted and reviewed.
All faculty, any other employee (regardless of job title/position), or student with responsibility for the design, conduct or reporting of research are considered critical to the research process and must disclose any significant financial interest (SFI) and external professional activity(ies) of both a domestic and foreign nature that could compromise University decision-making or duties. It is not for each individual researcher to decide if he/she must report based on a belief that no conflict exists.
Detailed information regarding discloser responsibilities and university expectations when filling out the DEPA form can be found on the COIC website.
How to report
To report, please follow the below steps: 
Log into MyCUInfo.
Employees: Under CU Resources, select the Faculty Reporting & DEPA tile.
Students: In the Buff Portal, open the search function by clicking the menu icon in the top left corner of the page, then search "DEPA" and select the link.
Click Log into DEPA.
Once access is allowed, follow the instructions on the DEPA reporting page. 
If you have technical difficulties, email help@colorado.edu or call (303) 5-HELP; if you have questions about the DEPA form, email coi@colorado.edu or call (303) 492-3024.