Vice Chancellor for Research & Innovation at CU Boulder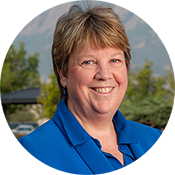 Terri Fiez: "We connect the dots by creating an environment that sparks and enhances research and creative work and provides pathways to amplify impact on people around the world."
---
Innovation at CU Boulder is changing the world. 
---
While our researchers, faculty and staff lead the charge, this transformational work includes increasing collaborations with undergraduate and graduate students, postdocs, entrepreneurs, and government and industry partners.
The Research & Innovation Office (RIO), previously the Office of the Vice Chancellor for Research, is focused on creating impact by cultivating and supporting collaboration, transformation, and leadership. At the heart of this focus are the diverse contributions of a wide range of world-class experts, working together in new and innovative ways to accelerate ideas through the entire innovation lifecycle, from idea to impact.