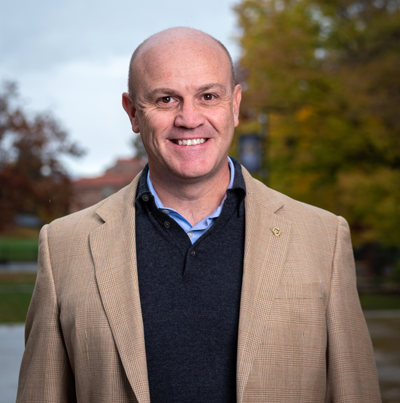 Massimo Ruzzene became vice chancellor for Research and Innovation and dean of the institutes in March 2023. Previously, he served as acting vice chancellor for Research and Innovation, and associate dean for research in the College of Engineering and Applied Science at CU Boulder.
Ruzzene is the Slade Professor of Mechanical Engineering and holds a joint appointment in the Smead Aerospace Engineering Sciences Department.
He joined CU Boulder in the summer of 2019, after serving as the Pratt and Whitney Professor in the Schools of Aerospace and Mechanical Engineering at Georgia Institute of Technology. 
Ruzzene received a PhD in Mechanical Engineering from the Politecnico di Torino (Italy) in 1999 and is author of 2 books, more than 200 journal papers and 280 conference papers. 
Most of his current and past research work has focused on solid mechanics, structural dynamics and wave propagation with application to structural health monitoring, metamaterials, and vibration and noise control. 
Ruzzene has participated as a PI or co-PI in various research projects funded by government agencies such as the Air Force Office of Scientific Research (AFOSR), the Army Research Office (ARO), the Office of Naval Research (ONR), NASA, the U.S. Army, U.S. Navy, DARPA, the National Science Foundation (NSF), as well as companies such as Boeing, Eurocopter, Raytheon, Corning and TRW. 
Ruzzene is a Fellow of ASME and SES, an Associate Fellow of AIAA, and a member of AHS, and ASA. He served as Program Director for the Dynamics, Control and System Diagnostics Program of CMMI at the National Science Foundation between 2014 and 2016.
When he isn't working, Massimo can often be found exploring local trails and the mountains surrounding Boulder—as an avid downhill skier in the winter and as a hiker and mountain biker in the summer. He enjoys sharing these activities with his two sons, Samuel and Luca, and his wife Elizabeth.