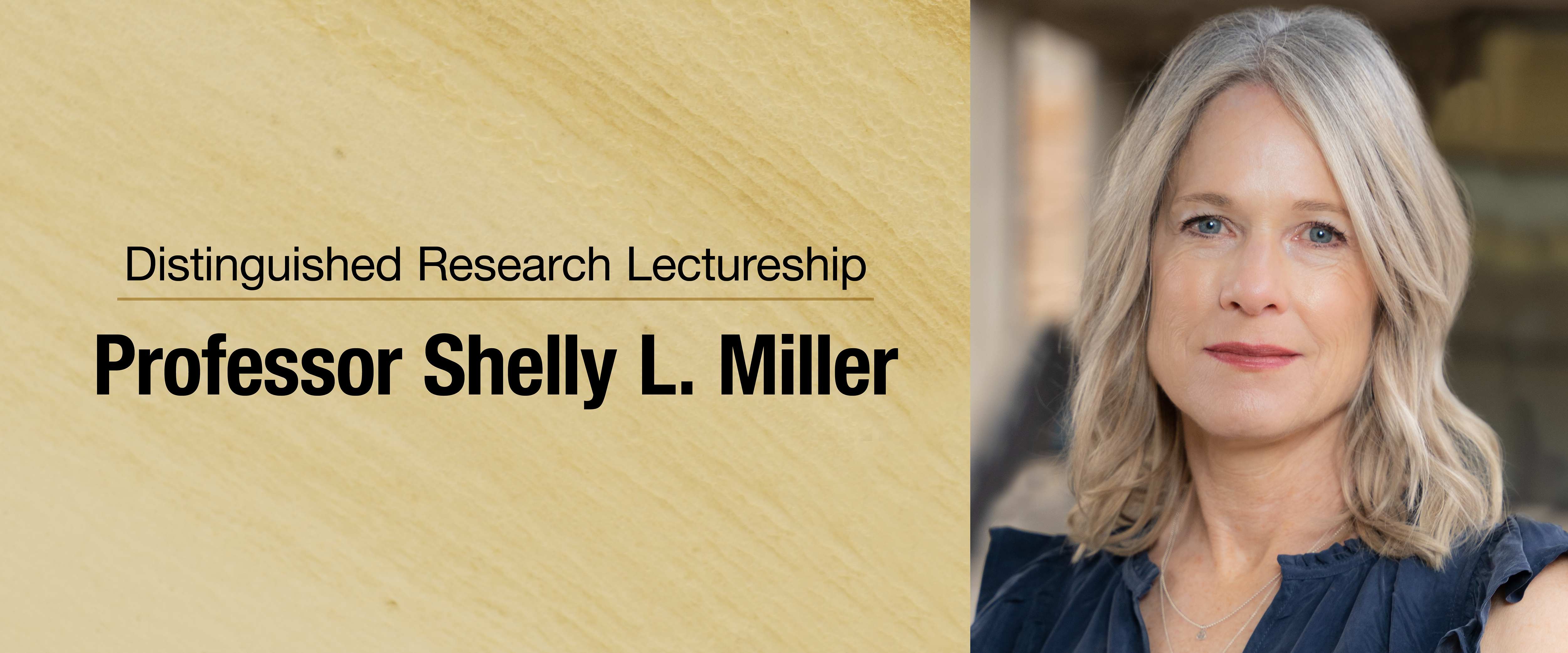 121st Distinguished Research Lectureship: Shelly L. Miller
Life Lessons on the Path to Improving Urban Air Quality & Public Health
Thursday, April 20, 4-5 p.m.
Chancellor's Hall and Auditorium, CASE Building
When Shelly Miller was growing up in southern California in the 1980s, there were days when poor air quality from smog would prevent her from going to school – or even going outside at all.
"What I find interesting is that there are more sources of air pollution in that area now – more people and cars – but the air quality is better," said Miller, a professor in the Paul M. Rady Department of Mechanical Engineering and the Environmental Engineering Program. "That is a tribute to the hard work environmental professionals have done there to address the problem and improve quality of life and public health overall." 
Miller said contributions to the public wellbeing by scientists like that – with real and tangible impacts for everyday people from their work – motivated her to pursue research into urban and indoor air quality issues herself. Now, after 25 years as an educator and leader at CU Boulder, she is being recognized for her own contributions to the field of air quality and her positive impact across campus. 
Miller was recently honored with a 2022 Distinguished Research Lectureship – one of the highest awards bestowed upon a faculty member at the University of Colorado Boulder by their peers. It honors a faculty member who has been with CU Boulder for at least five years and is widely recognized for a distinguished body of academic or creative achievement and prominence, as well as contributions to the educational and service missions of the university.
Miller will accept the honor and give a presentation on her research at 4 p.m. April 20 in the Chancellor's Hall of the Center for Academic Success and Engagement (CASE). The event is open to the entire campus community, and Miller will discuss a variety of topics including her work on indoor air quality in our homes and the lessons learned about airborne disease transmission during the COVID-19 pandemic that are still broadly applicable.
"My research is easy to understand and applicable to just about everyone. It will not be a technical lecture at all, and my hope is that people will leave with concrete ways to improve their health in relation to air pollution exposure," she said.
Miller first came to CU Boulder as one of the chancellor's postdoctoral fellows in 1996 after completing her master's and PhD in civil and environmental engineering at the University of California, Berkley.
Her current research spans a range of topics and includes designing engineering strategies using filtration and germicidal ultraviolet systems for improving indoor environmental quality and identifying sources of air pollutants and noxious odors in urban communities in Denver and along the Front Range. Her work also seeks to improve understanding of air pollution and its association with health effects and wellbeing – particularly in marginalized communities.
She has published over 100 peer-reviewed articles on air quality, authored a chapter on Indoor Air Quality in the Environmental Engineering Handbook and is an associate editor for Environmental Science and Technology.
Early in the COVID-19 pandemic, Miller worked with experts on and off campus to better understand the airborne virus as the global death toll climbed in 2020. She had previously conducted research into tuberculosis and infectious disease transmission and – as the pandemic progressed – played a key role nationally and internationally in discussions around how to limit transmission. 
One key area of her work in this area was looking into ways to reduce transmission with ventilation and filtration. She said that work is ongoing and that findings there not only saved lives during the pandemic but will also have broad application in areas like design and community health for years to come. 
"It was an intense and traumatic time for everyone, but as a scientist in this field it was pretty clear to a lot of us that this was being transmitted through the air – yet no one was listening to us about ways to stop it and save lives," she said. "Fortunately, I think buildings will now be much healthier in general when it comes to filtration and ventilation to handle chemicals in the air because of what we learned and what the public now understands."
Throughout her career, Miller has received federal funding for her research program from the U.S. Environmental Protection Agency, the Center for Disease Control and Prevention, the National Institutes of Health, and the National Science Foundation, as well as the Alfred P. Sloan Foundation and industry sponsors.
Miller has also earned many awards and held multiple leadership roles on campus. The list of honors includes separate research awards from the college and mechanical engineering, as well as the Robert L. Stearns Alumni Award as part of the Pandemic Scientific Steering Committee and Science Team during COVID. She has also served with the Office of Faculty Affairs helping to launch the Academic Leaders Institute and the Shared Perspectives and Community Engagement initiative.
Miller said she has enjoyed her time at CU Boulder and was thankful for mentors like professors Jana Milford and John Daily, who helped her along the way. She added that her goal has always been to leave the university a better place than when she arrived.
"That was always the focus of my work – whether it was in research, service or teaching," she said. "I am grateful and proud of the work I have done here. From connecting with Colorado communities to supporting diversity, equity, and inclusion activities and, of course, teaching a whole new generation about indoor air quality and air pollution."  
Rubén Donato, the Bob & Judy Charles Endowed Chair and a professor of Educational Foundations, Policy and Practice in the School of Education was also honored with a CU Boulder Distinguished Research Lectureship in 2022.