Research awards hit new record
CU Engineering experienced another record-breaking year for research funding in 2021, receiving $150 million overall, eclipsing the 2020 total of $134 million. Awards in the college have experienced a strong year-over-year upward trend, with the largest funding sources being federal agencies like NASA, the National Science Foundation and the Department of Defense. While awards were relatively evenly spread among the college, the Ann and H.J. Smead Department of Aerospace Engineering Sciences totaled just over $53 million in research funding in 2021. That betters its 2020 total of $33.5 million and is by far the most ever for that department.
---
Making it official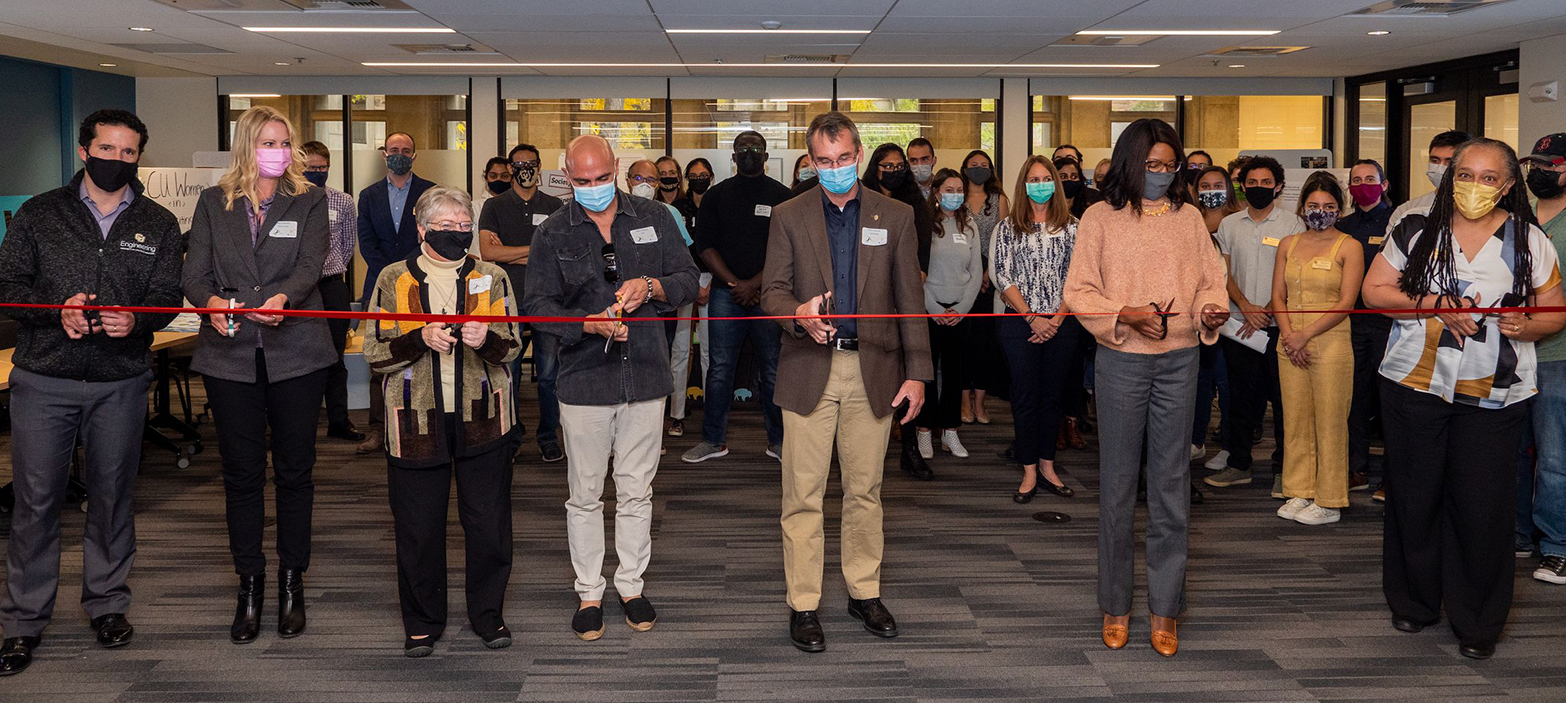 BOLD Center
College and BOLD leadership prepare to snip during the ribbon-cutting ceremony for the renovated BOLD Center in November 2021. The renovation was made possible by Marco Campos (CivEngr'98), fourth from left, and his company, Campos EPC, which provided $1 million through the Campos EPC Foundation. The renovation improves the center's technological offerings, allowing for remote and in-person learning. It also provides more space for students and opportunities for students to create cultural displays, engineering projects and artwork.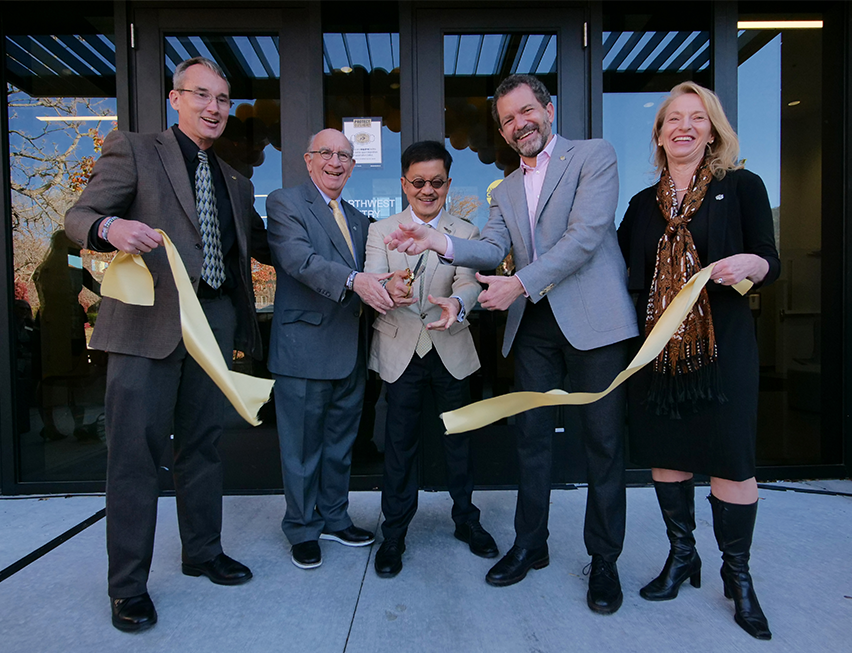 Rustandy Building
University VIPs cut the ribbon during the in-person grand opening of the Rustandy Building in November. Since January 2021, students, faculty and staff have been taking advantage of the new 45,000-square-foot building connecting the business and engineering schools, enjoying its classroom and collaboration spaces, as well as its extraordinary Flatirons views.
---
Gunnison ribbon-cutting highlights valued partnership
Western Colorado University hosted an official ribbon-cutting for the Paul M. Rady Building in October. The new 75,000-square-foot facility is home to the Western-CU Boulder Partnership Program at the Paul M. Rady School of Computer Science and Engineering.
University of Colorado President Todd Saliman, CU Boulder Chancellor Philip DiStefano and CU Engineering Acting Dean Keith Molenaar were among those attending the event in Gunnison — indicating how valuable the partnership between Western and CU Boulder is. It allows Western students to earn a bachelor's degree from CU Boulder in mechanical engineering or computer science, all from the Western campus in Gunnison.

Paul and Katy Rady hold a rendering of the new Rady School building at the ribbon-cutting event in Gunnison.

The interior atrium provides natural light and scenic vistas.
---
CU Engineering establishes Inclusive Culture Council
College faculty voted overwhelmingly in spring 2021 to establish an official, permanent committee focused on diversity, equity and inclusion in the College of Engineering and Applied Science.
The mission of the Inclusive Culture Council, which convened in fall 2021 with more than 20 nominated faculty and staff members, is to provide strategic leadership and transparency for cultivating an inclusive, equitable, interculturally competent, and supportive environment in the college.
The ICC strives to bring justice, equity, diversity and inclusion leaders within the college together for systematic, intentional and integrative planning and to formalize equitable and inclusive practices with established metrics.
Led by Assistant Dean for Access, Inclusion and Student Programs Terri Wright and Director of Inclusive Culture Amy Moreno-Sherwood, the council will work closely with the college's representative to the campus IDEA Council to ensure alignment with the university's overall equity, diversity and inclusion goals.
---
College responds to international student challenges
During the COVID-19 pandemic, closed borders, canceled flight routes, quarantine requirements and changes to student visa protocols have upended life for CU's international community.
In response, the college has launched an International Student Advisory Board to better understand and respond to international student needs, both during and after the pandemic.
Composed of 10 students across academic levels and departments, the ISAB meets monthly to identify projects and set goals the board wishes to achieve. Projects this year were focused on creating more professional development opportunities for international students, fostering a greater sense of community, and connecting with new international students as they navigate CU Boulder's campus and U.S. academic culture.
---
Search for new engineering dean progresses
In October, Provost Russell Moore announced the formation of a search committee made up of representatives from all stakeholder groups in the college, including faculty, staff, students and alumni. A job description was published in November, and the campus began accepting both internal and external nominations and applications for the position. Five finalists have been selected, and Moore plans to name a new dean in the spring 2022 semester.
---
Raytheon Intelligence & Space creates $250,000 fellowship endowment
Raytheon Intelligence & Space, a Raytheon Technologies business, and the University of Colorado Boulder in June announced the creation of the Raytheon Technologies Endowed Graduate Fellowship Fund. The $250,000 endowment will support top graduate students in the College of Engineering and Applied Science.
"The next generation of engineers are the key to continuing our robust space solutions offerings," said Paul Meyer, vice president, Space & C2 Systems at RI&S. "The partnership with CU Boulder is a critical step toward supporting future innovation in the aerospace and defense arena."
The fund provides fellowship support for tuition, fees and activities that aid in learning or professional development for selected graduate students in the Ann and H.J. Smead Department of Aerospace Engineering Sciences. Fellowships are for one academic year and have been awarded since fall 2021.
---
Three named to national academies
Chris Bowman of chemical and biological engineering was inducted into the National Academy of Engineering for his innovations related to photopolymerization, a process that uses light to trigger reactions that form new polymers. These polymers are used for an array of medical and technological applications, such as 3D printing, dental fillings, medical devices and augmented reality displays.
Selection for the National Academy of Engineering signifies a member's outstanding achievements in engineering research and education, whether in established fields or emerging technologies. Bowman was previously named to the National Academy of Medicine in 2018.
Mark Rentschler and Greg Rieker of the Paul M. Rady Department of Mechanical Engineering were also named senior members of the National Academy of Inventors.
Rentschler's patent success can be seen at his medical device startup, Aspero Medical. The company recently received a patent for medical balloon technology to improve anchoring consistency in the gastrointestinal tract.
Rieker's company, LongPath Technology, has found success, as well, and was named the 2021 Colorado Photonics Company of the Year. LongPath uses laser technology to help oil and gas companies monitor methane and detect leaks across large areas of infrastructure.
NAI senior members are recognized for having produced technologies that have brought, or aspire to bring, real impact to the welfare of society. They are also recognized for educating and mentoring the next generation of inventors.


Chris Bowman, from left, Greg Rieker and Mark Rentschler
---
ESCEND™ turns passions into reality
ESCEND™ offers a full slate of opportunities to help students get from idea to production.
By combining entrepreneurship courses – taught by experienced founders from the Colorado startup ecosystem – with co-curricular experiences and world-class resources, ESCEND gives students the launchpad needed to turn their passions into a reality.
ESCEND is located in the newly remodeled south wing of the Engineering Center on CU Boulder's main campus.
Programs and course offerings include:
Engineering Entrepreneurship Minor
Entrepreneurial Product\ Development
Designing for Defense
Engineering Projects for the Community
New Venture Creation
Designing for Defense
---
Leadership update
Karen Crofton, Stephen M. Dunn Director of Engineering Entrepreneurship & ESCEND™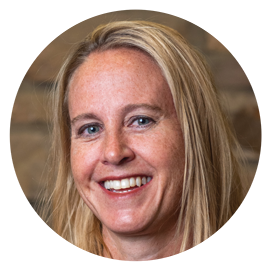 Karen Crofton has joined the College of Engineering and Applied Science as an entrepreneur in residence. Crofton brings a wealth of experience as an investor in data and financial technology startups, a former principal at the Rocky Mountain Institute dedicated to the transformation of energy systems, an intrapreneur at Air Products & Chemicals, and a lecturer at the Leeds School of Business at CU Boulder.
She holds a bachelor's degree in mechanical engineering from Bucknell University, an MBA from Rice University, and a master's in data analytics from CU Boulder.
Since joining the CU Boulder staff in fall 2020, Crofton has taken the helm of ESCEND™, the college's entrepreneurship initiative. ESCEND combines entrepreneurship courses taught by experienced founders from the Colorado startup ecosystem with co-curricular experiences and cross-campus resources to give students a launchpad for entrepreneurial ventures.
She also leads Catalyze CU, a summerlong startup accelerator program for all CU students, faculty and staff that combines mentorship, funding and dedicated coworking space to help launch promising ventures from across the CU Boulder campus.
Fernando Rosario-Ortiz, Associate Dean for Faculty Advancement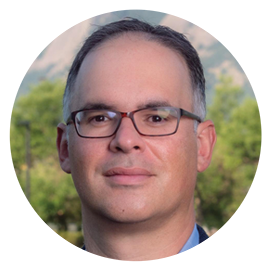 Fernando Rosario-Ortiz began a four-year appointment as associate dean for faculty advancement in July.
This position is responsible for providing leadership and oversight of the college's program to support faculty members across their career stages to accomplish their core missions. The associate dean supports faculty recruitment; manages the annual faculty review process; oversees the First Level Review Committee; advances diversity, equity and inclusion among the faculty; and allocates the necessary resources to those programs.
Rosario-Ortiz joined the CU Boulder faculty in 2008 and has served as director of the Environmental Engineering Program. His research focuses on environmental chemistry, including the impact of wildfires on water quality.
He was selected as a CU Boulder Research and Innovation Office fellow in 2017 and earned the Provost's Faculty Achievement Award in 2016. He earned his bachelor's degree in chemistry from the University of Puerto Rico, Rio Piedras, a master's degree in chemistry from CalTech, and a doctoral degree from the Environmental Science and Engineering Program at UCLA.
Rosario-Ortiz succeeds JoAnn Silverstein, who became the first faculty member to hold this role in the college in 2017.