CU Engineering experienced another record-breaking year for research funding in 2021, receiving $150 million overall, eclipsing the 2020 total of $134 million.
Acting Dean Keith Molenaar said the total showcases the college's resiliency during a difficult year and the effect of a dedicated push into the types of large, interdisciplinary projects that can solve the problems of tomorrow.
"A lot of credit for the upward trend we have been seeing over the last five years goes to the faculty, research associates, staff and, most importantly, students who do this critical work every day," he said. "I could not be prouder to share this news with the college right now."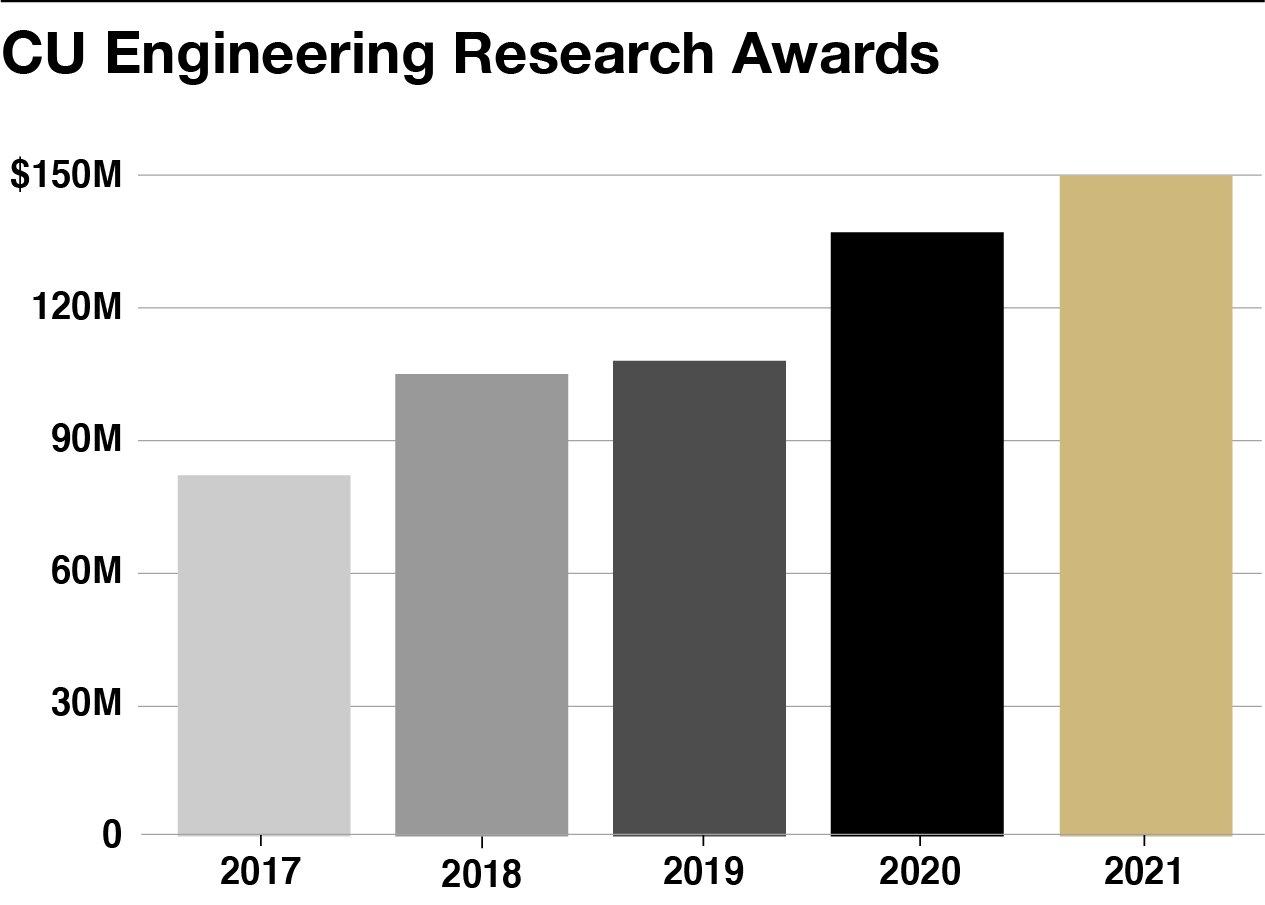 Chart Information 
CU Engineering Research Awards
2017: $82 million
2018: $105 million
2019: $108 million
2020: $134 million
2021: $150 million
Awards in the college totaled $82 million in 2017, $105 million in 2018 and $108 million in 2019 – showcasing a strong year-over-year upward trend. Award money at the college comes from a variety of sources, the largest being federal agencies like NASA, which accounted for about 25% of the 2021 award dollars. The next largest contributors were the National Science Foundation (23%), the Department of Defense (13%), and industry (9%).
While awards were relatively evenly spread among the college, the Ann and H.J. Smead Department of Aerospace Engineering Sciences totaled just over $53 million in research funding in 2021. That betters their 2020 total of $33.5 million and is by far the most ever for that department. 
One of the most prestigious awards from this cycle was a new $13 million center under the Department of Energy's Predictive Science Academic Alliance Program (PSAAP) through the Department of Civil, Environmental and Architectural Engineering. Done in partnership with the National Nuclear Security Administration national laboratories, the center will significantly expand activities in computational science and engineering for particulate materials along with multiscale data-driven modeling, machine learning, and uncertainty quantification capabilities. Through it, the university joins a highly select group of Multi-disciplinary Simulation Centers nationwide.
Associate Dean for Research Massimo Ruzzene said there was a lot to celebrate when it comes to research in the college, beyond just the fiscal year totals. 
"We also had a record 12 faculty members receive NSF CAREER awards in 2021. And saw plenty of growth and activity out of our Interdisciplinary Research Themes program," he said. "There is no doubt in my mind that we have some of the most talented young researchers in our college, and I can't wait to see what they work on next." 
Together, the University of Colorado's four campuses obtained $1.45 billion in awards. CU Boulder research accounted for $634.4 million in that total.
Header image: Chemical and Biological Engineering Assistant Professor Laurel Hind, left, works with graduate student Tanisha Kaur, right, in the lab.