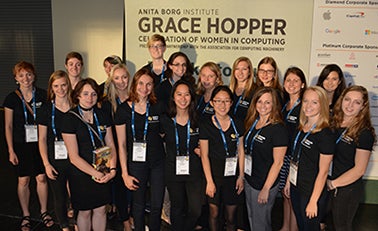 For CU Women in Computing (WIC) member Jessica Lynch, true success for the organization would be for there not to be a need for it anymore.
"Really our ultimate goal in doing anything that celebrates a minority is to eventually have that organization being invalidated because it's being celebrated in the larger community," she said.
But until that day, the increasingly active group is working hard to build a strong community for women in computer science through events like informal coffee hours, networking events, mock interviews and guest speakers from industry. For the past two years, members have also bonded over trips to the Grace Hopper Celebration of Women in Computing, the world's largest gathering of women technologists.
In the past year, they've also started a new initiative to bring others into their community, including students from ATLAS, the College of Arts and Science – and even men.
 "If we want to have an equal spot at the table, we're not going to get it by just talking amongst ourselves," WIC president Lauren Mitchell said. "We have to include guys, too."
WIC's advisor, CS instructor Liz Boese, said their efforts to include everyone in their events has been well-received by both students and the tech community.
"It's been super successful because we have the mix of women and men, but a stronger amount of women than would normally come to events," she said. "I think it's better even for the companies to see – that we're helping everyone on campus."
Mitchell said she thinks women in computing have the responsibility to encourage inclusiveness and collaboration in the field. The senior, who has a job lined up at Qualcomm, has taught workshops for K-12 students and led CU tours for school groups.
"Kids don't see connection between computer science and helping people," she said. "My mission is more about changing that perspective, to see that you can help people so much."
She and Lynch also see a responsibility to break down stereotypes about lone hackers in dark rooms, starting at computer screens.
"The pioneers in computer science were all women," Mitchell said. "You can love to code and still like to get your nails done and be 'girly.'"
Lynch, a senior nontraditional student who has a previous degree in music, said she personally benefited from being event coordinator for the group. She enjoyed the problem-solving aspects of heading up events and working with companies to earn their sponsorship, lessons she says she'll carry with her into her new career at Seagate.
"It was a personal affirmation that I still have it – I kept my ability to relate to people," she said. "Being involved in the group really helped me grow as an engineer and know that I'm still on a creative path, just in a different context."