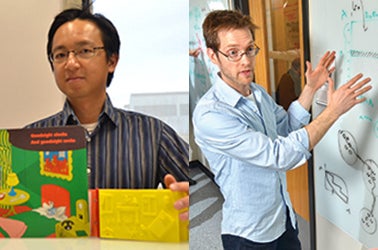 This year, the College of Engineering and Applied Science has an unprecedented number of National Science Foundation CAREER award winners, with seven junior faculty earning this prestigious honor. Two of them – assistant professors Aaron Clauset and Tom Yeh – are from the Department of Computer Science.
Clauset, whose research interests include network science, will use his award to develop practical methods for extracting new knowledge directly from large, messy real-world networks, and for quantifying the relationship between network structure and network metadata. The project will enable new progress on fundamental questions about the structure and function of gene interaction networks, online social networks and many more.
For Yeh, who specializes in human-centered computing, the CAREER award will allow him to continue his research into utilizing 3D printing to create adaptive, tactile picture books for blind children during emergent literacy. His research could change the way tactile pictures are made available to visually impaired children – a parent or a teacher will be able to download a digital 3D model of a tactile picture book, adapt the model for a particular child, 3D print the model and read the resulting one-of-a-kind book with the child.
Congratulations to Aaron and Tom!