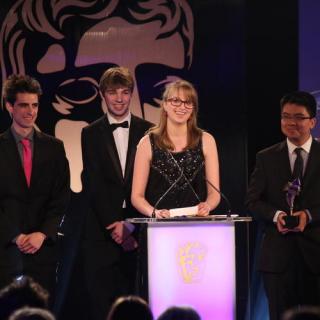 When junior Tommy Hoffmann and his friends set out to create a video game for the Dare to Be Digital competition, they likely had no idea they would end up on stage at the BAFTA Games Awards, the gaming community's version of the Oscars. 
But that is exactly what happened. On March 12, 2015, team Overly Kinetic won the Ones to Watch Award at the prestigious ceremony in London.
Hoffmann was invited to join the team by several high school friends who are now interactive media students at the University of Southern California. A former professor had recommended them for the competition, and they were looking for someone to help them with coding.
The group, which also included Alec Faulkner, Esteban Fajardo, Catherine Fox and Kevin Wong, envisioned a 3D deathmatchgame based on kendo swordfighting. The game, Chambara, was created over two months while the team lived on-campus at Abertay University in Scotland, and was one of three games nominated for the Ones to Watch Award.  
Watch the team's acceptance speech and backstage interview!