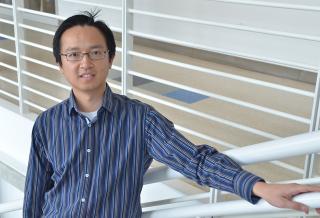 Congratulations to assistant professor Tom Yeh, who has been chosen to receive the 2014 Student Affairs Faculty Member of the Year Award! The CU-Boulder Division of Student Affairs gives the award annually to faculty members who demonstrate outstanding engagement with students and who make substantial contributions to Student Affairs. 
Yeh was nominated by students Adam Cardenas, Michael Skirpan, Ester Vasiete, Vicki Everts, Abigale Stangl and Austin Longo. In their letters, they highlighted Yeh's:
Willingness to engage a diverse research group that connects students with others on campus and within the industry. For example, he created a research group with four women and two men that also included three students with visual impairments.
"Flipped classroom" approach where the learning occurs outside the classroom and "where students can see themselves as co-creators of knowledge … and are encouraged to learn about new areas to become a multidisciplinary professional."
Efforts to develop student leadership by deliberately creating and supporting opportunities for students to lead research groups and facilitate classroom discussions.
"He gave space within discussions for different perspectives to be heard and considered, and through questioning would provide a perspective to reconsider notions and methods before shedding his experience on the issue," one nominator said.