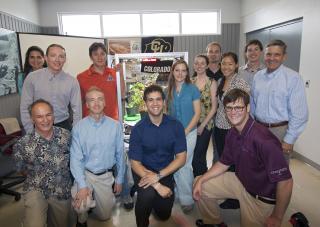 This picture shows a subset of CU Boulder's X-Hab team together with the Kennedy Space Center Director, and NASA mentors. Their trip to The Kennedy Space Center was paired with participation in the RASC-AL competition where the group has won "1st place" and "Best Advanced Concepts" for their robotic-integrated bio-regenerative life-support system concept.
The official press release is below:
CAPE CANAVERAL, Fla. -- At the Kennedy Space Center in Florida, students from University of Colorado are working with NASA mentors in developing a robotic capability for growing a variety of plants, both for consumption as well as the benefit of oxygen-carbon dioxide cycling. Considerations range from monitoring and nutrient supply to selection of plants and autonomy. The activity is part of the eXploration Habitat, or X-Hab, Academic Innovation Challenge. Standing, left to right, are Gioia Massa of the NASA ISS Ground Processing and Research Project Office, Daniel Zukowski, Morgan Simpson of the NASA Ground Processing Directorate, Heather Hava, Keira Havens, Matthew Carton, Christine Fanchiang, Jordan Holquist and Kennedy Director Bob Cabana. Kneeling, left to right, are Ray Wheeler of the NASA Engineering and Technology Directorate, Tracy Gill of the NASA Center Planning and Development Directorate, Scott Mishra and Robert Griffin Hale. Hab Academic Innovation Challenge is a university-level activity designed to engage and retain students in Science, Technology, Engineering and Math, or STEM, disciplines. NASA will directly benefit from the effort by sponsoring the development of innovative habitat concepts from universities which may result in innovative ideas and solutions that could be applied to exploration habitats. For more, click here.