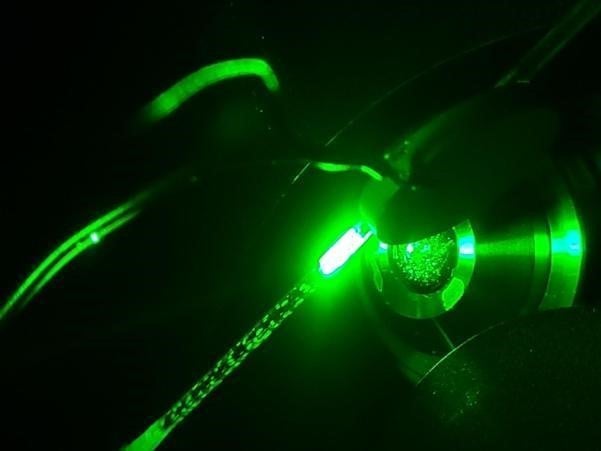 A prototype of the pipette tip is seen trapping silicone particles under stimulation from an acoustic standing wave.
The Shields Lab has received an NIH Exploratory/Developmental Research Grant Award (R21) to develop a specialized pipette to isolate and prepare fungal biomarkers for study.
"We aim to create a pipette that is functional and ergonomic to isolate multiple fungal biomarkers—including antibodies and antigens—from blood and prepare them for downstream analysis," said Assistant Professor C. Wyatt Shields IV. "Our hope is that this technology will improve the convenience and value of serodiagnoses—diagnoses derived from blood serum and other bodily fluids."
The grant was made through the National Institute of Allergy and Infectious Diseases for the group's project "Acoustofluidic Pipette for Rapid Serodiagnosis of Candida Infection."
There is a growing need for technology that can assist researchers and medical professionals studying invasive fungal diseases present in the blood, as current methods of diagnosis require up to three days. This process often involves giving patients antibiotics as a precaution, which is ineffective against fungal infections and can cause additional complications.
"Making a user-friendly pipette to capture and purify these biomarkers could shorten the timeline required for a positive readout and add value to current clinical practices for detecting invasive fungal diseases," Shields said.
The NIH grant is expected to catalyze new developments in the project, which the group has been working on for about a year.
"My group has a deep interest in biointerfacing and responsive particles," Shields said. "The technology we are developing leverages a class of silicone particles that binds to specific biomarkers and compresses when exposed to an acoustic standing wave. Together, these features allow our particles to undergo efficient trapping in an acoustic standing wave, which is central to our core innovation."
Shields hopes to leverage the pipette technology to target difficult-to-study and deadly pathogens, both fungal and non-fungal. He also hopes to extend the technology to include an in-line fluorescence inspection module to create a point-of-care device that can be used in clinical settings.
"This project combines topics in colloid and interface science, biorecognition, immunology and medical device engineering," Shields said. "Our department has abundant resources and expertise in each of these areas, which will greatly benefit our efforts."