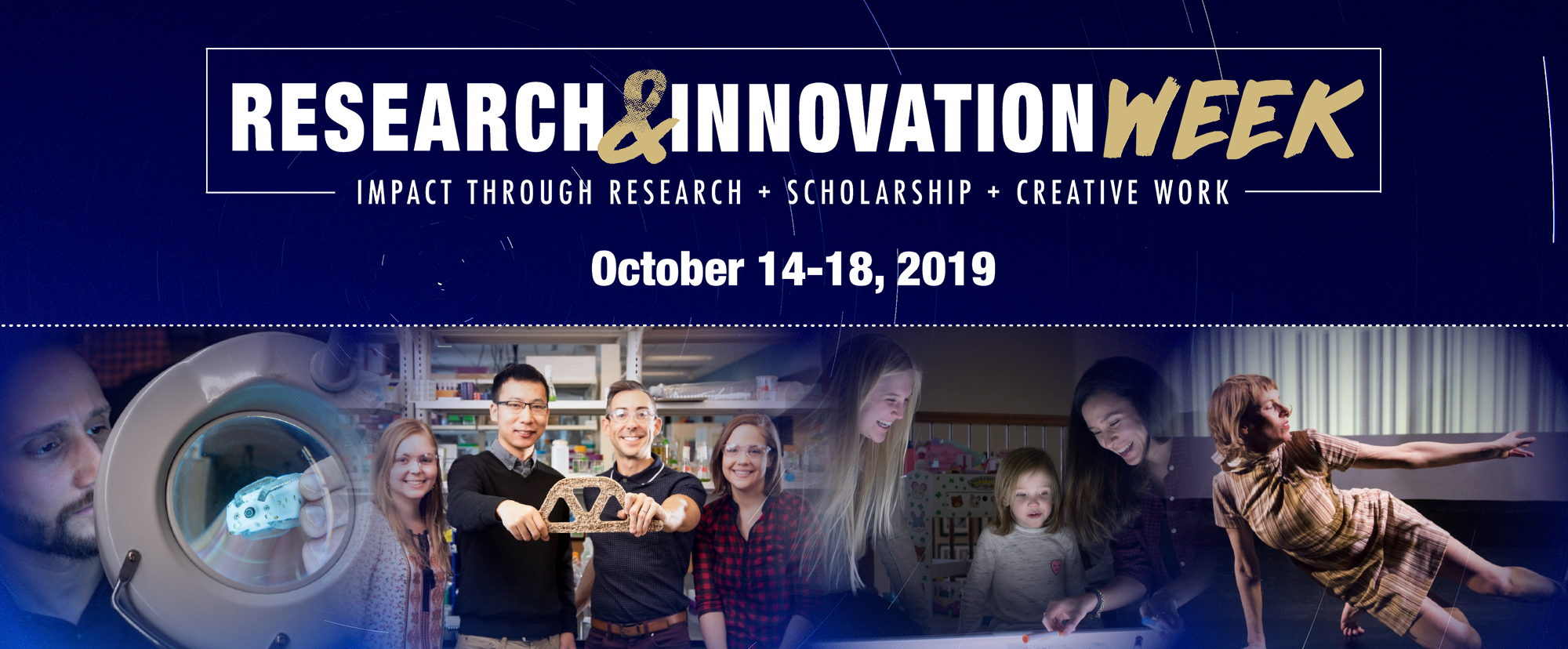 The second edition of Research & Innovation Week, Oct. 14-18, is just around the corner and packed with events that are free and open to students, faculty, staff and the public. 
Events include everything from expert panels, TED-style talks and film screenings to poster sessions, lightning talks and performances. Institutes, centers, schools and departments from every corner of campus are contributing to the programming, ensuring that there are engaging opportunities for everyone. All events are free and most are open to students, faculty, staff and the public. 
Featured events during the weeklong celebration include:
CU on the Weekend: An Arctic Perspective on Contemporary Global Warming
 Saturday, 1-3 p.m.  East Campus, Jennie Smoly Caruthers Biotech Building (Butcher Auditorium)
Start the week early with a special CU on the Weekend lecture. Geology Professor Gifford Miller will  discuss how researchers measure and evaluate contemporary global warming in the arctic, and how current warming trends compare to earlier centuries.
Tour Laboratory for Atmospheric & Space Physics (LASP) RSVP Here
 Monday, 2:30, 3:30 p.m.  East Campus, LASP
Visitors can view models of different spacecraft and satellites, a class-10,000 clean room, a machine shop for building instruments, and our Mission Operations Center from which we operate satellites.
Remote Sensing & Climate Change—Posters and Panel; Tour New Aerospace Building
 Monday, 4–7 p.m.  East Campus, new Aerospace Engineering Sciences Building
Explore the new Aerospace Engineering Sciences Building and student poster presentations from 4—6 pm, then enjoy a world-class panel discussing what remote-sensing can tell us about climate change, now and in the future. The distinguished panel features James White, Waleed Abdalati, Scott Palo, Evan Thomas and Cora Randall.
Science/Technology/Market seminar—Cell-based and Plant-based "clean meat"
 Tuesday, 2:30-3:30 p.m.  East Campus, Jennie Smoly Caruthers Biotech Building (Butcher Auditorium)
Clean meat products can be safer, generate health and environmental benefits, taste great and be cost competitive with animal products. Life science companies, research universities and start-ups are building this new industry.
Lecture—Moving Precision Health from Rhetoric to Reality
 Tuesday, 4-5 p.m.  East Campus, Jennie Smoly Caruthers Biotech Building (A108)
Roy Smythe, M.D., Chief Executive Officer of SomaLogic, will discuss SomaLogic's goals and some current projects.
Research & Innovation Office (RIO) Faculty Fellows TED-Style Talks RSVP Here
 Tuesday, 5:30–7:30 p.m.  Dairy Arts Center, Gordon Gamm Theatre
Research & Innovation Office Faculty Fellows will give five-minute TED-style talks exploring the leading edge of disciplines across the spectrum in this informative, inspiring evening.
Community-Engaged Research & Scholarship LIVE: Posters and Projects 
 Wednesday, 10 a.m.–12 p.m.  Main Campus, Visual Arts Center
Come peruse posters, discuss projects and learn some community engagement strategies with graduate students from the Engaged Arts and Humanities Scholars and Community-Based Research Fellows cohorts.
Undergraduate Research Opportunities Program (UROP) Sidewalk Symposium 
 Wednesday, 1–5 p.m.  Main Campus, Norlin Quad
UROP invites the campus community to explore the pioneering work of its students while re-thinking the traditional research poster in this year's Sidewalk Symposium—a radically unique event format developed in Boulder.
Research & Innovation Graduate Student Posters & Presentations
 Wednesday, 5:30–7 p.m.  Main Campus, Idea Forge
Posters and lightning talks will present research, creative works, inventions and more. The session welcomes novel presentation methods and styles, whether it is an original song for the lightning talk, photos of a performance for a poster, excerpts from a creative writing project or an interactive poster for explaining research.
Lecture—Penny Axelrad: Finding Your Way Through Space & Time
 Thursday, 5:30 p.m.   East Campus, new Aerospace Engineering Sciences Building
Dr. Penny Axelrad, the Joseph T. Negler Professor of Aerospace Engineering Sciences, will share highlights from the COMPASS research group's journey, including recent advances in space situational awareness for large-scale CubeSat deployments, GPS multipath modeling and positioning in complex environments, and GPS-based bistatic radar altimetry. 
Ice on Fire HBO Documentary Film Screening & Expert Panel RSVP Here
 Thursday, 6:30–9 p.m.  Main Campus, CASE building
CU Boulder will host a screening of the new HBO documentary Ice on Fire featuring our very own climate scientist and Arts & Sciences Dean Jim White. Following the screening, we will hold a panel discussion featuring others featured in the film. The film—and panel—will focus on climate mitigation, such as carbon capture, biochar and solar power.
Graduate Research in Theatre, Dance & Performance Studies 
 Friday, 1:30–3 p.m.  Main Campus, Acting Studio, University Theatre Building
Incoming Theatre & Dance graduate students showcase their research projects in PechaKucha presentations, in which each student gets 20 images, 20 seconds each, to present a compelling argument for the relationship between practice and research in their scholarship and creative work.
ATLAS Institute Research Showcase RSVP Here
 Friday, 3:30–5:30 p.m.  Main Campus, ATLAS Institute
Research and creative work exposition, laboratory and studio tours, demos, poster presentations, and discussion with faculty members and graduate students. This showcase will feature: Human-Robot Interaction, Tangible Media, AR/VR, Smart Textiles, Nanomaterials, Microfluidics, Game Design ++ and more.
Note: More details on each can be found at the Research & Innovation Week website. Additional events are still being added to the schedule. Events like Thursday's Inside NSF's Engineering Research Center (ERC) Program with Division Director Kon-Well Wang and Friday's Research Administrator's Recognition Breakfast help deliver on the goals of the week but are intended for specific groups. 
About Research & Innovation Week
Research & Innovation Week is designed to strengthen community and collaboration across campus while demonstrating the broad impact of the work of CU Boulder's faculty, researchers, postdocs, students and staff.
Additionally, the week aims to boost visibility to audiences beyond campus, such as the Boulder community, industry partners, the entrepreneurial ecosystem and more. 
Hosted by the Research & Innovation Office, Research & Innovation Week features collaborations across campus with groups including the United Government of Graduate Students, Undergraduate Research Opportunities Program, Engaged Arts & Humanities Graduate Student Scholarsand more.