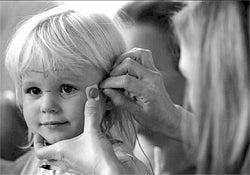 Administrative Research Center (ARC), Room A48
3100 Marine Street
Boulder, CO 80309-0554
phone: 303-492-4584
fax: 303-735-4125
Research Interests
Personnel
Director: Monique K. LeBourgeois, PhD
Lab Manager: Madeline Thorud, BA
Postdoctoral Fellows: Lauren Hartstein, PhD
PhD Student: Sachi Wong, MS
MS Students: Leen Abbas, BA, Sophie Choubai, BA
Undergraduate Students: Brandon Hiraki, Jessie Bourgan, Kevin Carter, Wendy Acevedo
Collaborators: Peter Achermann, PhD, University of Zurich; Mary Carskadon, PhD, Warren Alpert Medical School of Brown University; John Harsh, PhD, University of Colorado Boulder; Ken Wright, PhD, University of Colorado Boulder; Reto Huber, PhD, University Children's Hospital (Zurich); Salome Kurth, PhD, University of Zurich; Oskar Jenni, MD, University Children's Hospital (Zurich); Daphne Koinis-Mitchell, PhD, Warren Alpert Medical School of Brown University; Alison Miller, PhD, University of Michigan; Ronald Seifer, PhD, Warren Alpert Medical School of Brown University; Sarah Watamura, PhD, The University of Denver; Julia Dmitrieva, PhD, University of Denver; Cecilia Diniz Behn, PhD, Colorado School of Mines; Michelle Garrison, PhD, MPH, University of Washington & Seattle Children's Research Institute. 
Current Research Projects
Persons interested in volunteering to participate in one of these studies should visit our Sleep and Development Laboratory Web site.
Early developmental changes in sleep homeostasis and circadian rhythms.
Effects of sleep restriction on young children's emotion processing and cognition.
Sleep and brain development.
Asthma, sleep, and academic functioning in urban school children.
Opportunities for Undergraduates
Mary A. Carskadon [MAC] 2023 Sleep and Circadian Rhythms Summer Research Fellowship
Program of Research
Light is the strongest environmental signal to the internal circadian (biological) clock of humans. Although the biological response to light has been investigated in adults, very little is known about how light influences the circadian clock of young children. The primary goal of this summer's study is to understand how light can advance the timing of the circadian clock of preschool-age children.
What Research Apprentices Do
This summer study involves creating dim light conditions within a child's home for 3 days. On the first and third evening of the in-home assessment the child remains in dim light, and on the second morning the child is exposed to light during the hour before their usual waketime.
Apprentices will carry out multiple facets of data collection including saliva collection, setting up dim light conditions, training subjects, data entry, assisting with light exposure, and entertaining subjects. Data collection will be done in teams, and each team will be assigned to work certain days of the week - not always Monday through Friday, often Saturday and Sunday - in research protocols that involve working unusual schedules (early shifts may start at 5:00 AM and late shifts may end at 12:00 AM).
Commitment
Bootcamp: There will be an all-day training on TBD on main campus that apprentices are required to attend. There are no exceptions.
Summer: The apprenticeship runs from May 15 - August 25. Apprentices are expected to devote the summer entirely to this academic research experience and not have other jobs or take course work.
Retreat: Each apprentice will complete a presentation based upon library research, presented to the group at the end-of-summer retreat at Snow Mountain Ranch from TBD. Additionally, invited scientists in the areas of sleep or circadian rhythms research will give presentations describing their career paths and their scientific research.
Stipend and Other Benefits
Every apprentice will receive $4000. The UROP Assistantship covers $2000, and those who receive the award will be paid an additional $2000 by the lab. Those who do not receive the UROP Assistantship will be paid $4000 directly by the lab. Stipends are subject to taxes and fees, and payments will occur every 2 weeks across the summer starting 2 weeks after the program begins.
Apprentices are required to submit a UROP Assistantship application by February 17th, 2023. Any funds not covered by UROP will be covered by the lab.
Paid travel and lodging for Snow Mountain Ranch retreat.
Application
We are NOT currently accepting applications for the Summer Research Fellowship. We will send an email to all students in IPHY when we open 2023 summer applications
Once applications open, we will be accepting applications until December 31, 2022. Interviews will be held on a rolling basis. The earlier you submit your application, the earlier it will be reviewed by our team.
This research opportunity is open to all CU Boulder undergraduate students. Please send your completed application (see below), resume or CV, and unofficial transcript to sleepdev@colorado.edu. Candidates will be interviewed in person. Upon acceptance into the program, apprentices will be required to pass a background check.
Recent Publications
Akacem LD, Simpkin CT, Carskadon MA, Wright KP Jr, Jenni OG, Achermann P, LeBourgeois MK. The Timing of the Circadian Clock and Sleep Differ between Napping and Non-Napping Toddlers. PLoS One 10(4): e0125181, 2015. doi: 10.1371/journal.pone.0125181.
Akacem LD, Wright KP Jr, LeBourgeois MK. Bedtime and evening light exposure influence circadian timing in preschool-age children: A field study. Neurobiology of Sleep and Circadian Rhythms 1: 27-31, 2016.
Mullins EN, Miller AL, Cherian SS, Lumeng JC, Wright KP Jr, Kurth S, LeBourgeois MK. Acute Sleep Restriction Increases Dietary Intake in Preschool-Age Children. Journal of Sleep Research 26: 48-54, 2017.
Simpkin CT, Jenni OG, Carskadon MA, Wright KP Jr, Akacem LD, Garlo KG, Lebourgeois MK. Chronotype is associated with the timing of the circadian clock and sleep in toddlers. Journal of Sleep Research 4: 397-405, 2014.