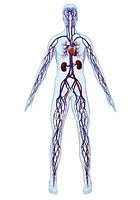 Carlson, Room 108
phone: 303-735-3605
fax: 303-492-6778
Research Interests
The effects of aging, cardiovascular and metabolic risk factors, and habitual physical activity on vascular endothelial function.
Personnel
Current Research Projects
Influence of age, obesity, exercise, and oxidative stress on the endothelin-1 system.
HIV-1 infection, vascular endothelial function, and exercise.
Effects of nebivolol on ET-1 vasoconstrictor tone.
Nebivolol and endothelial regulation of fibrinolysis.
Overweight/obesity and vascular progenitor cell function.
Recent Publications
Stauffer BL, Dow CA, Diehl KJ, Bammert TD, Greiner JJ, DeSouza CA. Nebivolol, but not metoprolol, treatment improves endothelial fibrinolytic capacity is adults with elevated blood pressure. Journal of the American Heart Association 6: 2017.
Bain AR, Weil BR, Diehl KJ, Greiner JJ, Stauffer BL, DeSouza CA. Insufficient sleep is associated with impaired nitric oxide-mediated endothelium-dependent vasodilation. Atherosclerosis 265: 41-46, 2017.
Dow CA, Templeton DL, Lincenberg GM, Greiner JJ, Stauffer BL, DeSouza CA. Elevations in C-reactive protein and endothelin-1 system activity in humans. Life Sciences 159: 66-70, 2016.