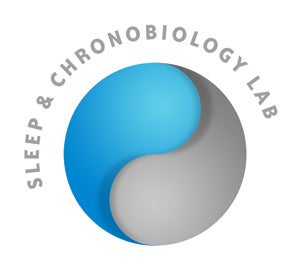 Administrative Research Center (ARC), Room A29
3100 Marine Street
Boulder, CO 80309-0554
phone: 303-735-1923
fax: 303-735-2864
Research Interests
Health and safety consequences of sleep and circadian disruption.
Influence of sleep and circadian rhythms on human physiology (neuroendocrine, metabolic and immune function) and behavior (sleepiness, memory, learning, mood, cognitive and motor performance) with application to public health and safety.
Countermeasures to improve sleep, wakefulness, and health
Lab Director
Personnel
Graduate Students: Sabrina Linton, Katrina Rodheim, Dana Withrow, M.S.
Professional Research Assistants: Misia Kubicki
Undergraduate Students: Samantha Bradford, Timothy Chang, Salma Fakiri, Emily Hay-Arthur, Madeline Helberg, Yash Kothamdi, Nicole Kirk, Ellie Lamberty, Minyong Lee, Fiona Lindsay, Zofia Martinez-Lisowska, Cammie Mitchell, John Moore, Molly Mouchawar, Riley Nichols,  Nguyen Pham, Bailey Residorph,  Aidan Sokup, Alan Villegas, Xindi Wang, Hunter Fleming, Owen Tallmadge 
                                                      Sleep and Chronobiology Lab 2019-2020
Current Research Projects
Impact of sleep and circadian disruption on the human microbiome and related changes in human physiology and cognition.
Biomarkers for insufficient sleep and circadian rhythm disruption (metabolomics and proteomics).
Effects of light exposure on circadian rhythms, sleep, and health.
Influence of sleep loss, sleep inertia and circadian disruption on cognitive function.
Countermeasures to improve sleep and wakefulness.
Physiological and behavioral mechanisms by which insufficient sleep and circadian misalignment contributes to metabolic dysregulation.
Countermeasures to improve cardiometabolic health during insufficient sleep.
Persons interested in volunteering to participate in one of these studies should visit the sleep study participant page.
Colorado Sleep and Circadian Research Symposium
The Colorado Sleep and Circadian Research Symposium brings together speakers from diverse areas of circadian and sleep research for a one-day meeting each year on the University of Colorado Boulder campus.
T32 Training Grant 
This training program aims to recruit, select and retain outstanding trainees, promote inclusive excellence, provide high quality training, educational, and career development experiences to prepare trainees for research-intensive and research-related careers; shape tomorrow's scientific leaders, foster rigorous and collaborative sleep and circadian science, ensure successful progress of trainees toward predetermined milestones defined in Individual Development Plans; and expand the number of investigators conducting transdisciplinary sleep and circadian science.
For more information visit T32 Training Grant or email kenneth.wright@colorado.edu.
Opportunities for Undergraduate Students
The requirements for undergraduate students who want a research experience in our Laboratory are:

A strong desire to obtain research experiences prior to graduate school, medical school, or advanced study in a health-related field
Minimum commitment: One year
Minimum hours/week when testing subjects: 8-10 hours (includes journal club)
Minimum experience: No prior experience required
Must be willing to work with a team
Must be able to work various hours during the day, at night, and on weekends.

UROP, independent study, honors thesis, and concurrent BA-MS opportunities are available.
For more information, contact Kenneth.Wright@colorado.edu.
Opportunities for Graduate Students and Postdoctoral Fellows
Graduate Student and Postdoctoral Fellow training is available contingent upon research funding.
For more information, contact Kenneth.Wright@colorado.edu.
Recent Publications
Axelsson J, Ingre M, Kecklund G, Lekander M, Wright KP, Sundelin T. Sleepiness as motivation: A potential mechanism for how sleep deprivation affects behavior. Sleep. 2019 Nov 29. pii: zsz291. doi: 10.1093/sleep/zsz291. [Epub ahead of print]
Barger LK, Sullivan JP, Blackwell, O'Brien CS, St. Hilaire MA, Phillips AJK, Qadri S, Wright Jr KP, Segar JL,  McGuire JK, Vitiello MV, de la Iglesia H, Poynter SE, Yu PL, Sanderson A, Halbower A, Lockley SW, Landrigan CP, Stone KL, Czeisler CA, and the ROSTERS Study Group. Effects on Resident Work Hours and Sleep Duration in a Randomized Order Safety Trial Evaluating Resident-physician Schedules (ROSTERS) Sleep 2019. Aug 1;42(8). pii: zsz110. doi: 10.1093/sleep/zsz110.            
Bowers SJ, Vargas F, González A, He S, Jiang P, Dorrestein PC, Knight R, Wright KP Jr, Lowry CA, Fleshner M, Vitaterna MH, Turek FW. Repeated sleep disruption in mice leads to persistent shifts in the fecal microbiome and metabolome. PLoS One. 2020 Feb 20;15(2):e0229001. doi: 10.1371/journal.pone.0229001. eCollection 2020.
Creasy SA, Crane TE, Garcia DO, Thomson CA, Kohler LN, Wertheim BC, Baker L, Coday M, Hale L, Womack CR, Wright KP, Melanson EL. Higher amounts of Sedentary Time are Associated with Short Sleep Duration and Poor Sleep Quality in Postmenopausal Women. Sleep 2019 Jul 8;42(7). pii: zsz093. doi: 10.1093/sleep/zsz09
Depner CM, Cogswell DT, Bisesi PJ, Markwald RR, Cruickshank-Quinn C, Quinn K, Melanson EL, Reisdorph N, Wright KP Jr. Developing preliminary blood metabolomics-based biomarkers of insufficient sleep in humans. Sleep. 2020 Jan 2. pii: zsz321. doi: 10.1093/sleep/zsz321. [Epub ahead of print]
Depner CM, Melanson EL, Eckel RH, Snell-Bergeon JK, Perreault L, Bergman BC, Higgins JA, Guerin MK, Stothard ER, Morton SJ, Wright KP Jr. Ad libitum Weekend Recovery Sleep Fails to Prevent Metabolic Dysregulation during a Repeating Pattern of Insufficient Sleep and Weekend Recovery Sleep. Curr Biol. 2019 Mar 18;29(6):957-967.e4. doi: 10.1016/j.cub.2019.01.069. Epub 2019 Feb 28
Fritz J, VoPham T, Wright KP Jr, Vetter C. A Chronobiological Evaluation of the Acute Effects of Daylight Saving Time on Traffic Accident Risk. Curr Biol. 2020 Feb 24;30(4):729-735.e2. doi: 10.1016/j.cub.2019.12.045. Epub 2020 Jan 30.

Vetter C, VoPham T, Wright KP Jr, Fritz J. Response to Martín-Olalla. Curr Biol. 2020 Apr 6;30(7):R300-R301. doi: 10.1016/j.cub.2020.03.00

Landrigan CP, Rahman SA, Sullivan JP, Vittinghoff E, Barger LK, Sanderson AL, Wright KP Jr, O'Brien CS, Qadri S, St Hilaire MA, Halbower AC, Segar JL, McGuire JK, Vitiello MV, de la Iglesia HO, Poynter SE, Yu PL, Zee PC, Lockley SW, Stone KL, Czeisler CA; ROSTERS Study Group. Effect on Patient Safety of a Resident Physician Schedule without 24-Hour Shifts. N Engl J Med. 2020 Jun 25;382(26):2514-2523.
McHill AW, Wright Jr KP. Cognitive Impairments During the Transition to Working at Night and on Subsequent Nightshifts. Journal of Biological Rhythms 2019 Aug;34(4):432-446. doi: 10.1177/0748730419848552. Epub 2019 May 9.
 Rahman SA, Wright KP Jr, Lockley SW, Czeisler CA, Gronfier C. Characterizing the temporal Dynamics of Melatonin and Cortisol Changes in Response to Nocturnal Light Exposure. Sci Rep. 2019 Dec 23;9(1):19720. doi: 10.1038/s41598-019-54806-7.
Roenneberg T, Wirz-Justice A, Skene DJ, Ancoli-Israel S, Wright KP, Dijk DJ, Zee P, Gorman MR, Winnebeck EC, Klerman EB. Why Should We Abolish Daylight Saving Time? J Biol Rhythms. 2019 Jun;34(3):227-230. doi: 10.1177/0748730419854197.
Rynders CA, Morton SJ, Bessesen DH, Wright KP Jr, Broussard JL. Circadian Rhythm of Substrate Oxidation and Hormonal Regulators of Energy Balance. Obesity (Silver Spring). 2020 May 28.
Simon SL, Diniz Behn C, Laikin A, Kaar JL, Rahat H, Cree-Green M, Wright KP Jr, Nadeau KJ. Sleep & Circadian Health are Associated with Mood & Behavior in Adolescents with Overweight/Obesity. Behav Sleep Med. 2019 Jun 20:1-10. doi: 10.1080/15402002.2019.1629444. [Epub ahead of print]
Simon SL, McWhirter L, Behn CD, Bubar KM, Kaar JL, Pyle L, Rahat H, Garcia-Reyes Y, Carreau AM, Wright KP, Nadeau KJ, Cree-Green M. Morning circadian misalignment is associated with insulin resistance in girls with obesity & Polycystic Ovarian Syndrome. J Clin Endocrinol Metab. 2019 pii: jc.2018-02385. doi: 10.1210/jc.2018-02385.
Sprecher KE, Ritchie HK, Burke TM, Depner CM, Smits A, Dorrestein PC, Fleshner M, Knight R, Lowry CA, Turek FW, Vitaterna MH, Wright Jr KP. Trait-like vulnerability of higher-order cognition and ability to maintain wakefulness during combined sleep restriction and circadian misalignment. Sleep 2019. 2019 Aug 1;42(8). pii: zsz113. doi: 10.1093/sleep/zsz113
Stothard ER, Ritchie HK, Birks BR, Eckel RH, Higgins J, Melanson EL, Wright KP Jr, *McHill AW. Early Morning Food Intake as a Risk Factor for Metabolic Dysregulation. Nutrients. 2020 Mar 13;12(3):756. doi: 10.3390/nu12030756.
Swanson CM, Blatchford PJ, Orwoll ES, Cauley JA, LeBlanc ES, Fink HA, Wright KP Jr, Wierman ME, Kohrt WM, Stone KL; Study of Osteoporotic Fractures (SOF). Association between objective sleep duration and bone mineral density in older postmenopausal women from the Study of Osteoporotic Fractures (SOF). Osteoporos Int. 2019 Oct;30(10):2087-2098. doi: 10.1007/s00198-019-05007-5. Epub 2019 May 28.
Swanson CM, Kohrt WM, Wolfe P, Wright KP Jr, Shea SA, Cain SW, Munch M, Vujović N, Czeisler CA, Orwoll ES, Buxton OM. Rapid suppression of bone formation marker in response to sleep restriction and circadian disruption in men. Osteoporos Int. 2019 Dec;30(12):2485-2493. doi: 10.1007/s00198-019-05135-y. Epub 2019 Aug 24
Swanson CM, Shea SA, Kohrt WM, Wright KP, Cain SW, Munch M, Vujovic N, Czeisler CA, Orwoll ES, Buxton OM. Sleep Restriction with Circadian Disruption Negatively Alter Bone Turnover Markers in Women. J Clin Endocrinol Metab. 2020 May 4:dgaa232. doi: 10.1210/clinem/dgaa232
Funding 
2015-2021, N00014-15-1-2809, Office of Naval Research (ONR), "The microbiome and responsiveness to stress: Countermeasure strategies for improving resilience to sleep and circadian disruption" (PI and Team Lead: Wright).
2016-2021, NIH R01 HL135598, NIH/NHLBI, "Sleep and Blood Pressure-Related Endothelial Abnormalities" (PI: Wright, Desouza, Stauffer).

2020-2025 T32 HL149646 NIH/NHLBI  "Transdisciplinary Training in Sleep and Circadian Rhythms" (PI/PD :Wright) 

2019-2023 U01 HL150596 NIH/NHLBI "Collaboration Linking Opioid Use Disorder and Sleep "CLOUDS" Study (PI: Yaggi)