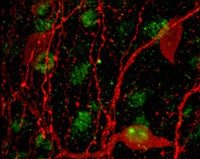 Ramaley N384
Department of Integrative Physiology
University of Colorado
Boulder, CO 80309-0354
phone: 303-735-4364
Research Interests
The Reproductive Endocrinology Laboratory is interested in understanding how hormones from the brain and pituitary control puberty, male and female reproduction, and reproductive senescence. We are particularly interested in the function of gonadotropin-releasing hormone (GnRH) and the developmental regulation of neurons that produce GnRH, since developmental abnormalities in these neurons lead to absent puberty and infertility in all vertebrates including humans. Additional projects include investigating (1) the evolutionary pattern of GnRH using molluscan models, and (2) the developmental regulation of the endocrine hypothalamus.
Personnel
Laboratory Director: Pei-San Tsai, Ph.D.
Professional Research Assistant: Kelsey Sanders, B.A.
Graduate Students: Tyler Akonom, M.S., Surayut Kluaiphanngam, B.S.
Undergraduate Students: Evan Egger, Caleb Kumar, Natalie Shelden, Alex Strauss, Nora Want.
Collaborators: Seth Finklestein, M.D., Stemetix Inc.; Dan Medeiros, Ph.D., University of Colorado Boulder; Nelly Pitteloud, M.D., University of Lausanne; Stacia Sower, Ph.D., University of New Hampshire at Durham.
Current Research Projects
Development and maintenance of the reproductive brain.
Functional and structural evolution of gonadotropin-releasing hormone superfamily.
Etiology of infertility in humans.
Embryonic development of the neuroendocrine hypothalamus.
Opportunities for Undergraduates
****OUR LAB IS CURRENTLY FULL AND WILL NOT BE ABLE TO ACCEPT ADDITIONAL STUDENTS*****
The requirements for undergraduate students who want a research experience in our Laboratory are:

Junior or senior status.
Minimum commitment of one year.
Be able to work at least 8 hours per week.
Either have completed or be concurrently enrolled in IPHY 3410 (Human Anatomy) or IPHY 3470/3480 (Human Physiology).
Participate in UROP or enroll in independent study (IPHY 4860).
Minimum GPA of 3.2.

For more information, contact Prof. Pei-san Tsai (pei-san.tsai@colorado.edu).
Recent Publications
Martillotti AW, Tsai P-S. An adipokinetic hormone acts as a volume regulator in the intertidal gastropod mollusk, Aplysia californica. Frontiers in Endocrinology 9: 493, 2018
Tsai P-S. Gonadotropin-releasing hormone by any other name would smell as sweet. General and Comparative Endocrinology 264: 58-63, 2018.
Fodor I, Zrinyi Z, Horváth R, Urbán P, Herczeg R, Büki G, Koene JM, Tsai P-S, Pirger Z. Identification, presence, and possible multifunctional regulatory role of invertebrate gonadotropin-releasing hormone/corazonin molecule in the great pond snail (Lymnaea stagnalis). General and Comparative Endocrinology 299: 113621, 2020.
Dela Cruz C, Horton CA, Sanders KN, Andersen ND, Tsai P-S. Conditional Fgfr1 deletion in GnRH neurons leads to minor disruptions in the reproductive axis of male and female mice. Frontiers in Endocrinology 11: 588459, 2021
Funding
2016-2022, NIH, "Postnatal Plasticity in the GnRH System"