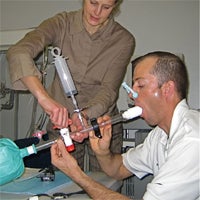 3100 Marine Street, Room A53
Administrative Research Center, 554 UCB
Boulder, CO 80309-0554
Lab Phone: 303-735-0358
Fax: 303-735-4125
Research Interests
The focus of the Applied Exercise Science Laboratory (AESL) is to examine
changes associated with long- and short-term physical activity and to determine
the role of these changes in improving health and athletic performance.
Personnel
Director: William C. Byrnes, Ph.D.
Doctoral Students: Eric Homestead, James Peterman, Jesse Goodrich.
Masters Students: Alex Cross, Sewan Kim.
BA/MS Students: Kalee Morris.
Undergraduate Students: Lauren Davis, Nicholas Milburn, Jenna Turner, Nancy Best, Mackenzie Whitcomb, Uma Hatangadi.
Collaborators: Rodger Kram, Ph.D., Locomotion Laboratory, University of Colorado Boulder; David Allen, Ph.D., Department of Psychology and Neuroscience, University of Colorado Boulder; Edward Melanson, Ph.D., Division of Endocrinology, Metabolism, and Diabetes, University of Colorado - School of Medicine; Randall Wilber, Ph.D., Performance Services, United States Olympic Committee; Walter Schmidt, Ph.D. and Nadine Wachsmth, Ph.D., Department of Sports Medicine, University of Bayreuth, Germany; Kenneth P. Wright Jr., Ph.D., Sleep and Chronobiology Laboratory, University of Colorado at Boulder.
Current Research Projects
To investigate how interventions that promote physical activity and limit sedentary sitting impact cardiometabolic risk factors.
To examine the factors that influence the energetics of exercise.
To investigate hemoglobin mass adaptations to short-term environmental perturbations.
To investigate the role of connective tissue in exercise-induced muscle damage and repair in humans.
To examine interactions between hemoglobin mass, arterial oxygen saturation, and maximal oxygen uptake.
To investigate the role of airflow resistance on physiological responses during exercise.
Recent Publications
Kane LA, Ryan BJ, Schmidt WF, Byrnes WC. Acute, low-dose CO inhalation does not alter energy expenditure during submaximal exercise. International Journal of Sports Medicine 37.01: 19-24, 2016.
Peterman JE, Lim AC, Ignatz RI, Edwards AG, Byrnes WC. Field-Measured Drag Area is a Key Correlate of Level Cycling Time Trial Performance. PeerJ 3: e1144, 2015.
Peterman JE, Morris KL, Kram R, Byrnes WC. Pedelecs as a Physically Active Transportation Mode. European Journal of Applied Physiology 116: 1565-73, 2016.
Peterman JE, Wright Jr. KP, Melanson EL, Kram R, Byrnes WC. Motor-driven (passive) cycling: a potential physical inactivity countermeasure? Medicine and Science in Sports and Exercise 48: 1821-1828, 2016.
Ryan BJ, Goodrich JG, Schmidt W, Kane LA, Byrnes WC. Ten Days of Intermittent, Low-dose Carbon Monoxide Inhalation does not significantly alter Hemoglobin Mass, Aerobic Performance Predictors, or Peak-power Exercise Tolerance. International Journal of Sports Medicine 2016. DOI 10.1055/s-0042-108197.
Ryan BJ, Wachsmuth NB, Schmidt WF, Byrnes WC, Julian CG, Lovering AT, Subudhi AW, Roach RC. AltitudeOmics: rapid hemoglobin mass alterations with early acclimatization to and de-acclimatization from 5260 m in healthy humans. PLoS ONE 9: e108788, 2014.
Welsh MC, Allen DL, Batliner ME, Byrnes WC. Revisiting the Force-Joint Angle Relationship After Eccentric Exercise. The Journal of Strength & Conditioning Research 29.12: 3284-3291, 2015.
Welsh MC, Allen DL, Byrnes WC. Plasma matrix metalloproteinase-9 response to downhill running in humans. International journal of sports medicine 35: 363-370, 2014.