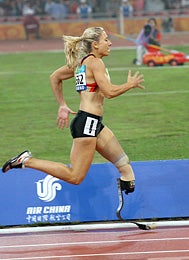 Clare Small 106 and 111
phone: 303-492-0926
fax: 303-492-4009
Research Interests
The biomechanical and metabolic effects of prostheses and exoskeletons on walking, running, hopping, and sprinting.
Personnel
Director: Alena Grabowski, PhD.
Postdoctoral Fellows: 
Graduate Students: Ryan Alcantara, Stephen Allen, Kara Ashcraft, Emily Southern, Vani Sundaram, Josh Tacca
Collaborators: Christopher Arellano, Ph.D., Brown University; William Byrnes, Ph.D., University of Colorado Boulder; Susan D'Andrea, Ph.D., Providence VAMC; Hugh Herr, Ph.D., Massachusetts Institute of Technology; Rodger Kram, Ph.D., University of Colorado Boulder; William McDermott, Ph.D., The Orthopedic Specialty Hospital, Utah; Craig McGowan, Ph.D., University of Idaho; Justus Ortega, Ph.D., Humboldt State University; Mark Rentschler, Ph.D., University of Colorado Boulder; Anne Silverman, Ph.D., Colorado School of Mines.
Current Research Projects
What is the Optimal Stiffness and Height of a Running-Specific Leg Prosthesis? (Ashcraft, Drees, Grabowski, Tacca). Currently, there are no science-based objective methods for prescribing running specific leg prostheses. We are conducting a series of studies that aim to optimize prescription of running-specific prostheses for athletes with transtibial amputations by systematically varying prosthetic stiffness and height during running and sprinting.
Characterizing Ankle Function during Sloped Locomotion for Prosthesis Development (Grabowski). For the first time in history, people with a lower limb amputation have regained normative function during level-ground walking due to the development of a new powered ankle-foot prosthesis. However, negotiating natural and built environments also requires the ability to walk and run on uphill and downhill slopes. We are conducting a series of studies that aim to characterize biological ankle joint function during walking and running on slopes in order to further develop advanced powered ankle-foot prostheses. 
Understanding the Effects of a Springy Leg Exoskeleton during Hopping and Running (Allen, Grabowski). There is a need for simple and unobtrusive assistive mechanical devices that can augment human performance. An assistive device such as a passive-elastic exoskeleton that could optimize energy efficiency and make it easier to carry a load or run faster with less effort has the potential to dramatically improve human locomotion. We are performing a series of studies to identify the optimal stiffness of a springy leg exoskeleton and then designing a device that is able to be used during walking and running. 
What is the Optimal Stiffness of a Pediatric Prosthesis? (Jayne, Ashcraft, Grabowski). The biomechanical effects of prosthetic feet on children with a lower leg amputation are not well understood. We are studying how different pediatric prostheses affect the biomechanics of children with amputations during walking.
Opportunities for Undergraduates
The requirements for undergraduate students who would like research experience in our Lab are:
Completed at least one year in college.
Will be at CU for at least two more semesters.
Available for 8-10 hours of time per week in blocks of 2-4 hours at a time.
IPHY, MCDB, PSYCH, Applied Math, and Engineering majors are encouraged.
For more information, contact Prof. Alena Grabowski (alena.grabowski@colorado.edu). Unfortunately, due to high demand, we cannot accommodate all qualified students.
Recent Publications
SP Allen & AM Grabowski. A passive exoskeleton with different linear or non-linear spring stiffness in parallel to the legs effects metabolic cost and biomechanics during hopping. Journal of Applied Physiology Published Online: 20 JUN 2019 https://doi.org/10.1152/japplphysiol.01003.2018
J Funken, S Willwacher, K Heinrich, R Müller, H Hobara, AM Grabowski, & W Potthast Long jumpers with and without a transtibial amputation have different 3D centre of mass and joint take-off step kinematics. Medicine and Science in Sports and Exercise April 2019 - Volume 51 - Issue 4 - p 716–725 doi: 10.1249/MSS.0000000000001853
H Hobara, S Hashizume, J Funken, S Willwacher, R Müller, AM Grabowski, and W Potthast. Vertical stiffness during one-legged hopping with and without using a running-specific prosthesis. Journal of Biomechanics 2019 86: 34-39. https://doi.org/10.1016/j.jbiomech.2019.01.034
N Kashiri, A Abate, SJ Abram, A Albu-Schaffer, PJ Clary, M Daley, S Faraji, R Furnemont, M Garabini, H Geyer, AM Grabowski, J Hurst, J Malzahn, G Mathijssen, D Remy, W Roozing, M Shahbazi, SN Simha, J-B Song, N Smit-Anseeuw, S Stramigioli, B Vanderborght, Y Yesilevskiy, and N Tsagarakis. An Overview on Principles for Energy Efficient Robot Locomotion. Frontiers in Robotics and AI 2018 5 (129). DOI=10.3389/frobt.2018.00129 https://www.frontiersin.org/article/10.3389/frobt.2018.00129
J Funken, S Willwacher, K Heinrich, R Müller, H Hobara, AM Grabowski & W Potthast. Three dimensional take-off step kinetics of long jumpers with and without a transtibial amputation. Medicine and Science in Sports and Exercise 2018 Nov 26. doi: 10.1249/MSS.0000000000001853. [Epub ahead of print]
DF Feeney, RA Capobianco, JR Jeffers, AM Grabowski, and RM Enoka. Individuals with sacroiliac joint dysfunction display asymmetrical gait and a depressed synergy between muscles providing sacroiliac joint force closure when walking Journal of Electromyography and Kinesiology 2018 Dec; 43:95-103. doi: 10.1016/j.jelekin.2018.09.009. Epub 2018 Sep 22.
*ON Beck & AM Grabowski. Athletes with Versus Without Leg Amputations: Different Biomechanics, Similar Running Economy. Exercise and Sport Sciences Reviews Published online Oct 16, 2018 doi: 10.1249/jes.0000000000000174
*JR Montgomery (Jeffers) & AM Grabowski. Use of a Powered Ankle-Foot Prosthesis Reduces the Metabolic Cost of Uphill Walking and Improves Leg Work Symmetry in People with Transtibial Amputations. Journal of the Royal Society Interface 2018 Aug;15(145). pii: 20180442. doi: 10.1098/rsif.2018.0442
*ON Beck, AM Grabowski & JD Ortega. Neither total muscle activation nor co-activation explains the youthful walking economy of older runners. Gait and Posture 65 (2018) 163-168 https://doi.org/10.1016/j.gaitpost.2018.07.169
*JR Montgomery (Jeffers) & AM Grabowski. The contributions of ankle, knee and hip joint work to individual leg work change during uphill and downhill walking over a range of speeds. Royal Society Open Science Published 29 August 2018.DOI: 10.1098/rsos.180550
S Kipp, AM Grabowski, & R Kram. What determines the metabolic cost of human running across a wide range of velocities? Journal of Experimental Biology 2018 : jeb.184218 doi: 10.1242/jeb.184218 Published 31 July 2018
*ON Beck, *EN Azua & AM Grabowski. Step time asymmetry increases metabolic energy expenditure during running European Journal of Applied Physiology https://doi.org/10.1007/s00421-018-3939-3
RA Capobianco, DF. Feeney, *JR Jeffers, J Morreale, RM Enoka, & AM Grabowski. Patients with sacroiliac joint dysfunction exhibit altered movement strategies when performing a sit-to-stand task. The Spine Journal DOI: https://doi.org/10.1016/j.spinee.2018.03.008
*ON Beck & AM Grabowski. The biomechanics of the fastest sprinter with a unilateral transtibial amputation. Journal of Applied Physiology 124: 641–645, 2018. doi:10.1152/japplphysiol.00737.2017
M Batliner, S Kipp, AM Grabowski, R Kram, & W Byrnes. Does metabolic rate increase linearly with running speed in all distance runners? Sports Medicine International Open 2017; 2018; 2: E1–E8. https://doi.org/10.1055/s-0043-122068