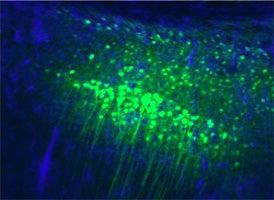 RL4 Rooms 16, 17 and 35
Department of Integrative Physiology
University of Colorado
Boulder, CO 80309-0447
phone: 303-492-9563
fax: 303-492-8063
Research Interests
The regulation of protein synthesis in synaptic plasticity, memory and neurological disorders.
Regulators of phosphatase function in Down syndrome and schizophrenia.
Aging, stress, and neurodegeneration.
Personnel
Director: Charles A. Hoeffer, Ph.D.
Research Associate: Josien Levenga, Ph.D.
Graduate Student: Helen Wong.
Visiting Scholar: Peter Cain, Ph.D.
Collaborators: Einar Sigurdsson, Ph.D., New York University School of Medicine (NYU-SoM); Daniel Littman Ph.D., NYU-SoM; Beatrix Ueberheide Ph.D., NYU-SoM; Beverly Rothermel, Ph.D., UT-Southwestern; Steven Maier, Ph.D., Department of Psychology, University of Colorado at Boulder.
Current Research Projects
Determining the role of non-canonical translational pathways in synaptic plasticity.
Understanding the isoform specific role of Akt signaling in hippocampal synaptic plasticity.
Identifying the molecular links between Regulator of Calcineurin1 expression and age- dependent neurodegeneration.
Understanding how expression of Regulator of Calcineurin1 impacts cognitive impairments in Down syndrome and schizophrenia.
Understanding how pathological tau affects hippocampal hyperexcitability.
Identifying molecular mechanisms linking tau function to GABAergic cell survival in the hippocampus.
Opportunities for Undergraduates
The studies in our lab present opportunities to gain valuable experience in molecular, genetic and behavioral neuroscience research. Our lab is currently looking for undergraduates to assist with ongoing biochemical studies, mouse behavioral testing, and data analysis.
Undergraduate students wanting to participate in research in our laboratory must meet the following requirements:
Have an understanding and acceptance of the use of animals in research.
Must be willing to work with rodents and work occasionally on weekends.
Commitment for at least one year. Sophomore undergraduates entering into the Junior year preferred, but all students are encouraged to apply.
Enroll in independent study (IPHY 4860) for 8-10 hours/week for at least one semester.
Must submit unofficial transcript or CV and reason for interest in order to be considered.
For consideration, please email Dr. Charles Hoeffer (Charles.Hoeffer@colorado.edu) with appropriate materials.