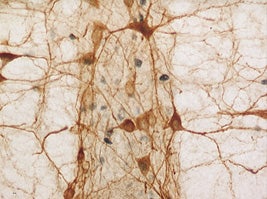 Department of Integrative Physiology
University of Colorado Boulder
Boulder, CO 80309-0354
phone: 303-492-8154
fax: 303-492-0811
Research Interests
Our main focus is the neural mechanisms underlying stress-related physiology and emotional behavior with a focus on the role of serotonergic systems. Current projects address four main topics:
Mechanisms of corticotropin-releasing factor (CRF) and CRF-related neuropeptides underlying control of acute and chronic anxiety states
Effects on serotonergic systems, physiology, and emotional behavior by

glucocorticoid hormones
thermal signals
peripheral immune activation (with a focus on the microbiome-gut-brain axis)
Personnel
Director: Christopher A. Lowry, PhD
Post-doctoral Fellow: Lamya'a M. Dawud, PhD
Graduate Students: Tyler Akonom, Nathan Andersen, Luke Desmond, Andrew Kyo Lee, Lyanna Kessler, Saydie Sago, John Sterrett
Professional Research Assistants: Brandon Marquart, Lucas McCurdy, Evan Holbrook, Aislinn Concha
Undergraduate Research Assistants: Dennis Boateng, Sarina Borden, Matthew Alan Branney, Zachary Alan Chafee, Aidan Clifton, Rachel Effron, Addie Horton, Amalia Luthens, Jeffrey Matney, Lucie Nguyen, Sirisai Phanekham-Mouanghane, Isaiah Shurtleff, Joni Stuart, Rose Summers, Paola Ortiz Venzor, Nolan Watts, Caelan Wright, Richard Zabat, Haoting Zhang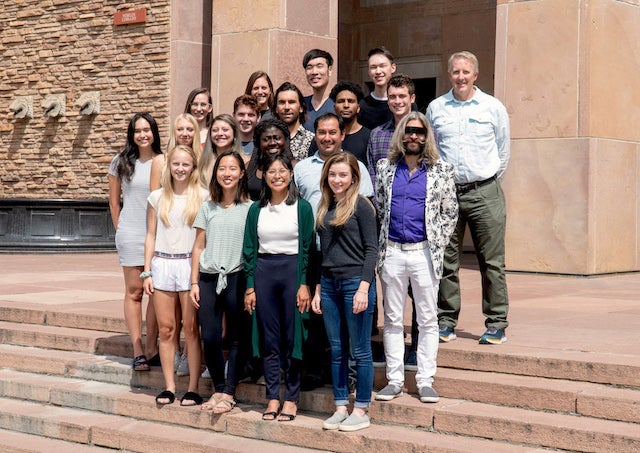 Opportunities for Undergraduates
We are looking for enthusiastic, motivated undergraduate students who are interested in obtaining research experience. No prior laboratory research experience or coursework is required. For more information, contact Prof. Christopher Lowry (christopher.lowry@colorado.edu)
Recent Publications
For a complete list of publications, click here.
Postolache TT, Akram F, Lee EE, Lowry CA, Stiller JW, Brenner LA, Streeten EA, Turecki G, Dwivedi Y. Increased brain vitamin D receptor expression and decreased expression of cathelicidin antimicrobial peptide in individuals who died by suicide. J Psychiatr Res. PMID: 32213352

Postolache TT, Wadhawan A, Can A, Lowry CA, Woodbury M, Makkar H, Hoisington AJ, Scott AJ, Potocki E, Benros ME, Stiller JW. Inflammation in Traumatic Brain Injury. J Alzheimers Dis. PMID: 32176646 

Bernabe CS, Caliman IF, Truitt WA, Molosh AI, Lowry CA, Hay-Schmidt A, Shekhar A, Johnson PL. Using loss- and gain-of-function approaches to target amygdala-projecting serotonergic neurons in the dorsal raphe nucleus that enhance anxiety-related and conditioned fear behaviors. J Psychopharmacol. PMID: 32153226

Hagerty SL, Hutchison KE, Lowry CA, Bryan AD. An empirically derived method for measuring human gut microbiome alpha diversity: Demonstrated utility in predicting health-related outcomes among a human clinical sample. PLoS One. PMID: 32119675

Bowers SJ, Vargas F, González A, He S, Jiang P, Dorrestein PC, Knight R, Wright KP Jr, Lowry CA, Fleshner M, Vitaterna MH, Turek FW. Repeated sleep disruption in mice leads to persistent shifts in the fecal microbiome and metabolome. PloS One. PMID: 32078624

Akram F, Gragnoli C, Raheja UK, Snitker S, Lowry CA, Stearns-Yoder KA, Hoisington AJ, Brenner LA, Saunders E, Stiller JW, Ryan KA, Rohan KJ, Mitchell BD, Postolache TT. Seasonal affective disorder and seasonal changes in weight and sleep duration are inversely associated with plasma adiponectin levels. J Psychiatr Res. PMID: 31981963

Wadhawan A, Reynolds MA, Makkar H, Scott AJ, Potocki E, Hoisington AJ, Brenner LA, Dagdag A, Lowry CA, Dwivedi Y, Postolache TT. Periodontal pathogens and neuropsychiatric health. Curr Top Med Chem. PMID: 31981963

Amoroso M, Böttcher A, Lowry CA, Langgartner D, Reber SO. Subcutaneous Mycobacterium vaccae promotes resilience in a mouse model of chronic psychosocial stress when administered prior to or during psychosocial stress. Brain Behav Immun. PMID: 31887415

Prescott SL, Hancock T, Bland J, van den BOsch M, Jansson JK, Johnson CC, Kondo M, Katz D, Kort R, Kozyrskyj A, Logan AC, Lowry CA, Nanan R, Poland B, Robinson J, Schroeck N, Sinkkonen A, Springmann M, Wright RO, Wegienka G. Int J Environ Res Public Health. PMID: 31694316

Akram F, Jennings TB, Stiller JW, Lowry CA, Postolache TT. Mood Worsening on Days with High Pollen Counts is associated with a Summer Pattern of Seasonality. Pteridines. PMID: 31631951

Duffy AR, O'Connell JR, Pavlovich M, Ryan KA, Lowry CA, Daue M, Raheja UK, Brenner LA, Markon AO, Punzalan CM, Dagdag A, Hill DE, Pollin TI, Seyfang A, Groer MW, Mitchell BD, Postolache TT. Toxoplasma gondii Serointensity and Seropositivity: Heritability and Household-Related Associations in the Old Order Amish. Int J Environ Res Public Health. PMID: 31623376

Arnold MR, Greenwood BN, McArthur JA, Clark PJ, Fleshner M, Lowry CA. Effects of repeated voluntary or forced exercise on brainstem serotonergic systems in rats. Behav Brain Res. PMID: 31525404

Flux MC, Lowry CA. Finding intestinal fortitude: Integrating the microbiome into a holistic view of depression mechanisms, treatment, and resilience. Neurobiol Dis. PMID: 31454550

Donner NC, Davies SM, Fitz SD, Kienzle DM, Shekhar A, Lowry CA. Crh receptor priming in the bed nucleus of the stria terminalis (BNST) induces tph2 gene expression in the dorsomedial dorsal raphe nucleus and chronic anxiety. Prog Neuropsychopharmacol Biol Psychiatry. PMID: 31415826

Lieb MW, Weidner M, Arnold MR, Loupy KM, Nguyen KT, Hassell JE Jr, Schnabel KS, Kern R, Day HEW, Lesch KP, Waider J, Lowry CA. Effects of maternal separation on serotonergic systems in the dorsal and median raphe nuclei of adult male Tph2-deficient mice. Behav Brain Res. PMID: 31319134