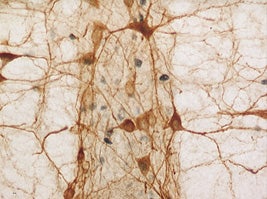 Department of Integrative Physiology
University of Colorado Boulder
Boulder, CO 80309-0354
phone: 303-492-8154
fax: 303-492-0811
Research Interests
Our main focus is the neural mechanisms underlying stress-related physiology and emotional behavior with a focus on the role of serotonergic systems. Current projects address four main topics:
Mechanisms underlying control of acute and chronic anxiety states - with a focus on interactions among corticotropin-releasing factor (CRF) and CRF-related neuropeptides
Effects of peripheral immune activation on serotonergic systems, physiology, and emotional behavior - with a focus on the microbiome-gut-brain (MGB) axis.
Effects of thermal signals on serotonergic systems, physiology, and emotional behavior.
Effects of glucocorticoid hormones on serotonergic systems, physiology, and behavior.
Personnel
Director: Christopher A. Lowry, PhD
Faculty Assistant: Zachary Barger, BM
Post-doctoral Fellows: Cristian Zambrano, PhD
Graduate Students: Kelsey Loupy, MS; Michael "Flux" Caruso, MS; Christine Cho, MS; Saydie Sago, BA
Professional Research Assistants: Jared Heinze, BA; Ahmed Elsayed, BA
Undergraduate Students: Madi Baca, Kristin Cler, Chloe Gates, Lauren Milton, Kadi Nguyen, Heraa Hashmi, Andrea Arnold, Attila Suto, Julio Cobos-Rojas, Jessica Stewart, Amalia Luthens, Stephanie Salazar, Kyo Lee, Brandon Marquart, Evan Holbrook, Evan Schaefer
Opportunities for Undergraduates
We are looking for enthusiastic, motivated undergraduate students who are interested in obtaining research experience. No prior laboratory research experience or coursework is required. For more information, contact Prof. Christopher Lowry (christopher.lowry@colorado.edu)
Recent Publications
For a complete list of publications, click here.
Hassell JE Jr, Collins VE, Li H, Rogers JT, Austin RC, Visceau C, Nguyen KT, Orchinik M, Lowry CA, Renner KJ. Local inhibition of uptake2 transporters augments stress-induced increases in serotonin in the rat central amygdala. Neuroscience Letters, 2019 Feb 15. pii: S0304-3940(19)30105-3. [Epub ahead of print]
Loupy KM, Arnold MR, Hassell JE Jr, Lieb MW, Milton LN, Cler KE, Fox JH, Sieber PH, Schmidt D, Noronha SISR, Day HEW, Lowry CA. Evidence that preimmunization with a heat-killed preparation of Mycobacterium vaccae reduces corticotropin-releasing hormone mRNA expression in the extended amygdala in a fear-potentiated startle paradigm. Brain Behavior and Immunity, 2018 Dec 28. pii: S0889-1591(18)31248-0. [Epub ahead of print]
Arnold MR, Williams PH, McArthur JA, Archuleta AR, O'Neill CE, Hassell JE JR, Smith DG, Bachtell RK, Lowry CA. Effects of chronic caffeine exposure during adolescence and subsequent acute caffeine challenge during adulthood on rat brain serotonergic systems. Neuropharmacology, 2018 Dec 20, 148, 257-271.
Yamashita PS, Rosa DS, Lowry CA, Zangrossi H Jr. Serotonin actions within the prelimbic cortex induce anxiolysis mediated by serotonin 1a receptors. Journal of Psychopharmacology, 2018 Dec 19. doi: 10.1177/0269881118817384. [Epub ahead of print]
Brenner LA, Hoisington AJ, Stearns-Yoder KA, Stamper CE, Heinze JD, Postolache TT, Hadidi DA, Hoffmire CA, Stanislawski MA, Lowry CA. Military-related exposures, social determinants of health, and dysbiosis: The United States-Veteran Microbiome Project (US-VMP). Frontiers in Cellular Infectious Microbiology, 2018 Nov 19, 8, 400.
Hale MW, Lukkes JL, Dady KF, Kelly KJ, Paul ED, Smith DG, Heinze JD, Raison CL, Lowry CA. Interactions between whole-body heating and citalopram on body temperature, antidepressant-like behaviour, and neurochemistry in adolescent male rats. Behavioural Brain Research, 2018 Nov 20, 359, 428-439.
Langgartner D, Lowry CA, Reber SO. Old Friends, immunoregulation, and stress resilience. Pflugers Archives, 2018 Nov 1, 471(2), 237-269.
Hassell JE JR, Nguyen KT, Gates CA, Lowry CA. The impact of stressor exposure and glucocorticoids on anxiety and fear. Current Topics in Behavioural Neuroscience, 2018 Oct 25, doi: 10.1007/7854_2018_63. [Epub ahead of print]
Akram F, Fuchs D, Daue M, Nijjar G, Ryan A, Benros ME, Okusaga O, Baca-Garcia E, Brenner LA, Lowry CA, Ryan KA, Pavlovich M, Mitchell BD, Snitker S, Postolache TT. Association of plasma nitrite levels with obesity and metabolic syndrome in the Old Order Amish. Obesity Science Practices, 2018 Aug 1, 4(5), 468-476.
Hoisington AJ, Billera DM, Bates KL, Stamper CE, Stearns-Yoder KA, Lowry CA, Brenner LA. Exploring service dogs for rehabilitation of veterans with PTSD: A microbiome perspective. Rehabilitation Psychology, 2018 Sep 13, 63(4), 575-587.
Lawther AJ, Flavell A, Ma S, Kent S, Lowry CA, Gundlach AL, Hale MW. Involvement of serotonergic and relaxin-3 neuropeptide systems in the expression of anxiety-like behavior. Neuroscience, 2018 Aug 18, 390, 88-103.
Fonken LK, Frank MG, D'Angelo HM, Heinze JD, Watkins LR, Lowry CA, Maier SF. Mycobacterium vaccae immunization protects aged rats from surgery-elicited neuroinflammation and cognitive dysfunction. Neurobiology of Aging, 2018 Jul 24, 71, 105-114.
Frank MG, Fonken LK, Watkins LR, Maier SF, Lowry CA. Could probiotics be used to mitigate neuroinflammation? ACS Chemical Neuroscience, 2018 Aug 15, doi: 10.1021/acschemneuro.8b00386. [Epub ahead of print]
Peng X, Brenner LA, Mathai AJ, Cook TB, Fuchs D, Postolache N, Groer MW, Pandey JP, Mohyuddin F, Giegling I, Wadhawan A, Hartmann AM, Konte B, Brundin L, Friedl M, Stiller JW, Lowry CA, Rujescu D, Postolache TT. Moderation of the relationship between Toxoplasma gondii seropositivity and trait impulsivity in younger men by the phenylalanine-tyrosine ratio. Psychiatry Research, 2018 Mar 22, 280, 992-1000.
Payet JM, Burnie E, Sathananthan NJ, Russo AM, Lawther AJ, Kent S, Lowry CA, Hale MW. Exposure to acute and chronic fluoxetine has differential effects on sociability and activity of serotonergic neurons in the dorsal raphe nucleus of juvenile male BALB/c mice. Neuroscience, 2018 Jun 27, 386, 1-15.