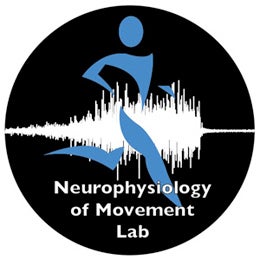 Carlson 202G
Department of Integrative Physiology
University of Colorado
Boulder, CO 80309-0354
phone: 303-492-4965
Research Interests
Neuromuscular determinants of motor function (movement) in health and disease. Current projects address three main topics:
Aging - identifying the adaptations responsible for the declines in sensorimotor function with advancing age.

Motor units

- characterizing the modulation of the activation signal sent from the nervous system to muscle and its influence on muscle function.

Multiple sclerosis

- evaluating therapeutic strategies that can reduce the burden of multiple sclerosis by restoring walking ability and reducing fatigue.

Personnel
Director: Roger M. Enoka, Ph.D.
Graduate Students:

Leah Davis, M.S.
Melissa Mazzo, M.S.
Mohammed Alenazy, M.B.B.S., M.A.
Taylor Tvrdy, M.S. 
Joey Carzoli, M.S.
Sajjad Daneshgar, B.S.
Kaltrina Feka, M.S.

Former Lab Members: Photos of former lab members are available in our gallery
Collaborators:

Enrique Alvarez, M.D., Ph.D., University of Colorado Denver;
Jacques Duchateau, Ph.D., Universite Libre de Bruxelles, Belgium;
Dario Farina, Ph.D., Imperial College, UK;
Taian Vieira, Ph.D. and Alberto Botter, Ph.D., Politecnico di Torino, Italy;
Aleš Holobar, Ph.D., University of Maribor, Slovenia;
Awad Almuklass, Ph.D., P.T., King Saud bin Abdulaziz University for Health Sciences, Saudi Arabia;
Brett Fling, Ph.D., Colorado State University;
Kathy Zackowski, Ph.D., O.T.R., National Multiple Sclerosis Society.
Opportunities for Undergraduates
The requirements for undergraduate students who want research experience in our Laboratory are:

A major in integrative physiology
Either have completed or be concurrently enrolled in IPHY 4720 (Neurophysiology)
Obtain UROP funding or enroll in independent study (IPHY 4860) for 8-10 hours/week for at least one semester.

For more information, contact Joey Carzoli at (joseph.carzoli@colorado.edu)
Recent Publications
Almuklass AM, Davis L, Hamilton LD, Hebert JR, Alvarez E, Enoka RM. Pulse width does not influence the gains achieved with neuromuscular electrical stimulation in people with multiple sclerosis: double-blind, randomized trial. Neurorehabilitation and Neural Repair 32: 84-93, 2018.
Almuklass AM, Davis L, Hamilton LD, Vieira T, Botter A, Enoka RM. Motor unit discharge characteristics and walking performance of individuals with multiple sclerosis. Journal of Neurophysiology 119: 1273-1282, 2018.
Almuklass AM, Feeney DF, Mani D, Hamilton LD, Enoka RM. Peg-manipulation capabilities of middle-aged adults have a greater influence on pegboard time than those of young and old adults. Experimental Brain Research 236: 2165-2172, 2018.
Capobianco RA, Almuklass AM, Enoka RM. Manipulation of sensory feedback can improve stretching outcomes. European Journal of Sport Sciences 18: 83-91, 2018.
Castronovo AM, Mrachacz-Kersting N, Stevenson AJT, Holobar A, Enoka RM, Farina D. Decrease in force steadiness with aging is associated with increased power of the common but not independent input to motor neurons. Journal of Neurophysiology 120: 1616-1624, 2018.
Feeney DF, Capobianco RA, Montgomery JR, Morreale J, Grabowski AM, Enoka RM. Individuals with sacroiliac joint dysfunction display asymmetrical gait and a depressed synergy between muscles providing sacroiliac joint force closure when walking. Journal of Electromyography and Kinesiology 43: 95-103, 2018. 
Feeney DF, Mani D, Enoka RM. Variability in common synaptic input to motor neurons modulates both force steadiness and pegboard times in young and older adults. Journal of Physiology 596: 3793-3806, 2018.
Gould JR, Reineberg AE, Cleland BT, Knoblauch KE, Clinton GK, Banich MT, Corboy JR, Enoka RM. Adjustments in torque steadiness during fatiguing contractions are inversely correlated with IQ in persons with multiple sclerosis. Frontiers in Physiology 9: 1404, 2018.
Hamilton LD, Mani D, Almuklass AM, Davis LA, Vieira T, Botter A, Enoka RM. Electrical nerve stimulation modulates motor unit activity in contralateral biceps brachii during steady isometric contractions. Journal of Neurophysiology 120: 2603-2613, 2018.
Mani D, Almuklass AM, Amiridis IG, Enoka RM. Neuromuscular electrical stimulation can improve mobility in older adults with two different pulse-width and frequency combinations: double-blind, randomized trial. Experimental Gerontology 108: 269-275, 2018.
Mani D, Almuklass AM, Hamilton LD, Vieira T, Botter A, Enoka RM. Motor unit activity, force steadiness, and perceived fatigability are correlated with mobility in older adults. Journal of Neurophysiology 120: 1988-1997, 2018.