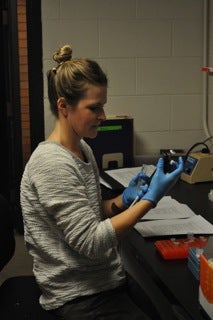 Institute of Behavioral Genetics
phone: 303-492-1463
fax: 303-492-8063
Research Interests
Study of genetics of addiction behaviors in humans and rodents.
The effects of exercise on alcohol-related phenotypes in mouse models.
Personnel
Director: Marissa A. Ehringer, Ph.D.
Graduate Students: Pamela Romero Villela, Eamonn Duffy, Erika Mehrhoff, Myra Bower
Undergraduate Students: Caroline Aki, Matthew Branney, Anna Funke, Luke Hendricks, Harriet Lee
Local Collaborators: Christopher Lowry, IPHY; Ryan Bachtell, Psychology & Neuroscience; John Hewitt, Michael Stallings, Robin Corley, Matthew Keller, Jerry Stitzel, Charles Hoeffer, Institute for Behavioral Genetics; Laura Saba, University of Colorado Medical School.
Current Research Projects
Genetic mapping of oxycodone and related behaviors using inbred rat strains
Translational studies of human genes associated with alcohol and tobacco behaviors.


Identification of rare, novel SNPs.
In vitro functional characterization of human SNPs.
Behavioral testing of knock-in, CRISPR/Cas9, and inbred selected strains of mice.
Opportunities for Undergraduates
Our lab does not currently have any openings for undergraduate research assistants.
The requirements for undergraduate students who want a research experience in our laboratory are:

A major in IPHY, MCDB, EBIO, PSYCH.
Either have completed or be concurrently enrolled in IPHY 2800 Introduction to Statistics.
Enroll in Independent Study (IPHY 4860) for 8-10 hours/week for at least one semester.
Cumulative GPA of 3.3 or higher.

Interested students should complete this application and e-mail it to Marissa.Ehringer@colorado.edu