"When you get people who think differently about problems ... there is a lot of room for creative thinking and really transformative outcomes."
CU engineers bring technical expertise and skills to policymaking
From air quality improvements to aerospace innovation, the underlying goal of any engineering project is to solve real problems and enhance lives.

Top: Ben Capeloto, left, holds a meeting with his cabinet.
Above: Tri-Executive Ben Capeloto outside the CU Student Government offices. 
Public policy is another dimension to that same pursuit — finding effective solutions for issues impacting society. When policymakers tackle those issues, engineers are often the valuable expert voices, offering concrete and quantifiable solutions.
"When you get people who think differently about problems, who all have an earnest desire to solve them and want to provide a benefit to society, there is a lot of room for creative thinking and really transformative outcomes," said Marcus Holzinger, an associate professor in aerospace engineering sciences.
Holzinger has been working on space situational awareness and space traffic management for 15 years. The subject is growing increasingly important as more nations and companies launch satellites, leading Holzinger to testify before Congress in July 2021.
His testimony focused on developing orbital space rules to avoid collisions.
"When we start talking about public policy related to disciplines like space traffic management, there can be a lack of folks with technical backgrounds that engage at those levels," Holzinger said. "The field is always evolving, so it is important to have experts that are in touch with what is currently happening."
A similar case can be made for policy decisions involving air pollution. In Colorado, those decisions are made by the Air Quality Control Commission.
Jana Milford, a professor in mechanical and environmental engineering, serves on that commission, providing insight to improve regulations on emissions.
"Air pollution and air quality are such critical problems facing society because there are tremendous environmental and human health implications," Milford said. "They are important problems for society to grapple with and areas where the technical information is important to inform policy decisions."
Milford uses her engineering experience to help ensure the regulations created are both technically feasible and economically reasonable.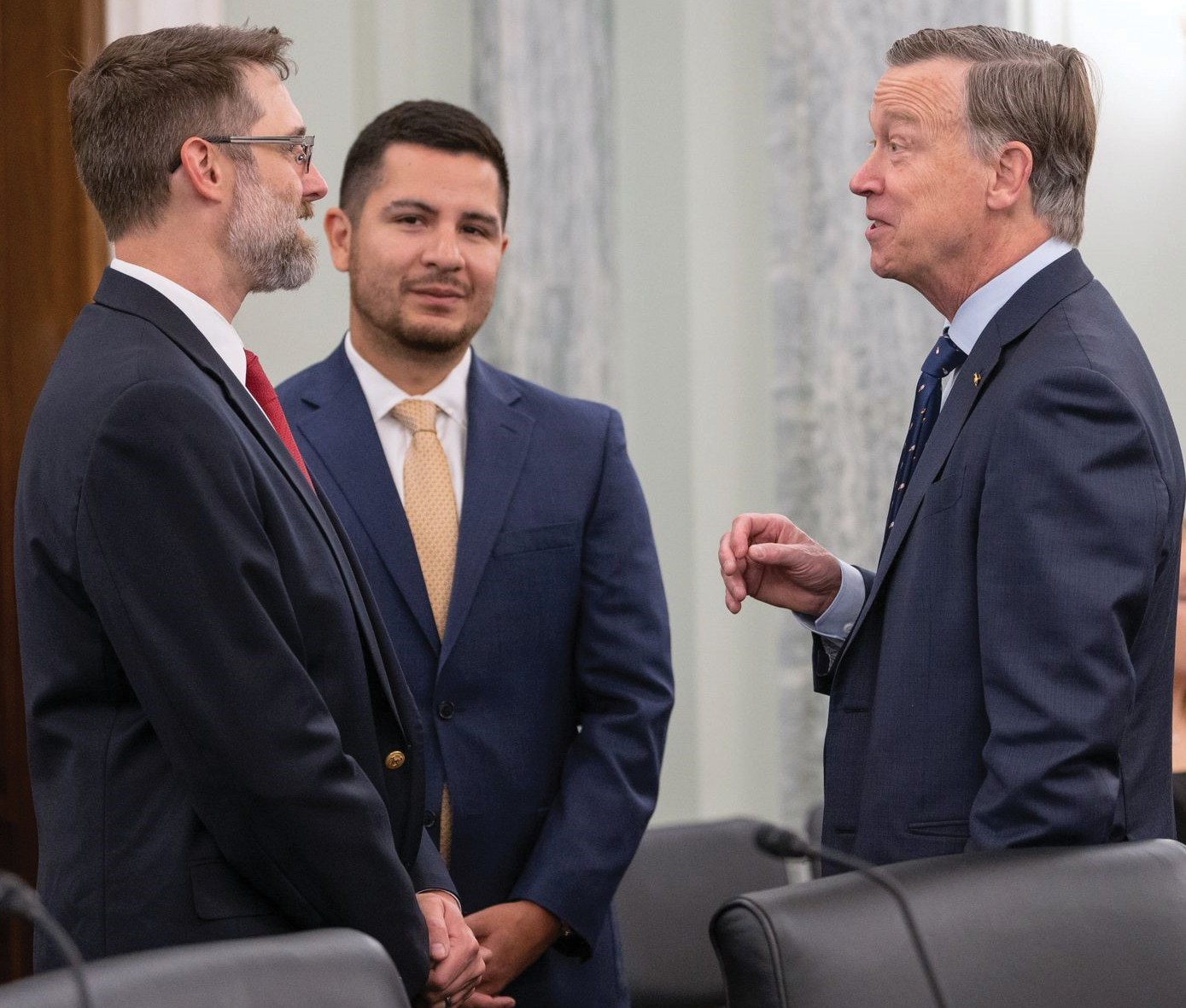 Holzinger, left, chats with Colorado Sen. John Hickenlooper, right, after his congressional appearance.
"I am able to recognize when considerations have been left out or start to be misrepresented," Milford said. "There are often a lot of uncertainties associated with how regulations might play out. Bringing some engineering judgment helps to assess the likelihood of one outcome or another."
Real-world impacts by faculty like Milford and Holzinger are also inspiring future engineers like Ben Capeloto.
Capeloto is a senior majoring in aerospace with a minor in computer science. He is the first engineer to serve as a University of Colorado Boulder Student Government president in two decades.
Capeloto is one of three student body presidents, referred to as tri-executives, who were elected in April 2021. Their main mission in the past year has been to address mental health on campus during the COVID-19 pandemic. Capeloto has gravitated to other scientific issues, as well.
"There have been a lot of opportunities to give our input on science issues such as COVID-19 and climate change, for example," Capeloto said. "We have supported student environmental initiatives across campus, allowing me to talk about scientific issues in a scientific way. I really enjoy contributing to that coming from a STEM background."
After he graduates, Capeloto hopes to work in the aerospace industry. Then, perhaps one day, he will follow the lead of faculty like Holzinger and Milford to use his expertise on a state or federal policymaking platform.
"Visualizing and understanding issues at a much higher level than policymakers with no background in engineering is going to be a hugely important element for imposing rules now and in the future," Capeloto said. "If rules are made without technical knowledge, people could find ways to exploit regulations."