"He knew from when he was five or six years old that he was going to be launching rockets. His love was always of aerospace."
Chad Keller (AeroEngr'93) grew up drawn to math, science, and sports, and had a deep concern for others. A unique scholarship at the University of Colorado Boulder honors his legacy and helps educate the next generation of aerospace engineers.
Chad died on Sept. 11, 2001. He was aboard Flight #77, which crashed into the Pentagon. At 29, he was early into his career as an aerospace engineer and propulsion specialist at Boeing.
"When we lost him, we all talked about what we could do to honor him. He didn't die of cancer, a heart attack, or old age. What could we do that would have an impact on young people," said Dick Keller, Chad's father.
Working together, Keller's parents; Chad's widow, Lisa; and numerous friends, started a scholarship fund at his alma mater, CU Boulder, where he'd graduated in 1993 with a bachelor's in aerospace engineering sciences.
"You have to recognize that Boulder was his love: the climbing, the hiking, the fishing, the skiing, the mountains," Dick said. "There was a lot of support right at the beginning to say instead of flowers, send money for a scholarship. Lo and behold, it started to grow. We've now awarded 40-45 scholarships."
The program has become a celebration of Chad's life and legacy. Even the fundraising for it reflects Chad's youthful passion: an annual beach volleyball tournament. Like the scholarship program, the tournament has grown over the years.
Typically held in early fall in Manhattan Beach, California, where Chad graduated from high school, it draws 100-150 of his friends, family, and now even past scholarship awardees.
"Usually you give money to a charity and you don't know what happens. In this case we're able to meet the students and hear how it made a difference in their lives," Dick said. "The students have just blown us away, how sharp and dedicated they are. Chad would be so proud of the kids who have come through the program and have gone into major aerospace jobs."
Each year, the program awards 1-3 scholarships to CU Boulder aerospace engineering students who are juniors/seniors, involved in an individual or team sport, and are giving back to the community through a non-profit or charity.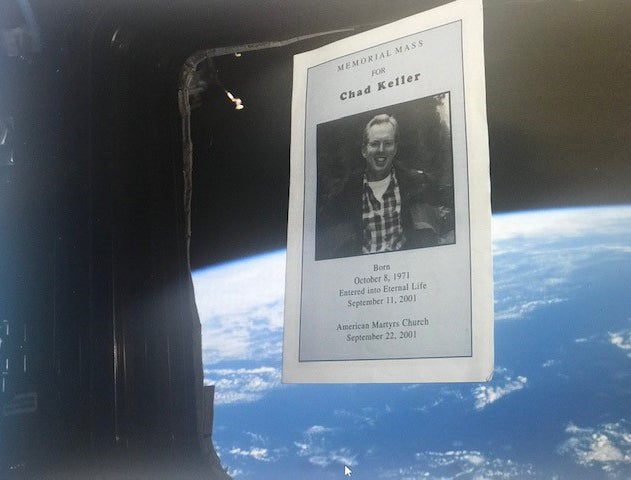 A commemoration for Chad Keller aboard the International Space Station.
"Chad took such advantage of the mountains, hiking, skiing, biking, and he loved CU Boulder and the football team and was active as an alumnus. We wanted to recognize well-rounded students who are involved like he was," Dick said.
In his career, Chad worked on rocket propulsion systems that lifted national security payloads and satellites into orbit. Last year, he was able to visit space as well.
"Out of the blue in 2019 Chris Cassidy, a NASA Astronaut, called me. He had learned about Chad and his interest in rocketry and space and told me that he was going to be commander of Expedition 63 to the International Space Station. He wanted to know if Chad would like to go along for the ride," Dick said.
The Kellers organized a selection of photos of Chad, some CU Boulder and Boeing mementos, and a portion of his ashes and gave them to Cassidy. When the Soyuz MS-16 launched in April 2020, Chad was aboard.
 "He was able to go to space posthumously," Dick said. "We were so honored by that."
The Kellers are visiting New York and Washington D.C. this week to mark the anniversary of 9/11, knowing their son's legacy lives on and thrives across America in the nearly four dozen students who have been supported by the Chandler R. Keller Scholarship Fund.
These alumni are building careers as aerospace engineers at organizations including Boeing, SpaceX, the Jet Propulsion Laboratory, and NASA, among others. Some have even gone on to become university professors, educating yet another generation of students.
"Chad wouldn't want us to waste a minute. We lost him, but it became a push to get us to live like Chad did," Keller said. "We've been so blessed the last 20 years in seeing how many people Chad really touched. He lived more life in 29 years than most people do in 100."