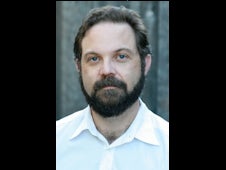 Michael Wright
Senior Research Scientist, NASA Ames Research Center
Friday, Mar. 10 | 11:45 a.m. | AERO 120
Abstract: Dragonfly is a New Frontiers class mission led Johns Hopkins Applied Physics Laboratory (APL) which will deliver a rotorcraft lander to Saturn's moon Titan for an extended science mission. The spacecraft will launch in 2027 and arrive at Titan in 2033.
This presentation will provide an overview of the Entry and Descent system that is under development to ensure the safe delivery of this unique "relocatable lander" to Titan, with an emphasis on some of the key technical challenges that the team is addressing.
 
Bio: Michael Wright has worked at NASA Ames Research Center for 22 years, specializing in Entry, Descent and Landing technologies, aerothermodynamics, and thermal protection systems.
He is the primary developer of the aerothermodynamics code "DPLR", 2007 NASA software of the year and is the winner of the 2023 AIAA Thermophysics Award.
Michael has supported EDL for many flight missions, including Orion, MSL, Stardust, Phoenix, and Huygens. Michael currently serves concurrent roles as the deputy lead for the Agency EDL Strategic Capabilities Leadership Team and the EDL Phase-Lead for the Dragonfly mission to Titan.
He received his PhD from the university of Minnesota in 1997 in Aerospace Engineering.