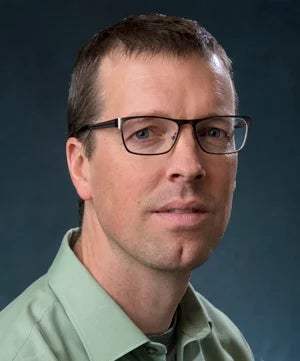 Eric Frew
Professor, Smead Aerospace
Friday, Mar. 3 | 11:45 a.m. | AERO 120
Abstract: Teams of aerial robots can perform sensing and surveillance missions faster and with more reliability than single-robot systems. The convergence of wireless networked communication, embedded systems, miniaturized sensors, and artificial intelligence has made it practical to design and deploy teams of aerial robots in complex environments such as severe local storms. This presentation describes recent advances toward the design, implementation, and deployment of teams of fixed-wing unmanned aircraft for various autonomous information gathering missions. An autonomous decision-making architecture is presented that exploits access to the Internet and dispersed computing resources in the decision-making loop. Aspects of the architecture are presented in the context of applications that include cooperative tracking of moving ground targets using radio emissions and computer vision, planning through complex wind fields, and exploring subterranean environments.
Bio: Dr. Eric W. Frew is a professor in the Ann and H.J. Smead Aerospace Engineering Sciences Department at the University of Colorado Boulder (CU). He received his B.S. in mechanical engineering from Cornell University in 1995 and his M.S and Ph.D. in aeronautics and astronautics from Stanford University in 1996 and 2003, respectively. Dr. Frew has been designing and deploying unmanned aircraft systems for over twenty five years. His research efforts focus on autonomous flight of heterogeneous unmanned aircraft systems; distributed information-gathering by mobile robots; miniature self-deploying systems; and guidance and control of unmanned aircraft in complex atmospheric phenomena. He is currently the Director for the National Science Foundation Industry / University Cooperative Research Center (IUCRC) for Autonomous Air Mobility and Sensing.