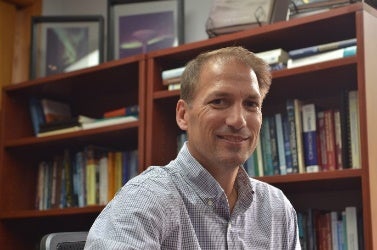 Jeff Thayer
Professor - Smead Aerospace, and Director of SWx-TREC
Monday, April 4 | 3:30 P.M. | Hybrid: AERO 111 and Zoom - Register Now
Abstract: A common phrase in the vernacular of the NASA Heliophysics Science Mission Directorate is to study the Sun-Earth system from "Sun to mud". Curiously this phrase can also be used to describe my research path over the 18 years at CU in the Aerospace Department. In this talk, I will demonstrate the connections and couplings that exist within the Sun-Earth system and their impact on technologies. This will naturally lead to the topic of space weather and the creation of a space weather center on campus called the Space Weather Technology, Research, and Education center (SWx TREC). I'll describe some of the challenges in space weather that lie ahead along with an exciting new NASA mission and other projects that my group will be pursing in the coming years to address these challenges.  We'll also get our hands dirty with lidar system developments within my Active Remote Sensing Lab at CU. I'll discuss specific lidar technologies applied to subaerial and subaqueous (this is the mud part) environments that ultimately led to patents and a startup company called ASTRALiTe.   
Bio: Dr. Thayer is the Joseph T. Negler Professor in the Ann and H. J. Smead Department of Aerospace Engineering Sciences at the University of Colorado, Boulder. He is also Chief Technology Officer of the ASTRALiTe, LLC company responsible for advancing lidar technologies. Furthermore, he is the Faculty Director of the Space Weather Technology, Research, and Education Center (SWx TREC) at CU. Dr. Thayer has over 30 years of experience leading research in the near-space environment, advancing remote sensing technologies (US and EU patents), developing strategic plans for NASA and NSF, managing research enterprises, and publishing over 120 journal articles. His academic area of expertise is in geophysical fluid dynamics, gas and plasma interactions, thermodynamics, and electrodynamics applied to the near-space environment. He specializes in active remote sensing techniques employing engineering concepts to design, develop, deploy and apply lidars and radars for geoscience studies. These techniques engage engineering concepts and solutions with an acute understanding of the scientific purpose. This effectively bridges and balances engineering concerns with scientific expectations. His research area of expertise combines ground, aerial, and space-based instruments and observations, along with theory and modeling, to advance our understanding of near-space, atmosphere, and water environments. In his eighteen years as a CU professor, he has supervised 20 PhD students, 11 Masters students, numerous undergraduates, several post-doctoral researchers, professional research assistants, research and senior research associates, and professional-exempt staff. Prior to arriving at CU, Dr. Thayer was a research physicist at SRI International and most notably PI of a US national radar observatory in Greenland.